A food source rich in protein, fibre and abundant vitamins, along with being low in calories, millets is a storehouse of nutrition. These superfoods have a low glycemic index. This allows them to be digested and absorbed by the body at a slow rate, which means you are looking at maximum absorption of nutrients without a spike in sugar levels.
In addition to this, these gluten-free grains are abundant in minerals and are great for people who are looking to shed extra weight.
We explore this interesting property of the millets and also give you some amazing recipes to try.
1. Foxtail millets (kakum)
For all those looking for a healthy snack option, you have just landed on the best. This millet's abundance of vitamin B12 and omega 3 fatty acids ensure you are getting your dose of vitamins.
With their thin crispy hulls and yellow beady appearance, the foxtail millets are easy to recognise. The main component of the millet is the amino acid tryptophan. It helps you feel satiated and prevents hunger pangs. Along with this, the millet performs a very important function, as it prevents the body from accumulating extra fat in the adipose tissue.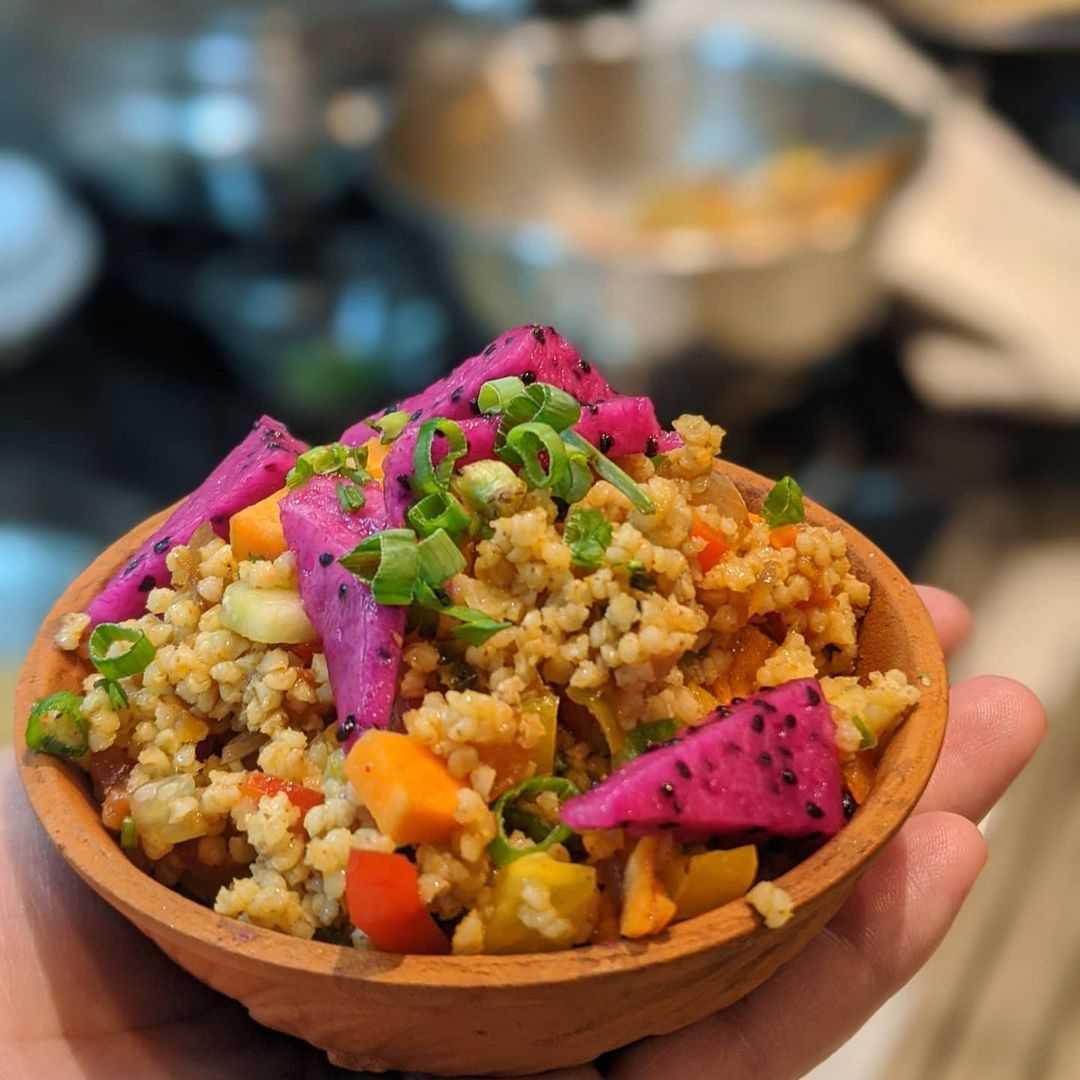 2. Pearl millet (bajra)
Whether in powdered form or even in its original form, bajra is one of the most popular ingredients in our grandmother's recipes. It is abundant in niacin, riboflavin, vitamin B6 and iron.
This millet is a preferred option by those who suffer from gluten intolerance as it is gluten-free. Along with this, what makes for its weight loss properties is its calorie density of 1.2.
3. Sorghum millet (jowar)
Another healthy option when it comes to millets is jowar. What sets it apart and makes it a favourite option for weight loss is that the starches present in it are complex and thus the body finds these difficult to digest.
It provides the feeling of being full without causing weight gain. In fact, many people opt for jowar rotis as a healthy alternative to atta. This is due to the millet's policosanol content, which helps reduce cholesterol.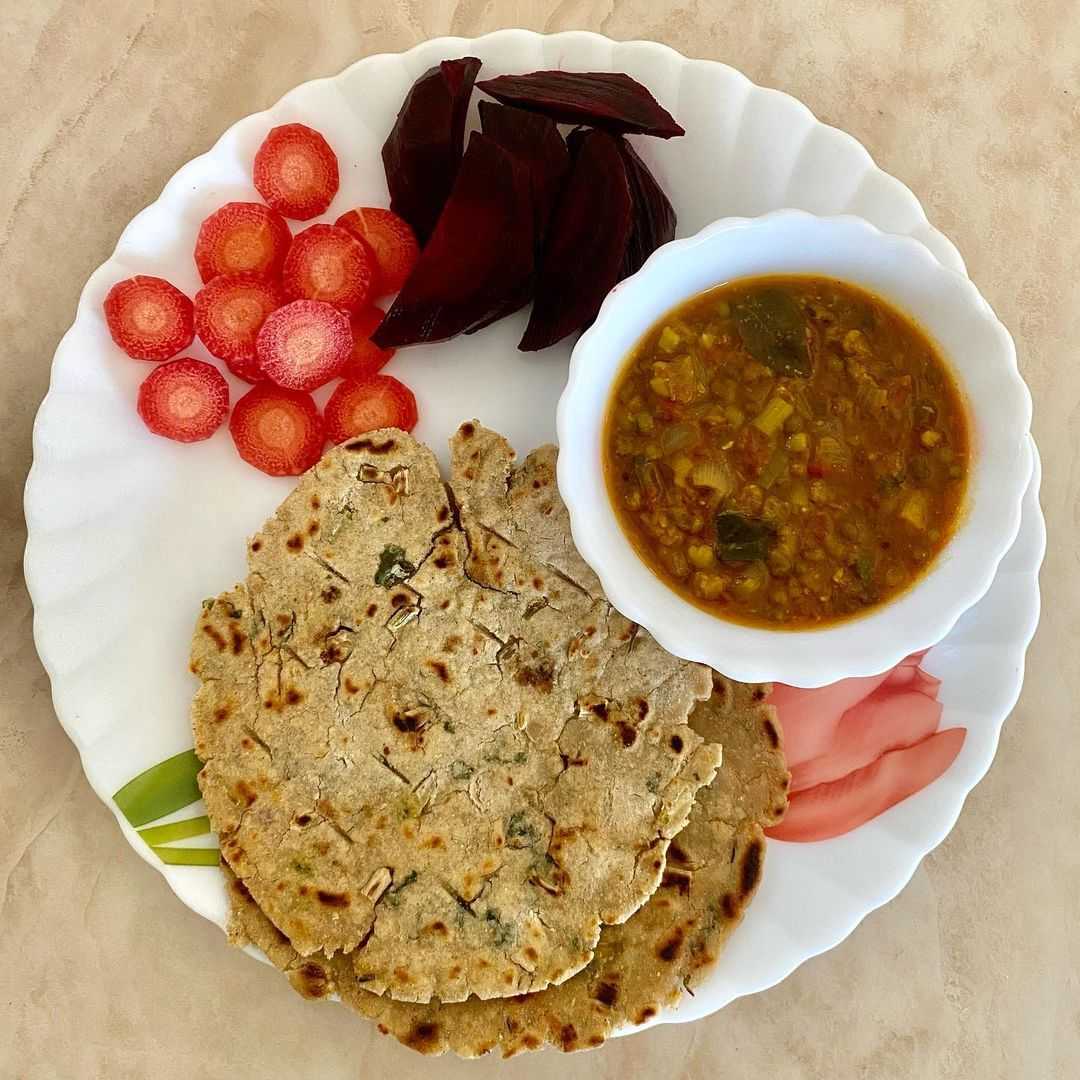 4. Finger millet (ragi)
Anyone who has gorged on Udupi cuisine or heard of the health benefits of these foods will know of the wonders of this millet. Along with being packed with fibres and amino acids, it has a unique blend of complex carbohydrates, dietary fibres and proteins. This ensures that one gets their daily dietary requirements without feeling hungry.
Indigenous to Karnataka, the millet is loved by all, especially pregnant women, all over India due to its high iron content. It is also said to make balance hormones and thus make the period of pregnancy easier.
5. Barnyard millet
The barnyard millet has a high fibre content of 13.6 gms per 100 gm grains. Due to this high fibre content, you will avoid unnecessary binging.
Moreover, the millet also exhibits a host of antioxidants which help keep various diseases at bay.
Contrary to popular opinion millets do not need to be boring. Here are some finger-licking options you may want to try out.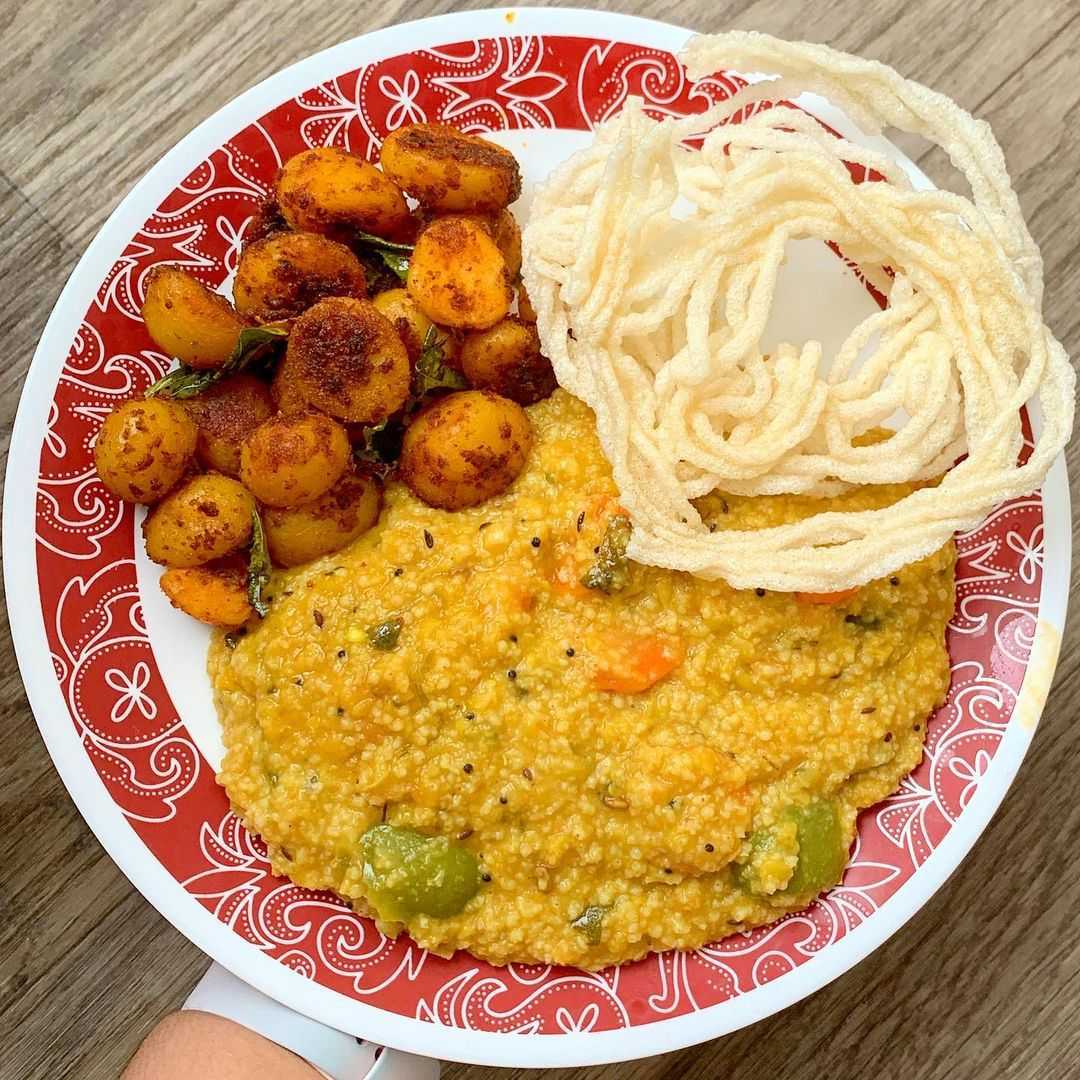 Millet bhelpuri (Serves 4)
Ingredients
1 cup mixed millet flakes
1 cup ragi flakes
3 cups puffed rice flakes
1/2 cup peanuts, roasted
1/2 cup amaranth & brown rice namkeen
2 tbsp chaat masala
3 tbsp black sesame
4 potatoes (diced), boiled
2 onions, chopped
2 tomatoes
4 tbsp lime juice
2 tbsp green chillies
3 tbsp green chutney
A handful of fresh coriander
3 tbsp moringa leaves powder
Method
Take a bowl and add mixed millets, ragi flakes and puffed rice flakes. Now add roasted peanuts along with amaranth and brown rice namkeen. Sprinkle chaat masala and black sesame in it.
Moisten the mixture with potatoes, tomatoes, onions, lime juice and green chillies. Mix well.
Later add moringa powder and green chutney and mix well.
Garnish with coriander leaves and serve.
2. Millet biryani (Serves 2)
Ingredients
1 1/2 cups foxtail millet
2 onions, sliced
2 carrots, 1/2 inch pieces
15 french beans, 1/2 inch pieces
1 cup green peas shelled
Salt – as desired
8 pods of green cardamons
1 black cardamom
15 cloves
1/2 inch stick of cinnamon
1 bay leaf
1/2 tsp caraway seeds(shahi jeera)
1 1/2 tsp ginger-garlic paste
1 tsp turmeric powder
1 tsp red chilli powder
1 tsp coriander powder
1 cup tomatoes
1 tsp garam masala powder
1 tsp lemon juice
2 tsp fresh coriander leaves, chopped
2 tsp fresh mint leaves, chopped
Method
Boil foxtail millet in four cups of salted boiling water with cardamom, cloves, and cinnamon, until three-fourths done.
Drain excess water and set it aside.
Boil all the chopped vegetables and keep them aside.
Add green cardamoms, cloves, black cardamom, and cinnamon along with bay leaf and caraway seeds and roast in a thick bottom pan.
Add tomatoes, ginger-garlic paste, deep-fried onions, carrot, French beans, and boiled green peas.
Sprinkle salt, cover, and cook on medium heat for two minutes.
Add turmeric powder, red chilli powder, coriander powder, and garam masala powder, and mix well. Simmer for two minutes.
Arrange a layer of millet at the top over that arrange half the cooked vegetables.
Sprinkle fried onions, lemon juice, and food colour mixed in milk garam masala powder, coriander leaves, and mint leaves.
Cover with a lid and cook. Let it stand for five minutes. Serve hot.
NOTE: For chicken biryani, substitute chicken in the place of vegetables. The rest of the procedure remains the same.
3. Ragi pancakes (Serves 2)
Ingredients
1/2 cup ragi flour (finger millet/ nagli)
1/2 cup whole wheat flour
1 ripe bananas, mashed
1 teaspoon baking powder
1 pinch salt
1 whole egg, whisked (Or flaxmeal egg replacer)
Oil to smear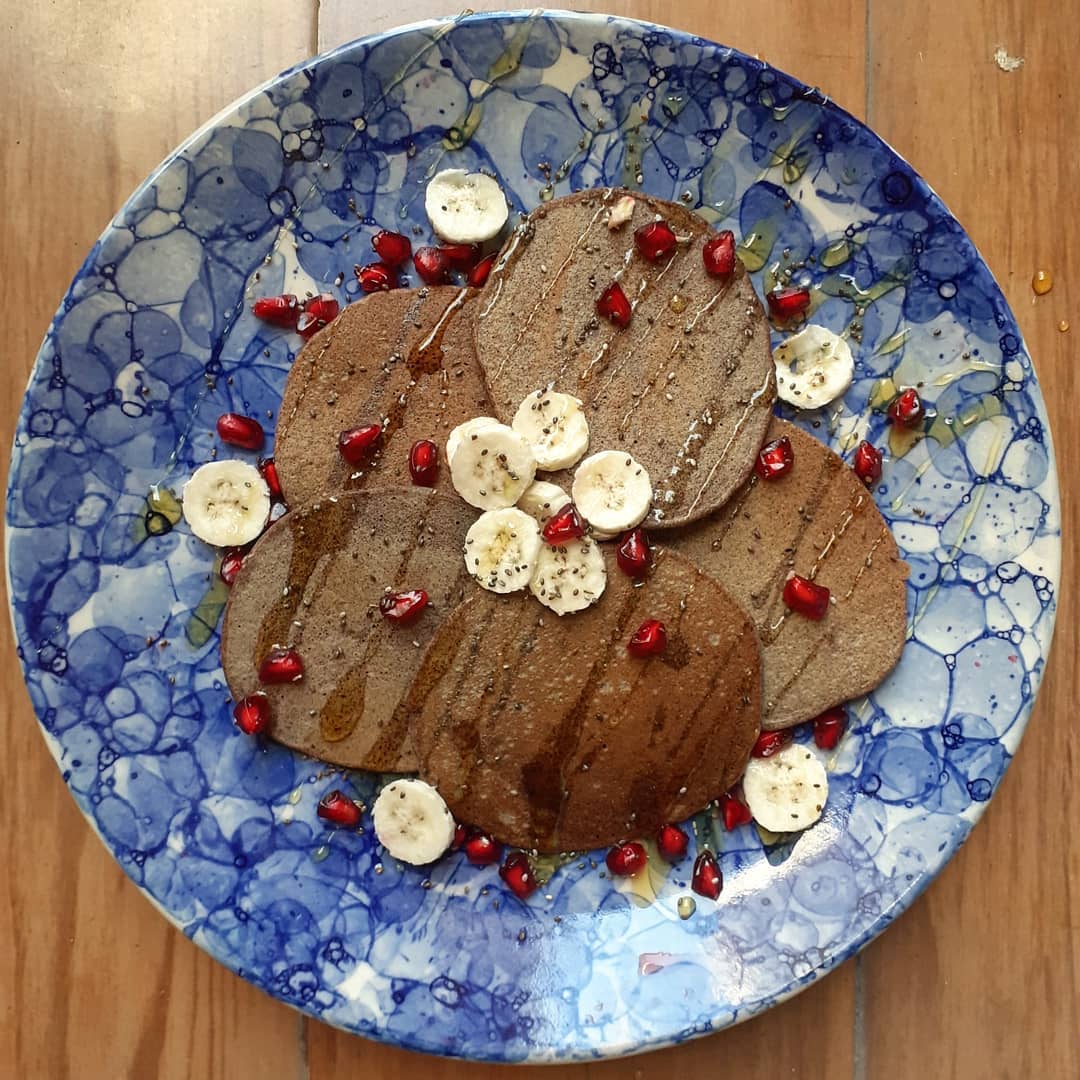 Method
To begin making the ragi pancake recipe with bananas, in a large mixing bowl, combine all the ingredients including ragi flour, whole wheat flour, ripe bananas, baking powder, salt and egg. The batter should be of pouring consistency but should not be watery or even too thick.
Heat a skillet greased with a little oil on medium heat. Once heated, pour a ladle or 1/4 cup of pancake batter on to the skillet.
Allow the pancake to cook on medium heat. You will notice the top side begins to get bubbles and air pockets and will slowly get steamed and cooked. At this point flip to the other side and allow it to cook for about 30 seconds.
Flip again and serve hot with butter and maple syrup. Continue with the remaining batter and grease the skillet with oil after each batch if using a cast iron skillet.
Serve ragi pancakes with bananas along with a cocoa banana almond date smoothie or espresso coffee for your morning breakfast.
4. Millet burger (Serves 1)
For patty:
30 gms kodo millet
30 gms watermelon seeds
3 coriander leaves
3 spring onion leaves
3 basil leaves
3 parsley leaves
2 gms mustard paste
For salsa dip:
1 tomato
2 tbsp coriander leaves
A pinch of salt
1 onion
15 ml olive oil
A pinch of black pepper
1 small spring onion leaf
For hummus:
50 gms chickpeas
1 tbsp lemon juice
5 ml olive oil
A pinch of salt
A pinch of chilli powder
1 tbsp coriander, chopped
For bun:
20 gms iceberg lettuce
2 tomato slices
2 pcs onion slices
1 bun
Method
Soak the watermelon seeds and millet separately for about an hour in advance.
Grind the millet and watermelon seeds in a fine paste.
To this add coriander and mustard paste.
Now add cumin powder.
Add chopped basil, parsley and spring onion leaves to this mix.
Add salt to taste.
Give this mixture the form of a patty and cook it on a non-stick pan till brown on both sides.
In a bowl add chopped tomato, onion, spring onion, and coriander.
Now add olive oil, black pepper and salt to taste. The salsa is ready.
For the hummus, boil the chickpeas and mash them into a fine paste.
To it add olive oil, coriander, chilli powder, lemon juice and salt to taste.
Spread humus over the bun.
Now place the patty with slices of tomato, onion and iceberg lettuce.
Serve with the salsa on the side.
5. Ragi chakli (Serves 2)
Ingredients
250 gms ragi flour
150 gms besan flour
5 gms ginger
5 gms chilli
2 gms garlic paste
5 gms salt
20 ml oil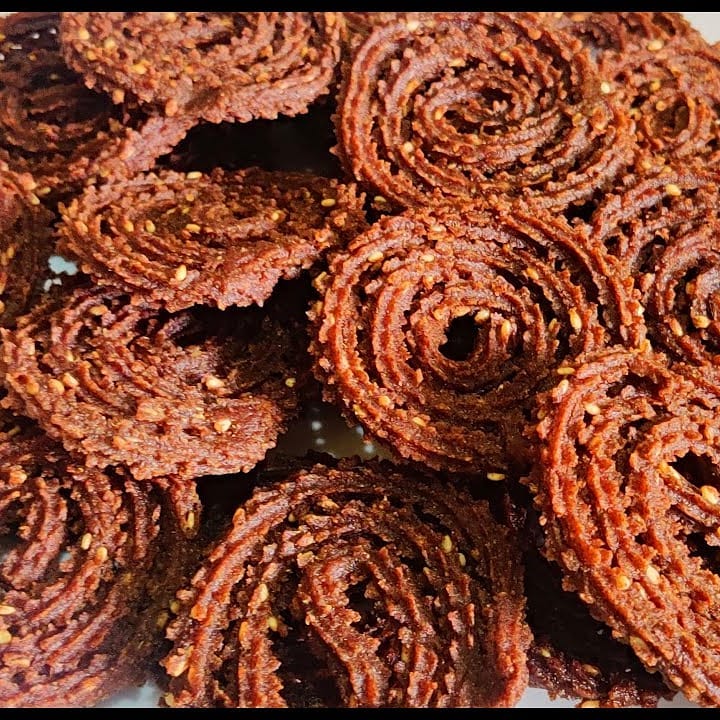 Method
Take the dry ingredients and knead them together. Add oil and the required amount of water.
Let it become a semi-soft dough. Make two equal sizes.
Take one-half of the dough into a chakli machine.
Press out roundels of the dough. Put chaklis in a pre-heated oven. The temperature should be around 360 degree farenheit for 15-20 minutes.
Take the other half and repeat the same process. Let it cool, the chakli whirls are ready to use.
Sources
Edited by Yoshita Rao