Gordon Ramsay built a bit of a reputation on being anti-vegan. However, the celebrity chef, restaurateur, cookbook author, and television host has admittedly warmed up to vegetable-centric meals in recent years. In fact, he now loves vegan food and encourages other chefs to branch out beyond dishes centered around meat, dairy, and eggs. 
In the season 12 episode titled "Gordon Ramsay Loves Vegans!" of the reality cooking competition series MasterChef, Ramsay put the contestants up against the show's first-ever plant-based challenge. While many contestants executed high-concept dishes that you would expect to find in a fine-dining establishment, it was Amanda Saab's falafel recipe that took home the win. We sat down with Saab to ask her about the inspiration behind the recipe, her approach to vegan cooking, and how she felt about her dish winning over the judges' discerning taste buds.
This season, which is officially titled MasterChef: Back to Win, does one of our favorite things in reality competition series: it pits former fan-favorite contestants against one another in a battle of skill. Saab originally appeared on the show's sixth season, where she was eliminated in episode eight. Since leaving the show, the MasterChef alum opened her own bakery (Butter Bear Shop, which closed in 2020), leveraged her social media following to fundraise for social justice causes, and has hosted dinners inspired by her Lebanese heritage at the restaurant Frame in Hazel Park, Michigan.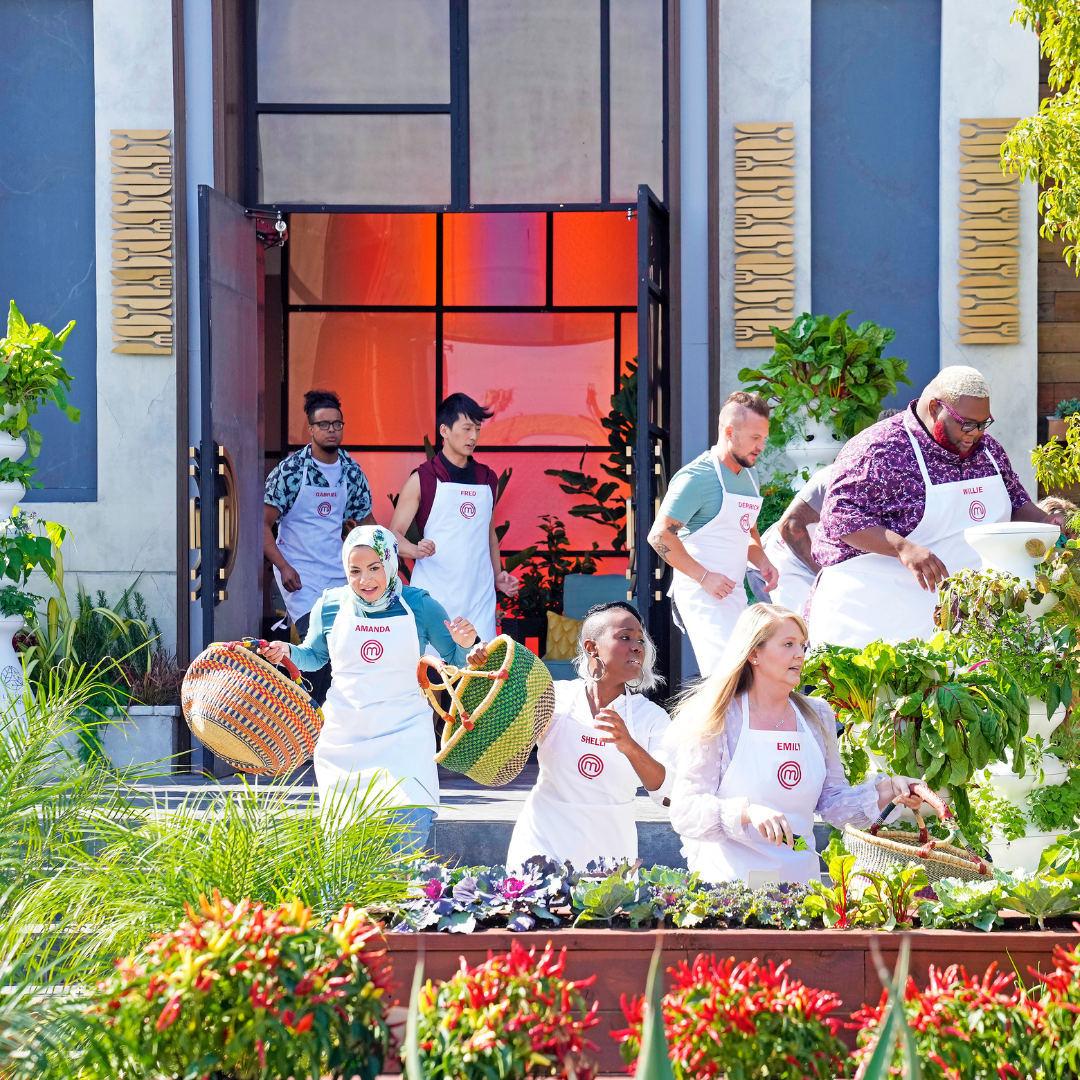 FOX
MasterChef's vegan episode
Ramsay opens up the episode with a little confession: "I actually love vegan food." However, this is no longer such a big secret. The British chef may have once been anti-vegan, but he's been serving plant-based food and posting vegetable-forward recipes online for years now. But, what comes next appears to truly shake up some of the contestants. Ramsay reveals that they need to impress himself and his fellow judges, chefs, restaurateurs, and authors, Aarón Sánchez and Joe Bastianich, using only plant-based ingredients. 
Shayne Wells, the former MasterChef Junior contestant who won the vegan challenge in the fifth season of the kid-centric competition, nervously describes himself as "a meat guy." Samantha Daily, a pastry chef from season nine, is fearful of cooking without dairy. But, others kick off the challenge with confidence. Michelle "Shelly" Flash of season six, cooks for her vegetarian daughter all the time. And the judges have "sky-high expectations" of Fred Chang from season six, who already won a challenge in a previous episode when he presented the judges with a vegan dessert.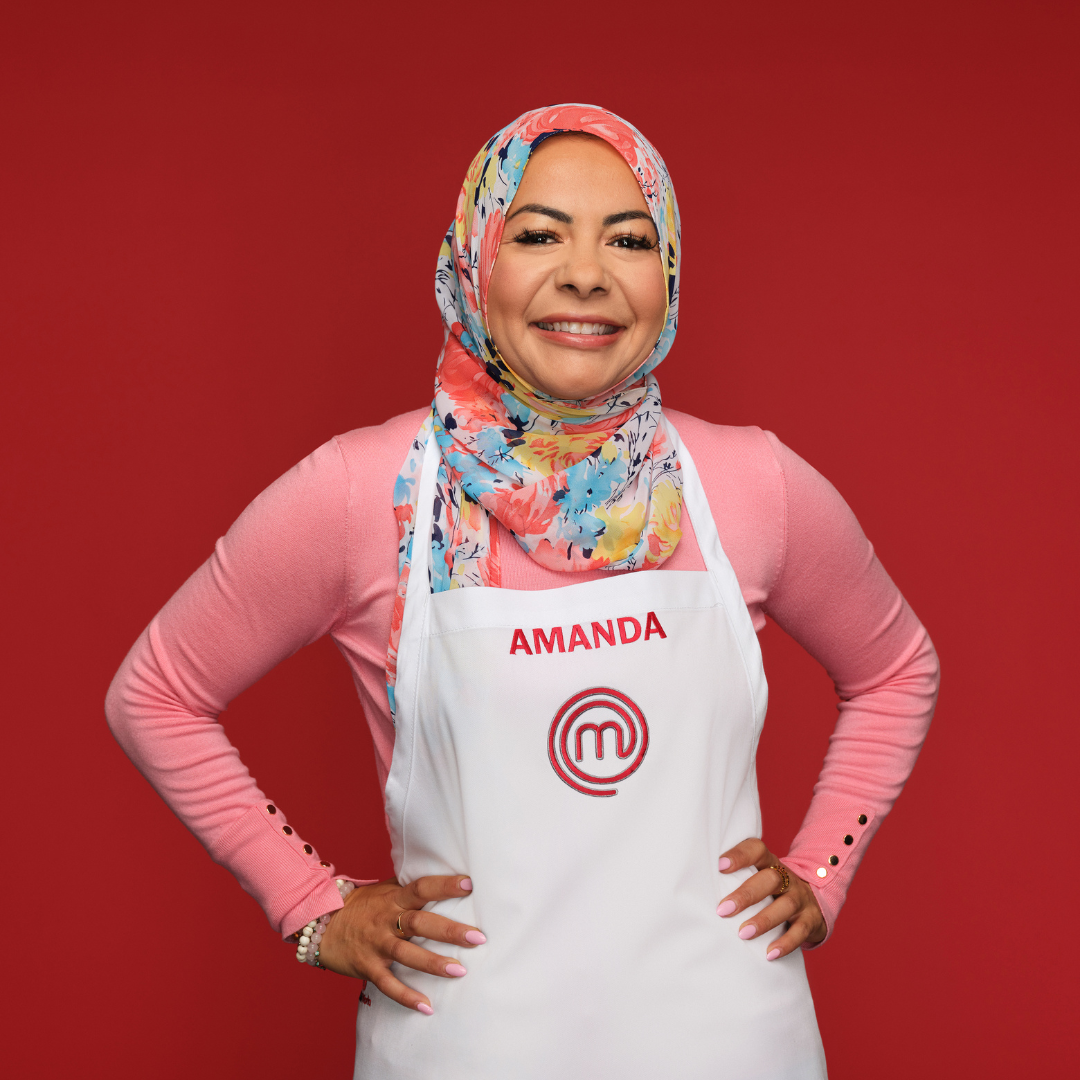 FOX
Amanda Saab on winning 'MasterChef's' vegan challenge
Saab is one of the few confident contestants. She won the challenge and nabbed immunity for the next episode by whipping up falafel served with handmade pita, watermelon radish, micro-cilantro, tomato, and pickled red onions. A "humble" recipe according to some standards, compared to the other contestants' beet tartare, pumpkin arancini, and risotto with tofu scallops, to name a few dishes. But, Saab believes that elevating her family's recipe is what secured her win.
VegNews: Thank you so much for sitting down with us today. A lot of contestants seemed nervous about cooking for a vegan challenge. Did you have any hesitations?
Amanda Saab: No, I thought "oh, yes!" So much Lebanese food is naturally, organically vegan. So many of the recipes I grew up eating were veg-forward and vegan. My mom has been vegetarian since she was 14, so for my whole life, [my family] ate a predominantly veg-forward diet. My grandparents owned a produce store, so we always had fruits and veggies around. So when I first heard [that the challenge was vegan] I thought, "Perfect! This is for me. There are so many recipes from my childhood I can pull from."
VN: So, was the falafel that you made for the judging panel based on a family recipe?
AS: Yes, it's our family recipe for falafel. Not in the traditional way, because we usually soak the dry chickpeas, but I knew I could do it with canned chickpeas—I just had to be a little more delicate in how I'm forming the balls and giving them more time to chill before frying. It's how my grandmother taught my mom, how my mom taught me, and how we still make them today.
VN: So many contestants went for ambitious recipes, like risotto with tofu scallops or mapo tofu gnudi. How did you feel when you were working on a family recipe versus so many recipes inspired by fine dining?
AS: I thought I could either go really outside the box and create something new or I could stick to something that I know is super-delicious and that I'm comfortable executing. As I was looking around, I noticed that a lot of contestants were making complicated things, and I think that can be a barrier to cooking different cuisines. [Vegan food] doesn't always need to be outside the box. There's a time for innovation and creativity, but I knew I could do that in my own way with my plating and by playing with different pickled vegetables. But, I wanted to stick to something I knew the judges would love.
VN: Tell us how you felt when your dish was picked as one of the top three, and then you won the challenge.
AS: I was so ecstatic that [I won with] a family recipe during the vegan challenge. They caught one shot of me jumping up and down when they called my name. It was really cool to have been selected to win this challenge.
VN: If someone wanted to cook vegan Lebanese food, what would you recommend that they make and what ingredients should they buy?
AS: First, definitely get chickpeas because they're so versatile and you can make things like falafel, hummus, and different types of stews. There's one dish that combines chickpeas with hummus, bulgur wheat, and tomatoes, and it's so refreshing. Eggplant is another ingredient that we use often in Lebanese cuisine, especially in summer. We stuff a lot of vegetables with rice and even more vegetables, whether it's dolma (stuffed grape leaves), stuffed squash, or stuffed peppers … We really showcase the produce of the season and you never have to do much to manipulate really fresh ingredients.
VN: If the challenge allowed for it, would you cook another vegan dish for the MasterChef judges?
AS: Oh, definitely. Because I'm Muslim, people are always like, "Oh, you don't want to cook pork." Well, I also don't eat a ton of meat, so I prefer baking and veg-forward things.
For more on Gordon Ramsay's history with veganism, read:
Gordon Ramsay Welcomes First Vegan Chef to Hell's Kitchen Competition
Gordon Ramsay Just Dropped a Vegan Bacon Recipe
Gordon Ramsay Makes Vegan Steak Out of an Eggplant
Happy birthday, VegNews! To celebrate, we're having a mega subscription sale—complete with incredible vegan prizes.
Happy birthday, VegNews! To celebrate, we're having a mega subscription sale—complete with incredible vegan prizes.