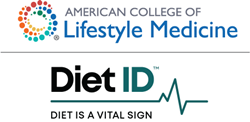 "Diet ID is on a mission to make diet quality—the single leading predictor of mortality and morbidity in the modern world—a vital sign."

ST. LOUIS (PRWEB)
October 11, 2022
The American College of Lifestyle Medicine (ACLM) has announced the addition of nutrition measurement, management and behavior change platform Diet ID to its Lifestyle Medicine Corporate Roundtable, a group of thought leaders and industry professionals who explore effective clinical innovations, activate marketing strategies, accelerate reimbursement and policy adoption, and pursue research and demonstrations of lifestyle medicine in practice. ACLM launched its Corporate Roundtable in 2016 and it now includes nearly 50 active member organizations in the lifestyle medicine ecosystem.
Lifestyle medicine is a medical specialty that uses therapeutic lifestyle interventions as a primary modality to treat chronic conditions including, but not limited to, cardiovascular diseases, type 2 diabetes, and obesity. Lifestyle medicine certified clinicians are trained to apply evidence-based, whole-person, prescriptive lifestyle change to treat and, when used intensively, often reverse such conditions. Applying the six pillars of lifestyle medicine—a whole-food, plant-predominant eating pattern, physical activity, restorative sleep, stress management, avoidance of risky substances and positive social connections—also provides effective prevention for these conditions.
Diet ID is a business-to-business, software-as-a-service (SAAS) company that has invented, patented, scientifically validated and widely commercialized a revolutionary advance in dietary assessment employing a visual approach to measuring and optimizing diet quality. Compared to other dietary assessment tools, this personalized, customizable platform saves time, effort and cost while generating a personalized route to wellness in just minutes. The first fundamentally new way to measure dietary intake in half a century, Diet ID is on a mission to make diet quality—the single leading predictor of mortality and morbidity in the modern world—a vital sign.
According to multiple studies, diet is the leading predictor of chronic disease risk – more than genetics, physical activity, or smoking. A critical element in health optimization, managing diet is extremely challenging, as it's tedious, costly to measure and track, and difficult to personalize. Diet ID's digital nutrition tools quickly help providers understand their population's nutrition intake, as well as provide a personalized blueprint for changes to improve and optimize health. In addition, used as a dietary intervention, the platform offers the unique ability to impact downstream cost savings achieved through upstream improvement in diet quality.
Rooted in decades of research and validation, Diet ID offers transparency with the fastest way to measure diet quality, food intake, and estimated nutrient intake. Diet ID allows effortless diet quality assessment with its digital one-minute, validated visual dietary assessment. A clinician can generate results and individual plans in real time. For the patient, the Daily Actions Module swaps out burdensome food logging for joyful social challenges, meeting people wherever they are on their health improvement journeys.
"The advancement of lifestyle as medicine in all of its luminous promise to add years to lives, and life to years, is dependent upon pearls of innovation," said Diet ID Founder and CEO David L. Katz, MD, MPH, FACPM, FACP, FACLM. "Diet ID is to diet as a vital sign as the blood pressure cuff is to blood pressure and should be applied as such universally. The routine inclusion of dietary assessment, and management, is the next evolutionary advance in the standard of food as medicine in clinical care. ACLM's Corporate Roundtable provides us all the opportunity to explore our synergies, be more than a sum of parts, and make together a greater difference."
"Nutrition is the foundation of lifestyle medicine, with the power to prevent, treat, and reverse chronic disease," said ACLM President Cate Collings, MD, FACC, MS, DipABLM. "Conventional dietary assessments are cumbersome and neither user nor provider friendly. Diet ID makes it possible to more easily standardize and streamline dietary measurement so that providers can spend their time and target the resources to best help patients. We welcome Diet ID to our Corporate Roundtable."
ABOUT DIET ID— Founded in 2016 and headquartered in in Detroit, MI, with a team around the U.S., Diet ID is focused on making dietary assessment a vital sign. Founded by Dr. David L. Katz, lifestyle medicine and nutrition leader and founder of the Yale-Griffin Prevention Research Center, Diet ID provides a scientifically valid approach to help people improve what and how they eat, one bite at a time. The result is permanent habit change, with a preference for healthful foods. Learn more about Diet ID at dietID.com.
ABOUT ACLM–The American College of Lifestyle Medicine is the nation's only medical professional society advancing lifestyle medicine as the foundation for a redesigned, value-based and equitable healthcare delivery system, leading to whole person health. ACLM educates, equips, empowers and supports its members through quality, evidence-based education, certification and research to identify and eradicate the root cause of chronic disease, with a clinical outcome goal of health restoration as opposed to disease management.
Share article on social media or email: