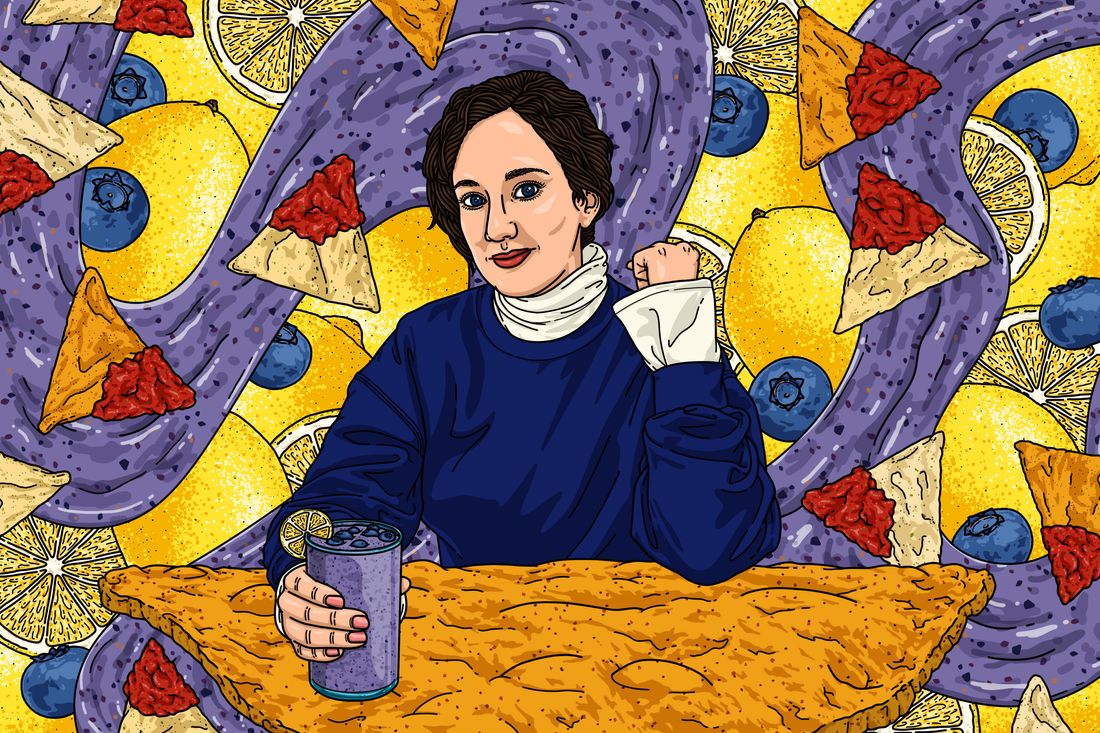 Novak, with her Quest chips and Rao's "dip."
Illustration: Eliana Rodgers
The comedian and author Jacqueline Novak doesn't know exactly many times she's performed her show, Get on Your Knees, since its debut in 2019. "It might be 300… or 500?" she guesses. "I don't really feel the performances adding up in that way. It's more like there's the one show, and every time I perform it, I'm  just inside the one show." Whatever the count really is, it will rise again next week when she takes it back on the road, first to Montreal, then for two nights at the Bell House in Brooklyn, and finally to Edinburgh. This week, while home in L.A., Novak crunched through some work before heading off on tour — and then tried to figure out what to do when a beloved meal service took an unexpected break.
Thursday, July 14
I thought that I would be away this week, and I'm not. It means I'm off my usual meal plan, Factor 75, a life-changing routine I've been enjoying for a few months, where most meals I just heat and eat. Delicious, and not an ad. I can't recommend it; it's not for everyone. I put myself on a plan so as not to lose an entire day to meals, to make my existence slightly more "eat to live" while I try to crank out some creative work. If I don't regiment, I see every meal as, Let's plan a party. What would be outrageous, the greatest thing we could order right now? 
Factor helps when I need to focus. "The variety, restaurant quality!" Chris, my fellow, and I exclaim to each other at every meal. Food is the thing around which I ritualize and spin, so it's unusual for me to be on such a three-squares type of plan, but recently it's become essential.
So I paused my subscription. Now I'm fucked. I can't make the week a take-out extravaganza. I'll have to just sort of get through.
I take a trip to Ralphs. I need stuff to fill me when I might otherwise panic and order in. I opt for some Steamfresh bags of broccoli, asparagus, and brussels sprouts.
Brussel sprouts. The last several years, the Brooklynian pride that people take in enjoying them like they've always felt they were delicious? Like they never once blinked at the stench? Something is amiss. I resent the fried brussels sprout appetizer but I continue to order it with friends.
I get shredded mozzarella cheese because I'm trying the TikTok keto trend of "chaffles." They're cheese and beaten egg, put in a waffle maker. The word "chaffle" isn't appealing, but I tried one and it was delicious. I recognized I'd have to live with that word now. It's like when you get diagnosed with a chronic condition, and learn the name for it, and realize you're going to be living with that word for the rest of your life. I feel that way about "chaffle."
I pick up a few plastic tubs of butter lettuce, the easiest lettuce, goes down like butter. I get Organic Girl. I am not sure yet if I like a personality attached to produce. Some Jerry Greenthumb. I feel the presence of the person on the package — this organic girl — hip-deep in a field of corn, sun hat pushed back, a squinty smile for whoever is taking the photo. Whenever I dump the plastic containers into my wooden salad bowl — a prized possession, a gift from my mom, like the kind she has — I feel Organic Girl there, too.
Shopping exhausts, and so the very moment I have groceries is the moment I want to order in and do. I feel zero shame in ordering in. I'm disgusted when people act like it's a moral failure.
It's tough having no full meals in the fridge. Just raw, constructional elements from the perimeter of the supermarket, as the experts encourage. It's like an alphabet in there. I have the letters, I even have a few words — semi-prepared items like roasted turkey or packaged smoked salmon — but now it falls to me to build these sentences, the meals.
Off bread (I refuse to explain the varied reasons), I still order from Italian restaurants. I order a meatball appetizer, a garlic shrimp, a sausage and peppers sandwich. Platter style, please! No bread! Doctor's orders! I've started saying "doctor's orders" to gain empathy from whoever is preparing the order. I feel if they think I'm merely a vain breadless actress they won't honor the request, as in, "Throw out your own bread, you vapid bitch." I kind of agree with them, but I can't take the waste. I get broccolini, too. Volume eater here.
Chris trusts me to order. My greatest quality is that I always, always order enough food. I have never once not ordered enough food.
One time I ordered Japanese food. Chris collected the food and turned around in the doorway, holding up the smallest bag you've ever seen — just a bag, a regular lunch bag. My jaw dislocated. I couldn't even eek out words. This wasn't possible, something had gone horribly wrong. Then he stepped further in the doorway, revealing the second massive bag in his other hand. I cackled and screamed, an endorphin rush. It's the picture on my phone. It makes me so happy, the feeling of briefly being robbed and then realizing sheer abundance. He knew it would devastate and then delight me.
I suggest, tonight, when the food arrives, that we don't even have to eat the shrimp, you know, if we get too full. "We could save that for tomorrow's lunch," I say, like some douchebag. Referencing tomorrow's lunch feels like a costume I'm wearing for you readers. We always eat the shrimp. "Tomorrow" never holds meaning for me with food. I am hungry today. Improbably, this time we don't eat it. I'm actually worried that not eating the shrimp will misrepresent who I am to readers. I feel like some "normal" food person with their sensible ideas about portions.
Friday, July 15
Chris and I go to the Grove to get some fresh sneakers for his upcoming shows. Disheartened by the Nike store's lack of shoes, we instead find our way to a newer spot, El Granjero Cantina, to salvage the trip. I love when shopping fails and thus must be "saved" by the food court. It's non-peak hours with outdoor seating and shade.
Immediately upon sitting, a waiter offers frozen margarita samples, inquiring sensitively, "Does anyone here drink alcohol?" Index finger to the air, I say "I do!"
He gives me both of the little glasses on his tray. I adore generosity. These are proper glasses, in miniature, not those paper sample cups. I do love those, the folded kind you might be handed a summer treat in. The summer has nearly passed me by without a single paper cup being soaked through with blue razz sugar water. For this I am mournful.
Two little glasses, a frozen mojito and a frozen pink margarita, pink of unknown intentions. I haven't eaten anything yet today in an attempt at intermittent fasting. Autophagy is promised at 16 hours. Confident my liver has depleted its glycogen, I down the samplers, sure they will burn quick as pure energy.
They are sugary, and by comparison, the traditional margarita that I then order for my real drink feels like a salad, a noble, elegant choice. Alcohol is not my drug; I don't notice its absence. It is food around which meaning constellates, but if I'm getting a very sweet drink, I feel like I need to get something more out of it. A frappuccino better be caffeinated, a frozen drink better be boozed.
I get "a bowl" and instantly regret the order. The word "bowl" used in a restaurant context lowers it to something served in a lunch spot by an office building meant to appeal to modern lunchers. The bowl is the wrap of the nineties.
I order the keto bowl, but I say it with a tone as though I'm confused by the word "keto," and just happen to be ordering it based on ingredients. In fact, the word keto flies out of my mouth three to four times a day. Metabolic flexibility is actually the new goal, carbs and fat. Attempting to master my metabolism is an ongoing experiment related to vanity and maybe more importantly, mood, energy. I have a few devices.
Thankfully Chris orders a bowl, too. If he ordered a plate of enchiladas, I'd immediately have to pivot. And while I want an enchilada, it will equal a nap. I cannot do the eat-and-pass-out routine right now. Depression has been peeking around the corners of my 20 year-long, triple-med cocktail the last few weeks, and so I have to remain vigilant.
I can already imagine the readers out there thinking, Just get the enchiladas. Please, please, I know. I am Mrs. Get the Enchiladas. I am a pig whose only pleasure is food. Spiritually, I would never be someone who is "off grain," but times are desperate. I have to consider the consequences on my energy.
I would always rather remove a food group than consider portion control. So if I'm making a single dietary restriction on myself, it is due to a desperate attempt to get around some other restriction. It's always about, How can I have it all?
There is an interesting moment where the waiter brings out our bowls. He doesn't know which plate is carnitas and which is chicken because, he explains, he's a vegetarian. You figure out your own innards, you murderous monsters.
He is right. The casual mentions of animal eating in this article will reflect heinously to all in a few years, while now only to some. It's gotta go, and still I'm not there yet. I'm eating death, and yet I expect God to help me out? How dare I pray.
Chris and I later get our hair cut together at Goo Salon on Fairfax, and I pose, Is today the day we try Jon & Vinny's? It's the first restaurant anyone ever mentioned to me when I moved to L.A., and I still haven't been. I see there is a wait, only a single couple standing outside, but that won't do.
Later at home, I remember there are chicken breasts in a plastic bucket in the fridge. I'm using tubs in the fridge now in order to organize items and not forget what I have. I have a spinning plate for condiments, too.
Nothing haunts a fridge like raw chicken. I decide to use the air fryer. That's just a convection oven, you say. I know, but the basket and handle create a feeling of ease. No reaching in. I have scars on my knuckles from adolescence, from reaching into a toaster oven to feel if my tuna melt was ready, or even more boldly, trying to drag the oven grate out, via pressure of the finger atop the melt. The top-loading oven that is the air fryer has benefits for me.
The chicken breasts are big, and I fear that heating them enough to cook the center will come at the cost of drying out the rest. So I cut them into strips. Egg in one bowl, an almond-flour-parmesan mix in another, and Momofuku Tingly salt in the third. Those all balance on a grate atop my sink. I found it online. It's a drying rack for mobile homes.
I have, at most, a foot or two of counter space and it is occupied by an AquaTru water filter, so I prepare everything in the manner of a juggler, objects balancing on each other. I dump in an ingredient while the fridge door is still open, and put it back before it's closed.
I dip and assemble and mourn the breading that will inevitably stick to the fryer when I flip the tenders. I scrape a little of the displaced coating onto the strip after the fact. There it rests.
My air fryer is too light on its feet, so in order to push the basket in, I have to simultaneously grab it from behind to steady it and shove from the front. This is where the hot air comes out. I've been burned. But I'm not going to seek out a mitt. Instead, I avoid burns and achieve the move simultaneously by slamming both sides at once, like a drum. I live a life of little workarounds.
I do a few rounds of tenders before I remember that the uneaten garlic shrimp from the previous night's takeout is waiting in a brown box that could never come close to being considered "sealed." I've gotta move on that shrimp. Look at me, someone with leftovers. 
I know Chris has already been starving for an hour, so I make a decision to prepare him a salad with the shrimp, although all kitchen surface is currently in use. I can do it. My abilities are hindered only by having tried a xylitol-sweetened drink promising mood benefits and it immediately expands in my stomach, painfully.
I dump butter lettuce — hi, Organic Girl — spritzed with olive oil from a spray bottle I bought for just this purpose. A splash of white wine vinegar (from when I was remaking Via Carota's dressing at home) and a squeeze of lemon. When I the squeeze lemon, seeds fall in, and then I remove the seeds. Is that how you do it?
Next, I open a plastic container of feta, popping off the lid with a thumb so that it lands amidst the counter disarray, where I can retrieve it after. I tip the tub and shake it over the bowl. This means the biggest chunks fall out of the container, you know the ones? Chris can manage them.
I dump in some Castelvetrano olives, using a spoon to retrieve them, because I am not looking to add the filth of my fingers to the brine. I have a lot of jars of Castelvetranos around, because I went through a period where I was making the Altro Paradiso fennel salad near nightly. Same as the Via Carota time. Those days were different. When I needed my mandoline, I had to retrieve it fresh from the dishwasher, because I had used it just the previous night. I was also in a daily routine with that avocado slicer then.
I microwave the shrimp, throw it on top of the salad, and deliver it to Chris. He hadn't been promised the tenders so there was no disappointment. And I know they're coming his way later anyway.
I Google "air fryer chicken keto" and see that people are flipping the chicken over after ten minutes, putting marinara and cheese on top of and then letting it go for another five. I do it.
I then briefly keel sidelong onto an ottoman to deal with the xylitol pain before picking myself up to hunch back to the tenders, and damn it looks good. The air fryer does it again.
I bring the tenders into the TV area for us to eat, despite the pain I'm still experiencing ribs-down. I'm wearing a bathing suit I only half took off, and so the double layer is choking my abdomen. I ask Chris for a pair of "those men's underwear" as though they're a curious delicacy. The term "boxer briefs" escapes me, but he nobly retrieves some. It's a luxury to ask him for his underwear. He brings them folded in hand. Ribbed cotton. A wide soft band. This is exactly what I want to be in while eating the tenders.
From the ribs up, there's no xylitol pain, and ribs-up is where the tender will most be enjoyed, mouth and the top of the stomach. Might as well have some pleasure in the mouth. I am not someone who finds stomach pain to be an appetite suppressant. Physical pain and food pleasure are two radio channels I can listen to simultaneously. The food might even drown out the pain.
Saturday, July 16
Turkey, cheese, and mustard "rolls," cold, in front of the open fridge. They don't roll— a cheddar slice will crack — but calling them "rolls" makes it sanctioned by the internet. I also stand there eating something termed "snacking bell peppers" by Whole Foods. They're remarkably crisp and juicy. Have they been like this the whole time?
I am confused by the markings on the package, though, concerned I've been fooled. "Local" is checked, but not "organic." Hmm?
I've been experimenting with something where I blend an entire lemon with blueberry and water, as I saw on Dr Berg's YouTube channel — the whole lemon, pith and all — but I skip the slurry and instead have a Two Good yogurt before Chris suggests we eat something interesting, "for your Grub Street."
It all falls apart. Hours pass and I start looking forward to the night's inevitable end: Quest chips dipped in Rao's marinara. I wonder if I will have to report that here. Will the heinous admission do for others what Jerry Saltz's description of his daily meals did for me? Affirmation and delight.
The pleasure of Quest chips in Rao's is that what I taste when I'm eating it is something that isn't present. I taste what it is striving for but cannot be. I am thus testing faith itself.
It's something that's not a tortilla chip, but a protein-powder–based Dorito, dipped in something that not only isn't salsa, but which utilizes Italian food flavors. Do you see the thrill and perversion of their intertwining?
It would be shameful to be spotted eating it, yet Chris knows and accepts my enjoyment. The intimacy of my being able to eat this in front of him.
It's the exact opposite of the small piece of dark chocolate that's always brought up as the sensuous woman's healthy indulgence. So rich, you could never eat more. Yet I've marched my way through entire bars of 96 percent chocolate. Yes, it's too rich. It hurts a little, but I enjoy seeing what will happen as I push the envelope. I have already eaten half — what might it feel like to keep going? Will the sweet, almost metallic saturation overwhelm? Will the mouth be forced to its breaking point, and take me to some new curious layer of pleasure or horror?
When I'm feeling more dignified, I heat up the marinara sauce, thus giving Rao's one of its expected attributes: warmth. On the second helping, I usually just go cold. It is precisely this devolving from dignity to less, that progression, that gives the seconds their meaning. A third iteration, an encore, would be to glug glug straight from the jar.
It's not a pleasing concept, I know. When speaking to others, I'll refer to this whole act as "dipping Quest chips in Rao's" to soften the image. The Rao's is not a scarf gently draped on the neck of a chip. The chip is threatened wildly under the weight of the Rao's. The only part of the chip that remains uncovered is its Achilles heel, where I hold it between two fingers.
Everything beastly about this experience is essential to its pleasure. There is the combination of ingredients — cherished high-end-restaurant-based-but-supermarket-available marinara meeting with vitamin aisle protein–based snack food. There is my approach to it, the not-chewing so well, the ugly moments, like the poking of the index finger into the corner of the bag to get the crumbs, then dragging that finger along the bowl's final ribbons of Rao's. My bold management of the risk of it breaking under the weight as the chip approaches the face. I utilize forward momentum to unburden the chip of gravity's downward force.
The danger, the hunt, the chances of my prey bounding just out of reach, and then success — this is present in each bite.
Any way that I may have denied myself during the day, emotionally, in interactions, I feel like I reconcile when I eat like this. I am describing a process a therapist might try to heal me from. And yet, I'm not sure I want that.
When I eat in this way — the purposely bad combo, the purposely slovenly way I eat it — I feel like I am airing the entire conflict of my existence, not hiding from it. It's a surrender and collapse, embodying wholly me.
The problem this week is I got the Quest chips in the vitamin aisle at Target, which means small "snack" bags, inside of a bigger bag. The smaller bags always end up crushed. Stockists in the vitamin aisle don't show the same care as they would in the food aisle.
The true Quest bag I long for is a bigger size that I have gotten from Sprouts, maybe the equivalent of four bags. If you're used to the usual unsatisfying bags, the big bag is a windfall. Its meaning is predicated on the little bag. The only thing I miss in eating from four small bags in favor of one big bag is the panic and surrender I experience upon opening each new package. I shouldn't and yet I shall! Pop, it opens. 
This all goes back to the source bag, the Tostitos bag of my youth, humongous, the size of my torso. Anything less than a torso-sized bag seems unlikely to fill my torso. And I always think of my stomach as being my whole torso.
Feeling a sense of completion for having cooked the chicken the night before, I scroll Postmates. The feeling is, I didn't get enough work done; I may as well bolster my spirit with something good.
I eat takeout so regularly that it's not automatically experienced as a treat. Sometimes, when I like what I order, I'll order it for the next three weeks, nightly, without pause. This is where my income goes, so I have to be careful. Sometimes I scroll and prepare carts for so long that by the time I click "order" the restaurant is closed. There's relief in that moment. To click "purchase" is the height of decision anxiety and to immediately be told that your choices have no consequences is freeing. Then you get sent back to the question of any food at all and if so from where?
Some people say things like "nothing is open." There's always something open, but nothing is promising salvation. I don't think a meal of any sort got had tonight, an opportunity lost to time. Astonishing. I almost never let this happen. Usually I like to eat late, pass out post-meal, and then clumsily stomp up the stairs to brush my teeth and go to bed. Every day I read about the benefits of not passing out full, but god I love it. That fullness is the ship that carries me from this consciousness to the sleeping one.
Sunday, July 17
I wake up irritated. If I want my body to have a chance at anything resembling an intermittent fasting base layer of 12 hours, then I won't be eating til 2. The liver's gotta clear the glycogen stores, so I am a monk in the morning. Oh just black coffee for me, no, no milk. Beautiful tart, no I won't be having that. A stark woman of the mind.
I'm trying to budget more, but dinner has to come last on the cuts list. The moment I worry I'll go hungry from budgeting, I panic. I click over to my credit card portal and start looking for other things I can cut out, like automatic subscription re-ups I forgot to get out of in time.
I chomp raw asparagus, furiously.
Monday, July 18
I go to a small cafe near my place and decide to achieve the $6 credit card minimum via food instead of additional espresso. I choose a tuna sandwich without the bread. I want everything else on the sandwich, though: the cheddar cheese, the tomato. If they plate it on lettuce, I'll be glad but I don't demand it.
When I order the sandwich "without the bread," the proprietor says, "So, the tuna salad?" I'm afraid to say yes. What if the tuna salad doesn't come with cheddar? I double down and insist I want what's on the sandwich, But yes, great idea, served over lettuce would be fantastic, and thank you.
Shortly after, I see it being prepared, over lettuce, salad style, but because I've made such a point of this being the sandwich without the bread, it seems they've shifted paradigms and are thus not going to offer dressing.
While I wait, I finally have a chance to look at the salad menu and the toppings are extraordinary. I see avocado, I see onion. And all for the same prices.
I sheepishly ask if avocado can be added… and red onion? I wave my credit card — I'll pay extra of course!
What I really want is eggs.
The place serves breakfast burritos, but what I do not see is an egg plate on the menu, nor a place to cook them. After all my deranged salad-and-sandwich demands, I cannot now start inquiring about how I can get the breakfast burrito without the tortilla.
But surely an egg on a plate is easier than in a burrito, so where the hell are they cooking eggs? I see a panini press. Could it be?
There's no back kitchen, but asking where they make the eggs seems impossibly rude: Since I can see your entire setup, can I point at it and ask questions?
This is a little mystery that's stretched multiple days, where I slowly surmise things about their egg situation. as I piece together impressions and conversations.
I notice a man eating eggs — on a plate! — with avocado. I don't stare, but I note the eggs seem to have been prepared in something square, a thin puffy mattress of an egg. I'm imagining a silicone egg-cooking microwave insert. Still, I could make this work. I fantasize about modifications I would make to the kitchen, maybe donate one of those Instagram plug-in stoves, since the cafe's so close by.
I eat my tuna over salad, undressed. Totally fair. I was explicit about wanting it "like the sandwich," but I do recall a lemon aioli mentioned on the sandwich. This happens whenever I order a sandwich "without the bread." They rob me of the little things. I feel I cannot now ask for dressing on what in the end became, yes, a salad.
At night, I decide to use up a few ingredients. I remember a pre-sauced salsa verde chicken thing I bought. I knife open the plastic bag, heat it up in the pan, see something about internal temperature and seize up. Oh god, I bought something raw? I know the meat thermometer is nowhere retrievable. It's off with the mandoline.
I revisit the instructions, which say "fully cooked." Then why do I need to ensure a temperature is reached? I guess because even cooked meats get the blues? I'll be using my tongue as the thermometer.
I toss a salad with black olives — the signature taste trigger of childhood taco night — and remember I've left an avocado in the fridge. I cut in: yellow except for the outer edge. Fuck it, let's mash it up. How negative can the unripeness be if it's mashed? I won't really truly mash.
Next I discover I have no salsa and I am devastated. My preferred cheap guacamole trick is to dump salsa into the mash. At home, I like my guacamole practically red. This guac is a casualty to my hubris. Still, I spoon a bit on.
I saute some "fajita mix" pre-cut vegetables and they save the salad.
I next reserve some of the mash to experiment. I keep trying to turn it into something. First by adding the Momofuku spice, which stutters and then falls out in a big clump. Now I have to dilute it. Mayo. Maybe this is a bell pepper spread?
I try to create something. A sort of special sauce emerges. I dollop it on the salad. It works, somehow.
Tuesday, July 19
My Factor arrives today. Thank god. Chris is on the road, so it's just me and my Factor meals. I ordered half the amount. How cute, for just little ol' me.
My only complaint is that they require microwaving plastic. Then again, we're all drowning in plastic as it is — I can stand a few more weeks. I've emailed the company: If you packaged these in anything else, even something more costly, I believe your clientele would expand and ultimately help the bottom line. They claim they want feedback but they never responded.
There is a relief to be back on Factor. This was not the week to go off. This was one of the worst food weeks of my life, other than the Rao's. That was good.
I was too ashamed to mention it above, but when I attempted to make that special sauce, I also added Rao's. I'm telling you now, though. For some reason, that felt like one admission too far.