Margarine brand Country Crock has debuted a new Plant Cream, a plant-based alternative to dairy-based heavy whipping cream. The brand says its new vegan heavy cream can be used for both vegan baking and cooking to make dairy-free whipped cream, flaky biscuits, soups, and creamy pastas, or as a one-to-one substitute for recipes that call for dairy cream. 
Country Crock Plant Cream is made with lentil milk and a blend of plant oils such as canola and palm and comes in a ready-to-pour container. It is available nationally at Kroger and soon to be Publix as well as regionally in retailers including Price Chopper, Piggly Wiggly Alabama, Albertsons, Safeway, and United Supermarkets. 
Country Crock—owned by parent company Upfield—is best known for its margarine spreads, many of which have always been accidentally vegan, meaning they do not contain dairy ingredients but are not marketed or labeled vegan or plant-based. In 2019, the brand debuted its first vegan-labeled product with the launch of its Plant Butter line. The brand developed the new line as an environmentally friendly alternative to animal-derived butter. Country Crock's Plant Butter line includes vegan buttery sticks in Olive Oil, Almond Oil, and Avocado Oil varieties, as well as tub formats in almond oil and olive oil varieties.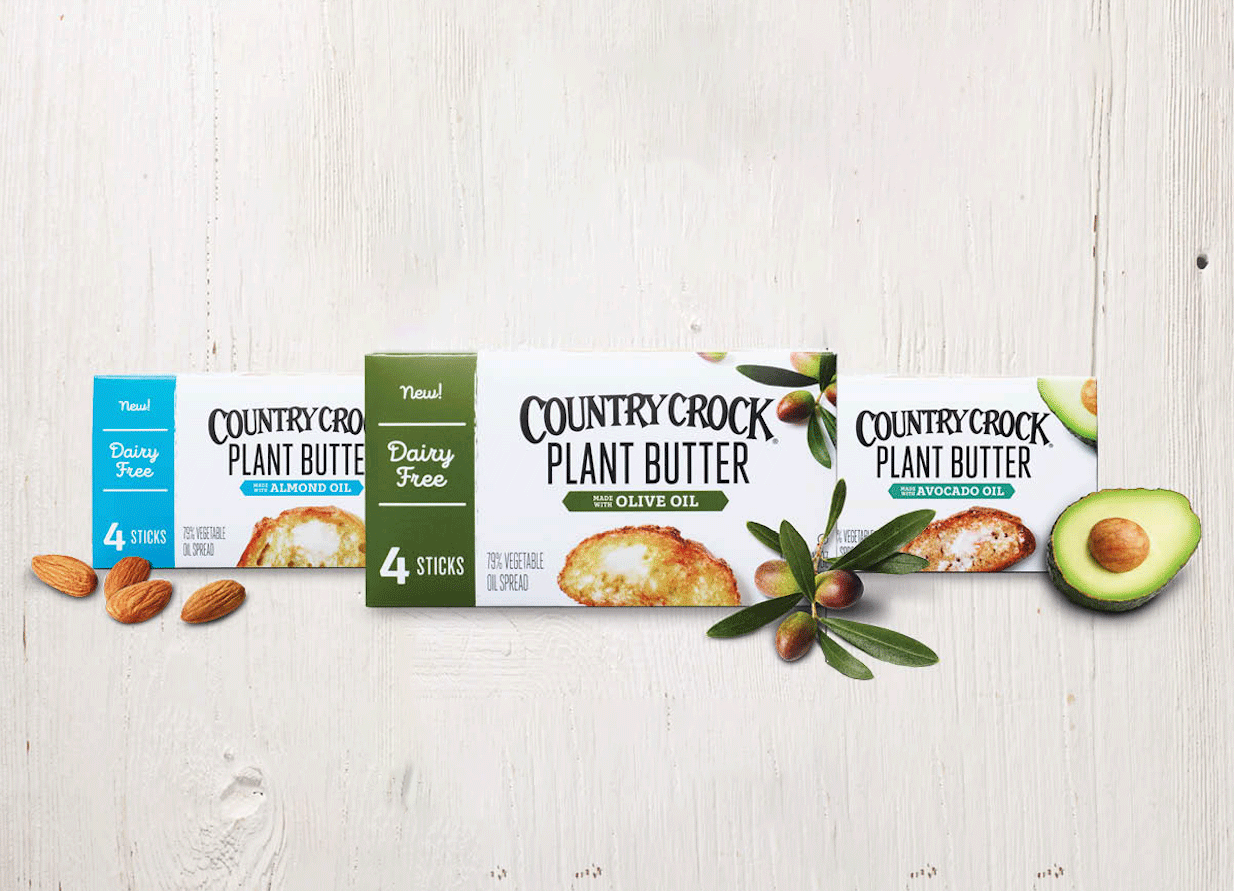 "Our mission is to make people happier and healthier with great tasting plant-based products that are better for the planet," Brian Orlando, Upfield North America Chief Marketing Officer, previously told VegNews. "Consumers are choosing plant-based alternatives to traditional dairy-based products for a variety of reasons, including health, environmental, and ethical. We are deeply committed to bringing consumers a broad range of innovative products that are advancing the role of plant-based foods in people's lives. Our goal is to make it easier for consumers to make good dietary choices by giving them delicious, high performing, and better-for-you plant-based options." 
Country Crock goes beyond margarine
Country Crock's new Plant Cream is the brand's entry into a new product category outside of margarine and the latest addition to its Plant line. "Country Crock Plant Cream is a must-have, secret weapon ingredient to have in the kitchen. Its versatility and delicious taste make it perfect for vegetarians, dairy intolerant, or plant curious consumers," Natalie Cooper, Brand Lead at Country Crock, said in a statement. "We believe that once consumers make the switch, they will find surprising ways to enjoy it, including reheating leftovers, making ultra-creamy pastas, or baking a delicious dessert."
To celebrate the new Plant Cream, Country Crock recently launched a "We Defied Dairy" campaign that markets the new product as equally versatile as dairy-based heavy cream. The campaign demonstrates how Country Crock Plant Cream, along with Country Crock Plant Butter, is made with plant-only ingredients, giving customers all the taste of heavy whipping cream and butter but without the ethical or sustainable issues that come with using dairy. The campaign includes spots on Connected TV, Linear TV, and digital platforms.
"Country Crock Plant Butter and Cream whips, bakes, thickens, simmers, splashes, and mashes like the dairy stuff," the Country Crock TV spot points out. "Better yet, it changes the subject without changing the taste."
Silk debuts vegan whipping cream
While many brands offer dairy-free alternatives such as vegan milk and coffee creamer, few companies have released heavy whipping cream. In 2020, plant-based brand Silk debuted its own Dairy-Free Heavy Whipping Cream in the refrigerated section of retailers nationwide. The whipping cream is made from a blend of coconut and sunflower oils, fava bean protein, and sunflower lecithin and comes in a ready-to-pour carton. Just like Country Crock, Silk's pourable blend is made for cooking, baking, and whipping for your favorite desserts.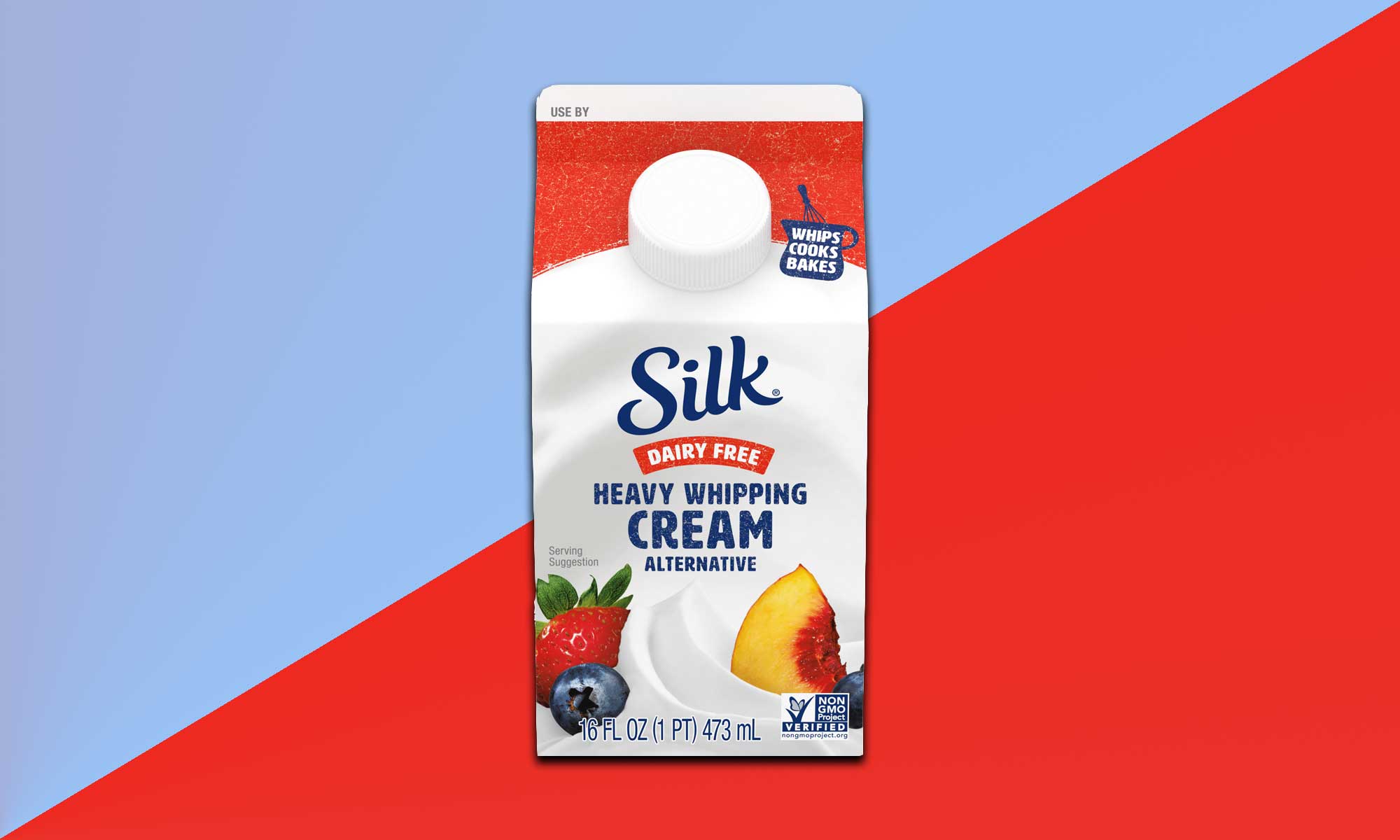 "Silk saw an opportunity for a plant-based heavy whipping cream alternative and wanted to provide an easy swap for those looking to incorporate more dairy-free options into their diet," David Robinson, Senior Brand Manager for Silk, said in a statement. "As America's No. 1 plant-based beverage brand, we see it as our responsibility to create plant-based options that everyone will love and enjoy."
For the latest vegan news, read:
Wrigley Field Brings Chicago Cubs Fans New Plant-Based Options
This Vegan Protein Swap Can Offset All UK Aviation Emissions
How These Startups Make Vegan Hard-Boiled Eggs
Happy birthday, VegNews! To celebrate, we're having a mega subscription sale—complete with incredible vegan prizes.
Happy birthday, VegNews! To celebrate, we're having a mega subscription sale—complete with incredible vegan prizes.