This easy slow cooker chicken tacos recipe is a famous one on Snack Girl.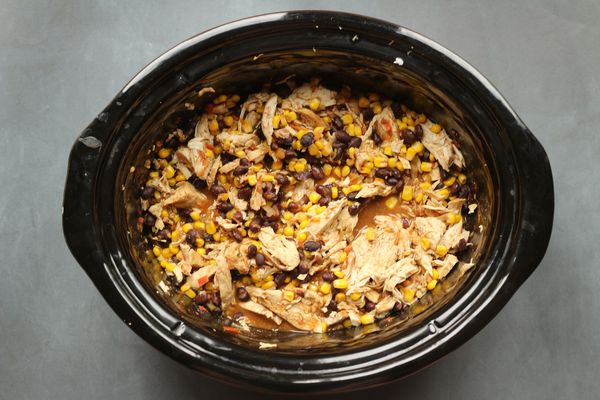 Why? Because you just toss ingredients into a slow cooker and you have healthy food that people like (and it is zero points on Blue and Purple for the WW members out there).
For other low point chicken breast recipes check out: BBQ chicken breasts on the grill and healthy slow cooker butter chicken.
Robin asked me to repost it and I should tell you all that I take requests. I do like to revisit popular recipes because new people are joining Snack Girl every day.
I make this recipe frequently for my family so I redid the photos for this repost. It is not easy to make this look anywhere near as good as it tastes.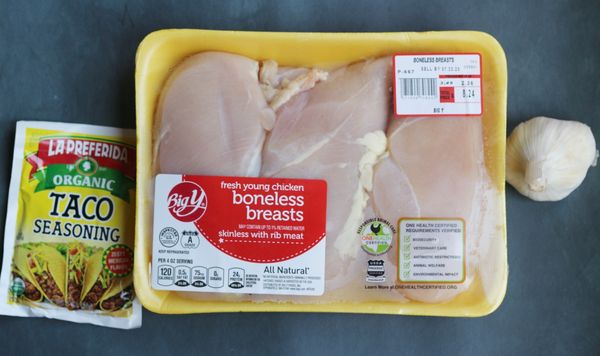 I bought some taco seasoning for this recipe but I chose one that is lower in sodium than the cheaper brands. I have also included a DIY taco seasoning recipe below.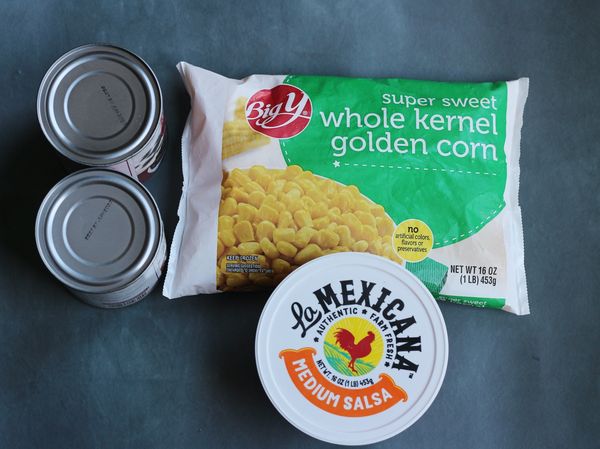 I use fresh salsa because I like the flavor but use whatever you have on hand. This recipe can be a great pantry staple as all the ingredients can be kept on hand.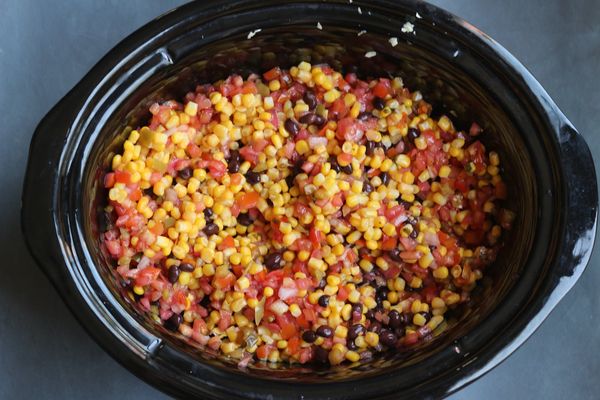 All you do is put the chicken in the pot and add the garlic and taco seasoning. Top with everything else and turn it on. Go outside! Go take a nap! Come back and have dinner 3-6 hours later.
How easy is that?
The nice thing about this slow cooker chicken taco recipes is that it combines corn and beans with the chicken so you get a "stew like" filling with many flavors.
Also, you sneak in some corn and beans with the chicken meat (which is very lean) so this is low in calories when compared to cooked ground beef.
This made enough for my family of four and then some. We froze over half of it for another night.
Do you have an easy slow cooker chicken tacos recipe? Please share.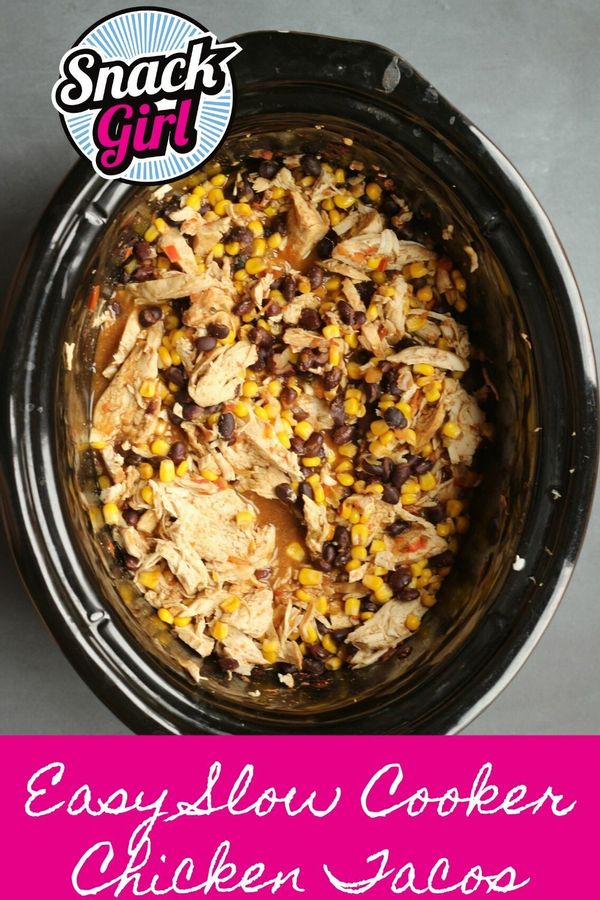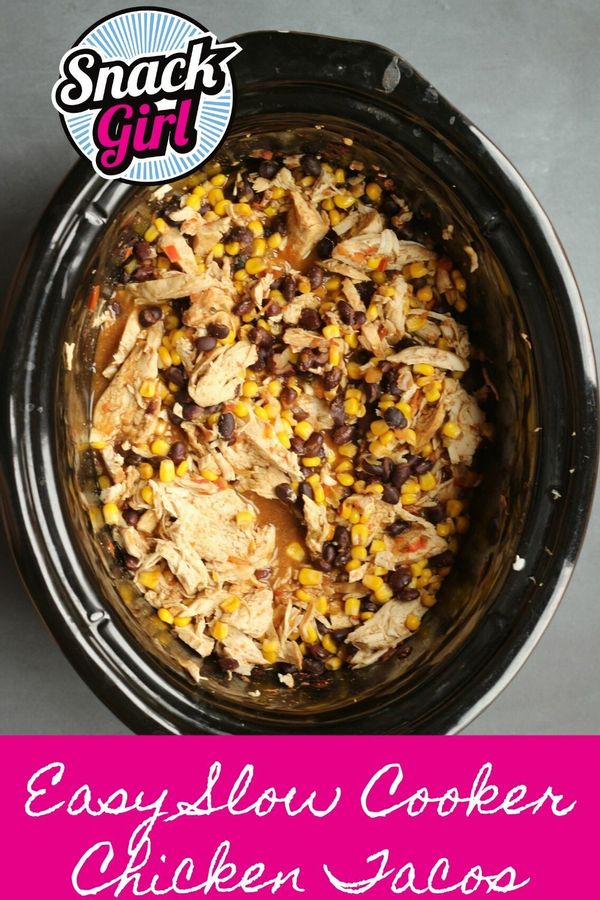 Easy Slow Cooker Chicken Tacos Recipe
Makes 24 (1/2 cup) servings
Prep time: 5 min
Cook time: 3 hours

Ingredients
3 chicken breasts, skinless and boneless (about 3 pounds)
1 package taco seasoning or homemade taco seasoning (see below)
2 tablespoons minced garlic
2-15 ounce cans black beans, rinsed
1 pound frozen corn
16 ounces jarred or fresh salsa
Instructions
Place chicken in the bottom of a 6 quart slow cooker and sprinkle seasoning and garlic on top. Add the beans, corn, and salsa and cook for 6 hours on low or 3 hours on high.
After the filling has finished cooking, take two forks and shred the chicken. Serve with taco shells, chopped avocado, tomato, and lettuce.
Homemade Taco Seasoning – combine 2 teaspoons cumin, 1 tablespoon chili powder, a minced garlic clove, and 1/2 teaspoon of salt and use in place of packaged seasoning.
Nutrition Facts
One ½ cup serving of taco filling is 103 calories, 1.8 g fat, 0.5 g saturated fat, 10.8 g carbohydrates, 1.4 g sugar, 11.3 g protein, 2.5 g fiber, 173 mg sodium, 2 Green, 0 Blue, 0 Purple WW SmartPts
Points values are calculated by Snack Girl and are provided for information only. See all Snack Girl Recipes
Other posts you might like:
---