Thank you to ALDI for sponsoring this post! And thank you to my readers for supporting the brands who help make my work possible.
Nothing says SUMMER! more than firing up an outdoor grill and having a barbecue. And while these activities are most often associated with meats and decidedly non-vegan foods, I firmly believe in carving out some plant-based space in the grilling arena so everyone can enjoy a summer barbecue.
Tofu can be an amazing option for the grill if you prepare it the right way. And in this post, I'll share how to best prep your grill for tofu, how to make some delicious yet easy grilled tofu skewers, and how to serve them with five simple but flavor-packed sauces.
Whether you're firing up the grill for a big barbecue or just enjoying some summer al fresco dining on a Tuesday, you can serve a gourmet grilled feast without breaking the bank when you stop by your local ALDI.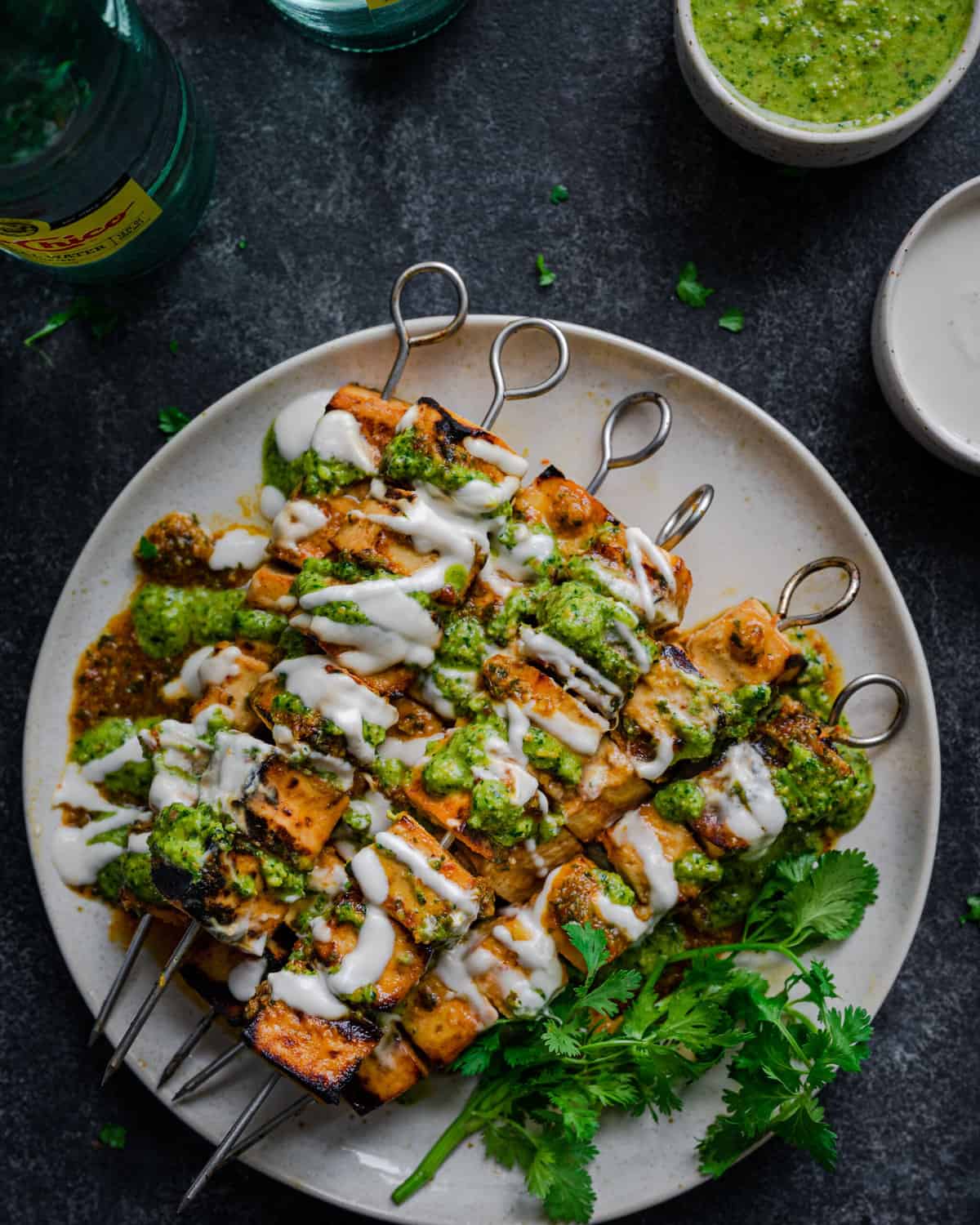 Tips for Grilling Tofu
Use extra-firm tofu. It's the only variety that can handle the high heat of the grill and not fall apart. I love using ALDI Earth Grown Organic Extra Firm Tofu (it works great on the grill), and with these handy tips, you'll get tofu that's perfectly charred and a little crispy on the outside and soft and chewy on the inside.
Press the tofu
You need to press your tofu for at least 15 minutes to squeeze out the excess water. This is key for (1) preventing the tofu from sticking to the grill; (2) improving its texture; (3) enabling the tofu to absorb more of the flavors in the marinade. I find that if you slice the tofu into four vertical slabs and press those, instead of pressing the entire block, you can squeeze out more water.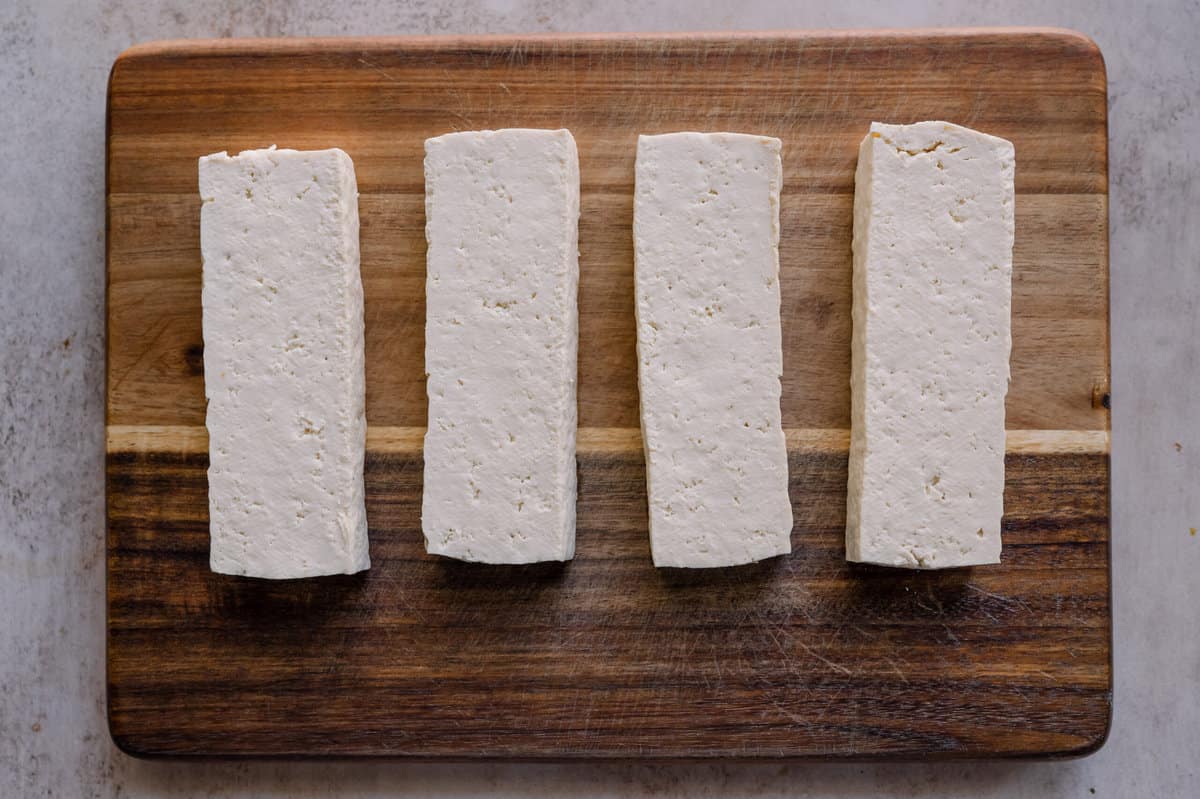 Marinate the tofu for extra flavor
While most of the flavor comes from the sauce(s), the tofu itself needs a little flavor to seep into it while it grills. The marinade I use takes 2 minutes and requires just a few everyday pantry staples you can get from your local ALDI at an amazing price. You can marinate the tofu for just 15 minutes, or for several hours in the fridge.
Recommended Tools for Grilling Tofu
First up, a heavy-duty grill brush. If you grill on the reg, you probably already have one of these. Once you've preheated the old grill, use this brush to scrape up any charred bits and gunk from your last grilling sesh.
Since tofu is rather delicate, the skewers can be a little tricky to get on and off a hot grill and to rotate them. I recommend using (1) a pair of stainless steel tongs and (2) a long or wide stainless spatula. For the latter, I use a "fish spatula" (which is helpful even if you don't cook fish like me), as the long length allows you to rest several tofu skewers on the spatula as you use the tongs to gently push the skewers onto the hot grill. I specify stainless steel because you don't want to use nonstick utensils around a very hot grill.
And this might be obvious, but if you have a gas grill, you'll need to make sure it's stocked with a propane tank (unless your grill is connected to your home's natural gas line). If you have a charcoal grill, obviously you will need charcoal 🙂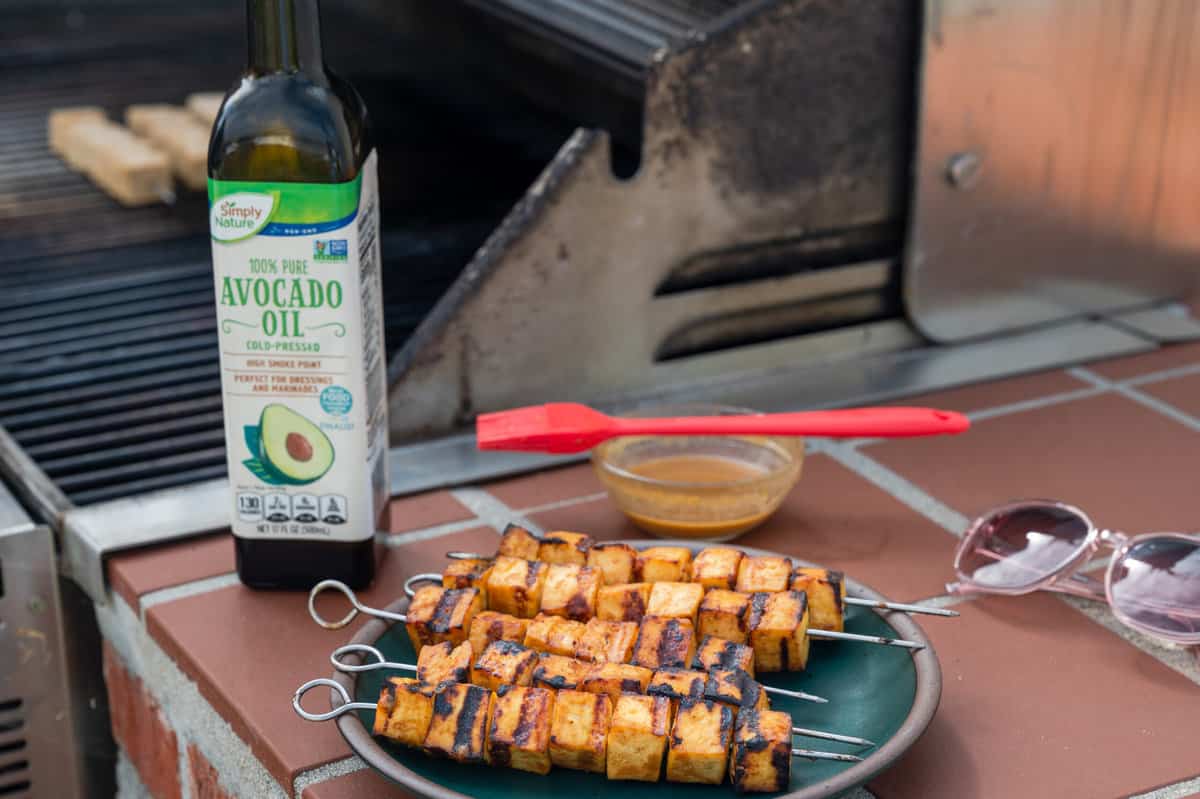 How to Grill Tofu Skewers
These instructions are for an outdoor gas grill. If you have a charcoal grill, a lot of the basics are the same. But if you're new to grilling, you might want to check out this guide on how to use a charcoal grill.
Prep your tofu
After pressing the tofu, slice the tofu into cubes (not too big or small). Marinate the tofu for at least 15 minutes on the counter, or for a few hours in the fridge. Thread the marinated tofu onto skewers, trying to get them evenly lined up and closely pushed together—this makes them easier to turn as one unit on the grill. Reserve the excess marinade for brushing on the tofu skewers during grilling.
If your skewers are wooden, you'll need to soak them in warm water for 20 to 30 minutes to prevent them from burning.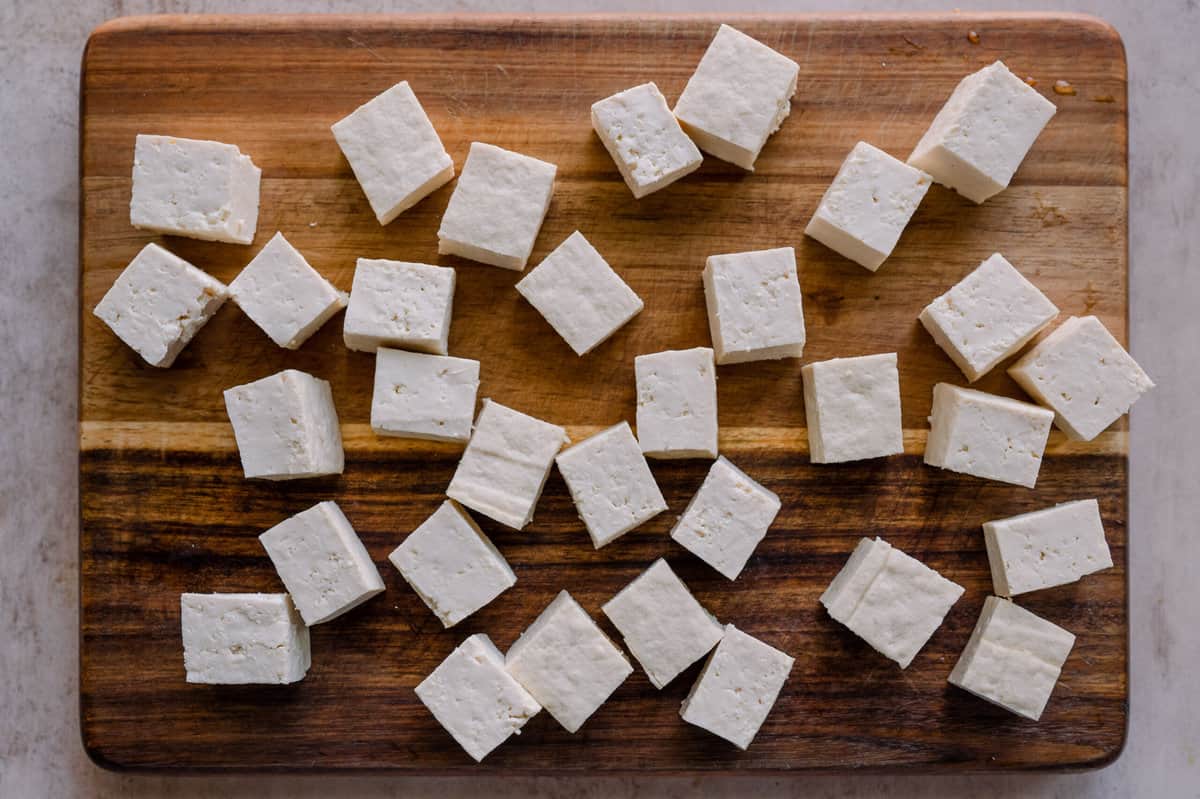 Preheat your grill
Heat your grill over medium-high heat with the lid on for at least 10 minutes to get the grates blazing hot. Once hot, scrape down the grates with a heavy-duty grill brush to clean off any drippings or charred bits.
Season your grill
Set a small bowl of oil near the grill and oil up a wad of paper towels or a clean dish towel. A neutral-flavored high-heat oil like the Simply Nature 100% Avocado Oil from ALDI works great.
Use a set of tongs to rub the hot grill grates with the oiled towel. It will start smoking. Heat for 30 to 40 seconds, then repeat the oiling process to build up a good layer of seasoning.
If you skip this step, the tofu will absolutely stick to the grates, and you'll have to peel it off. But if you're using a nonstick indoor grill pan, you can skip this step.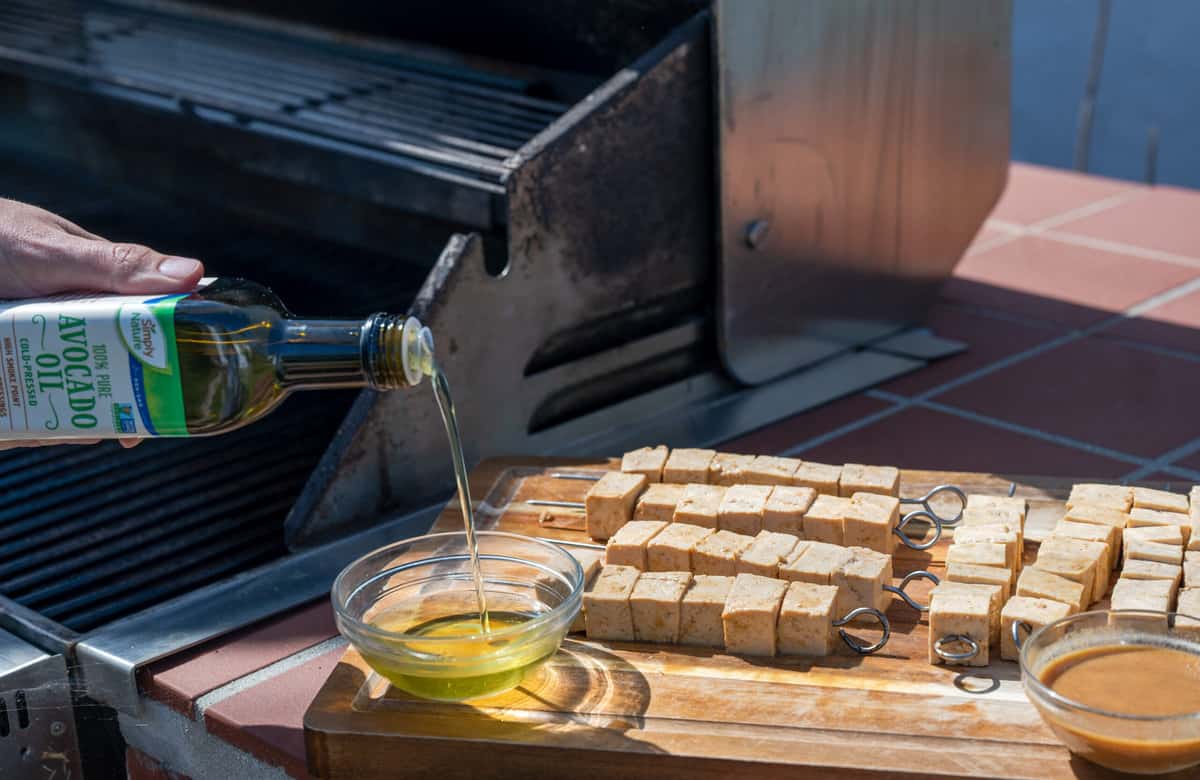 Grill the tofu skewers
Carefully transfer the tofu skewers to one side of the grill. As soon as you add them, turn the burners directly underneath the tofu to low heat but keep the nearby burners on medium-high heat and close the lid.
This indirect heat allows the tofu to cook slowly and not burn. If you keep the burners underneath the tofu on medium high heat, they will develop grill marks quickly, but they will stay more or less raw on the inside. In contrast, when you slowly cook the tofu over indirect heat, the tofu becomes chewier and cooks through and has the opportunity to develop a nice char in some spots.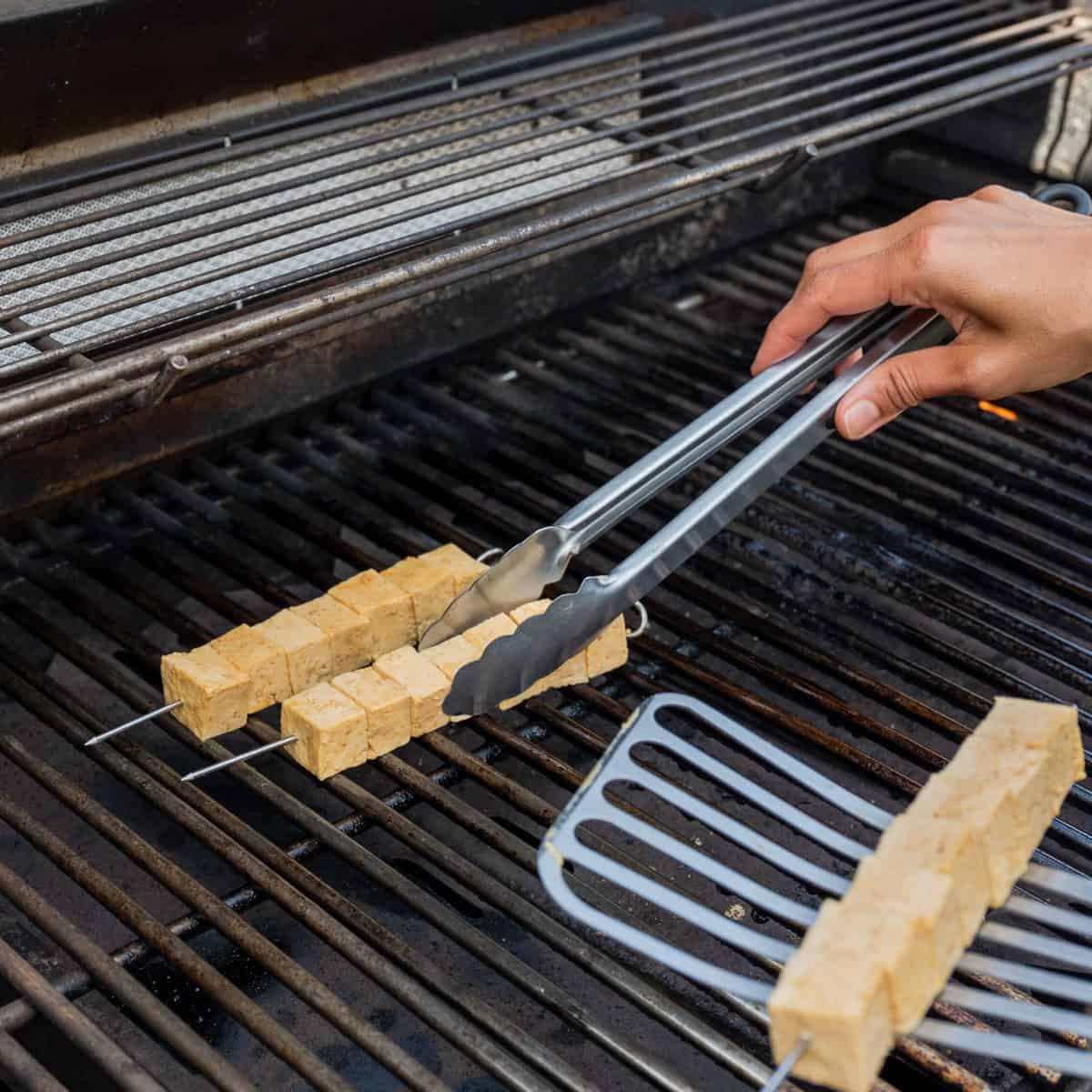 Close the grill and grill the tofu for about 20 minutes, rotating the skewers every 3 ½ to 4 minutes.
If the tofu doesn't appear to be developing grill marks after the first turn, bump up the heat on the burner(s) directly underneath the tofu just a touch. The side of the grill next to the burners that are still over medium-high will be hotter, so you may need to rotate the skewers' positions halfway through grilling so that all the tofu pieces get evenly cooked.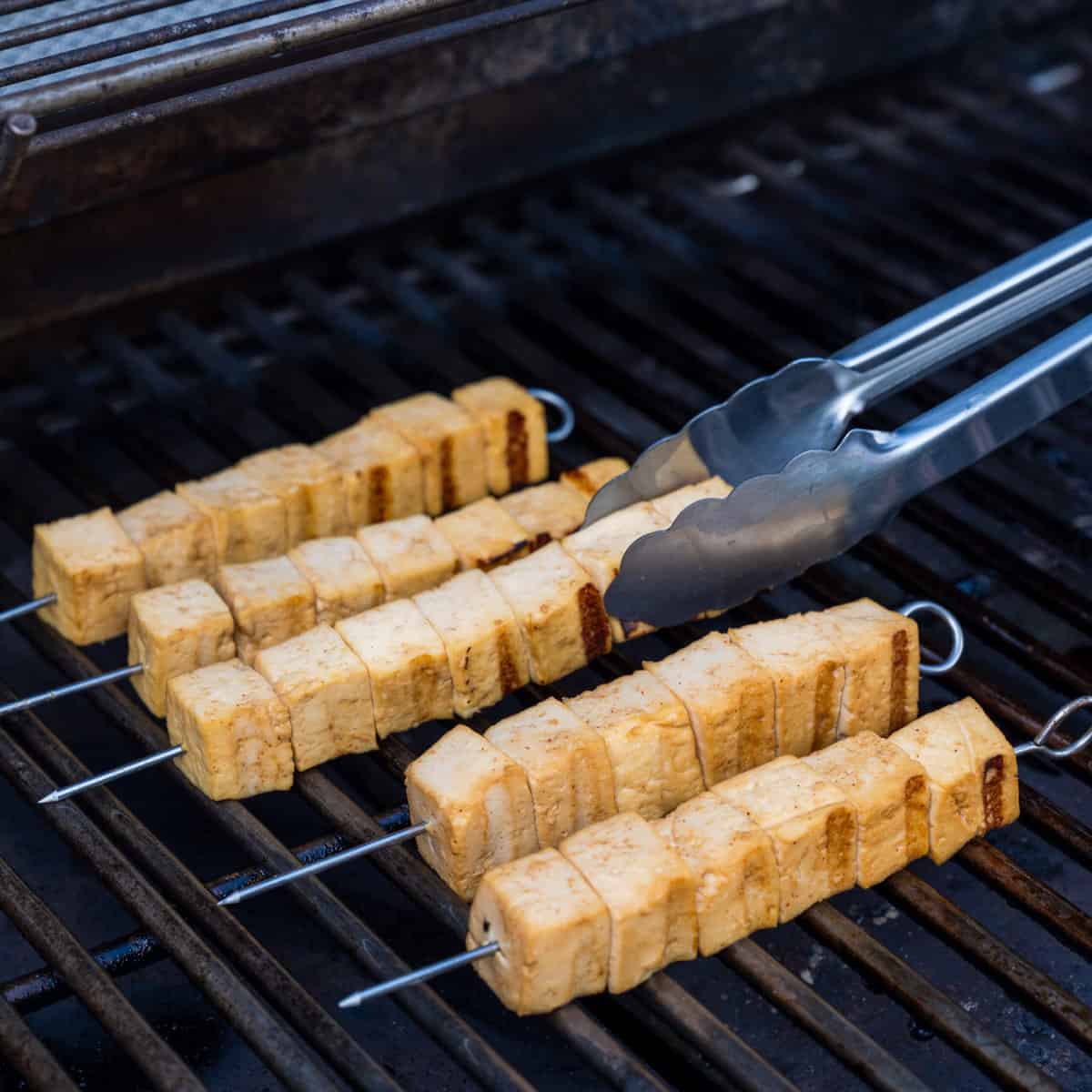 Brush on some reserved marinade from time to time. The tofu is done when grill marks are uniform, and some parts of the tofu are nicely charred.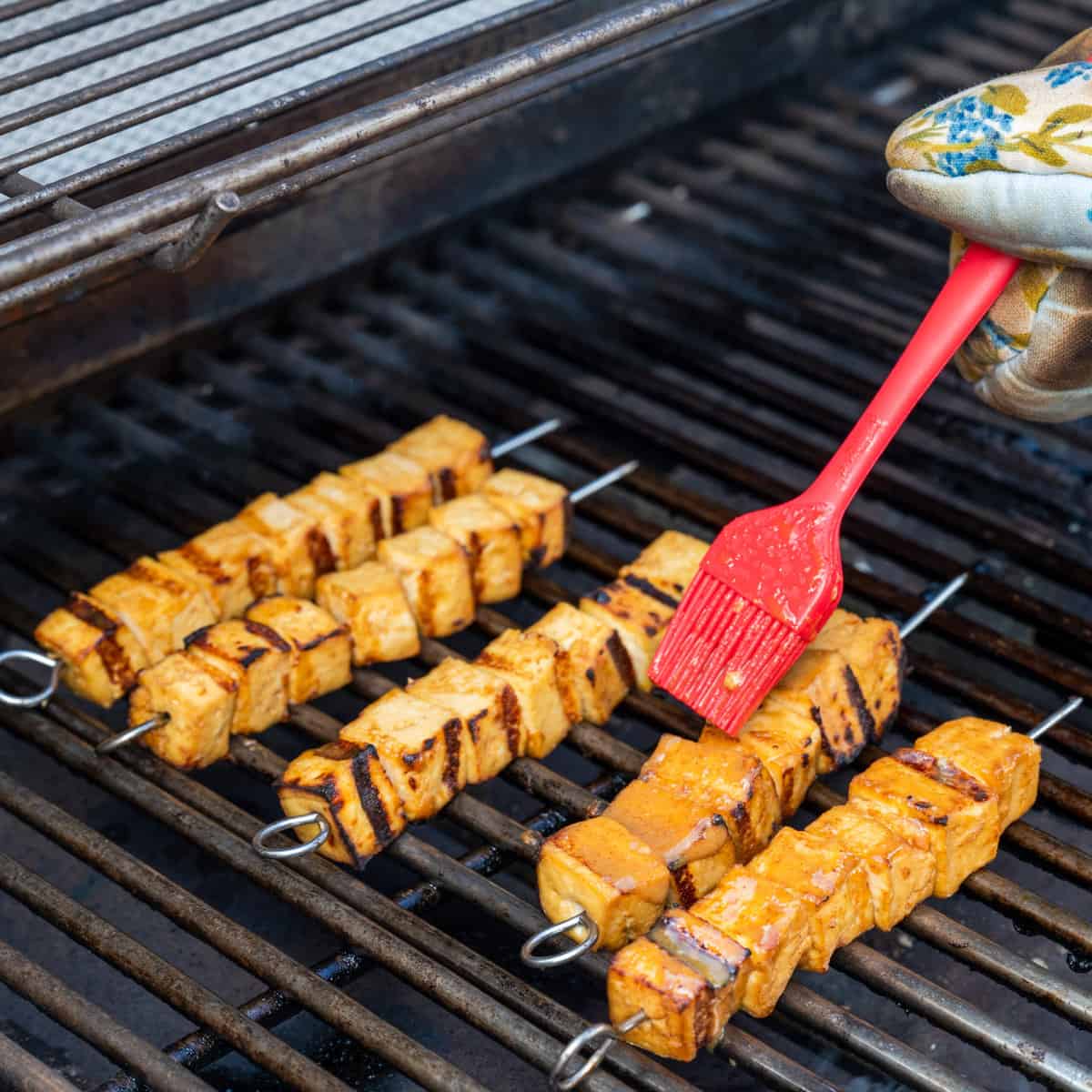 Sauce Options for Tofu Skewers
The easiest way to amp up the flavor with grilled tofu is with a great sauce, or a combo of sauces. And since variety is the spice of life, I'm sharing FIVE different sauces that work beautifully with these grilled tofu skewers (okay, technically, one of them is a salsa and not a sauce, but it's really good…).
A few major selling points for these sauces: they're all easy to make, are super versatile, and are made with easy-to-find and affordable yet high-quality ingredients you can get from ALDI. Each sauce makes a generous amount, so you'll have leftovers that you can pair with more grilled tofu later in the week, or really any kind of meal (tacos, burgers, salads, grain bowls, etc.).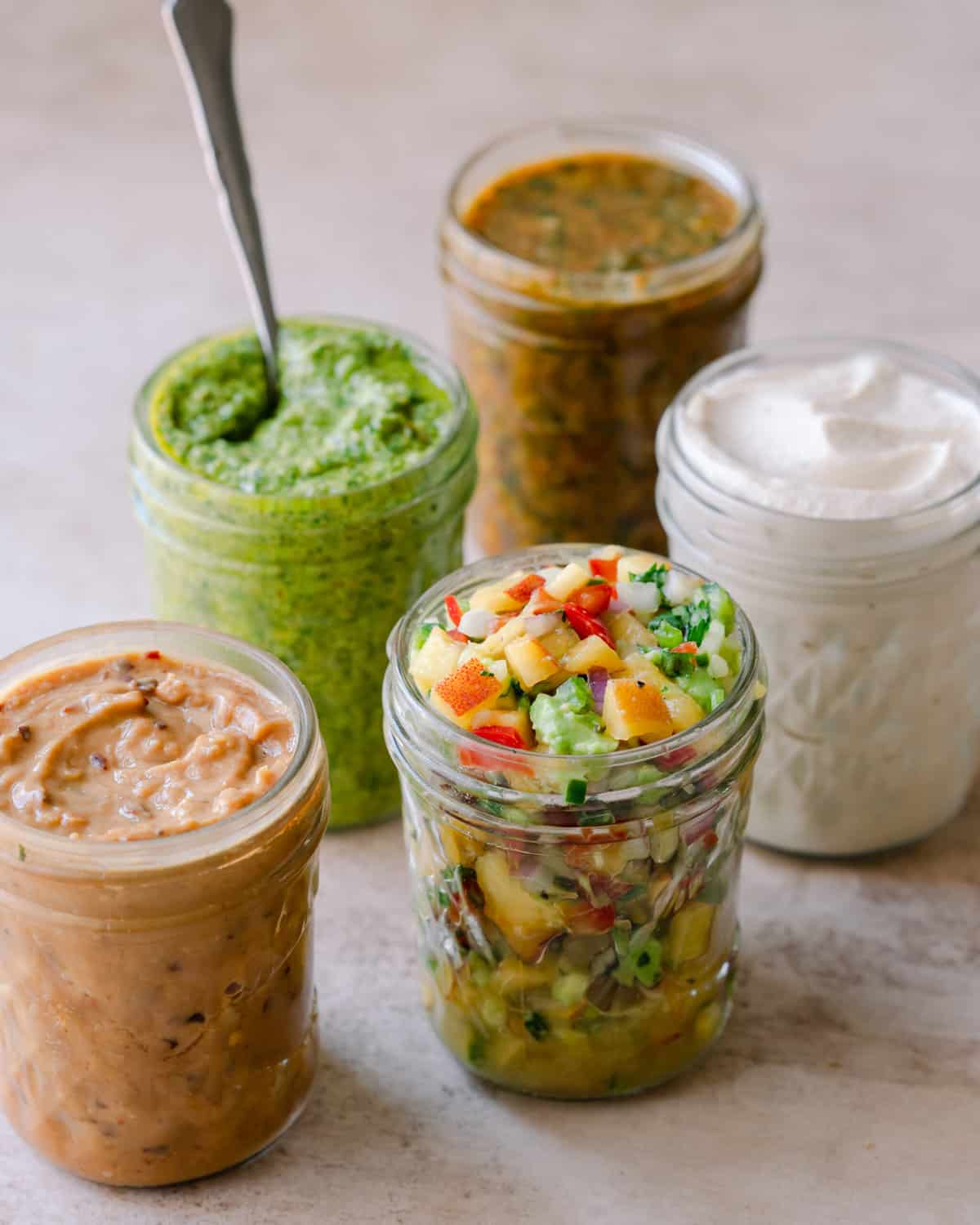 For the ultimate combo, I pair the first three sauces—chipotle sauce, cilantro pesto, and cashew cream—with the tofu skewers. It's one of the most delicious things I've ever eaten and I can't recommend it enough.
This combo is inspired by one of my go-to vegan restaurants here in San Diego, Kindred. Kindred serves these delicious charred tofu skewers covered in three different sauces: chimichurri, harissa sauce, and horseradish aioli.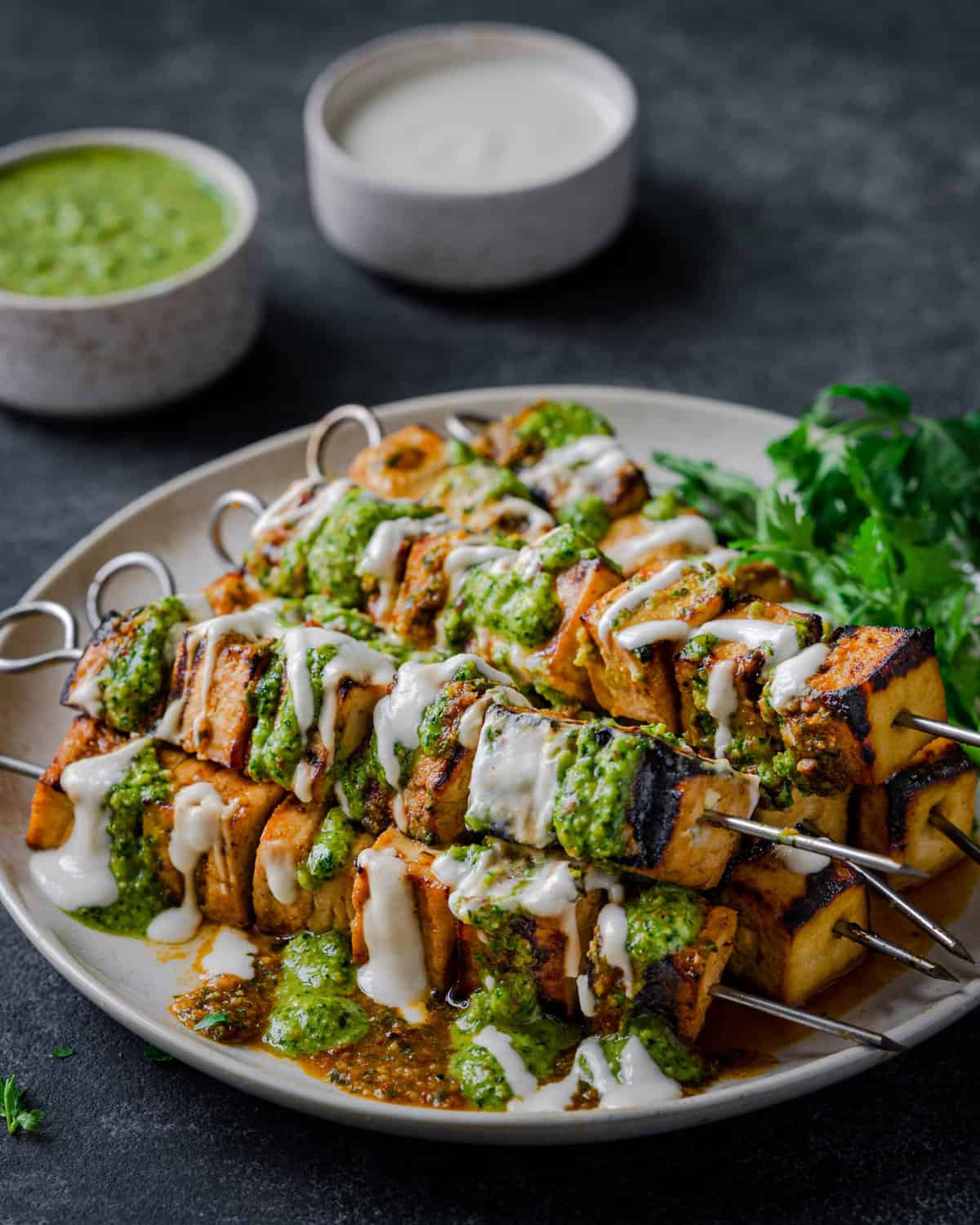 Chipotle Sauce
This sweet, smoky, and tangy sauce features chipotle in adobo peppers, orange and lime juice, brown sugar, garlic, cumin, and extra virgin olive oil. It's wildly addictive and comes together in minutes. If you have leftovers, drizzle it over rice and beans, or a grain bowl with veggies and tofu.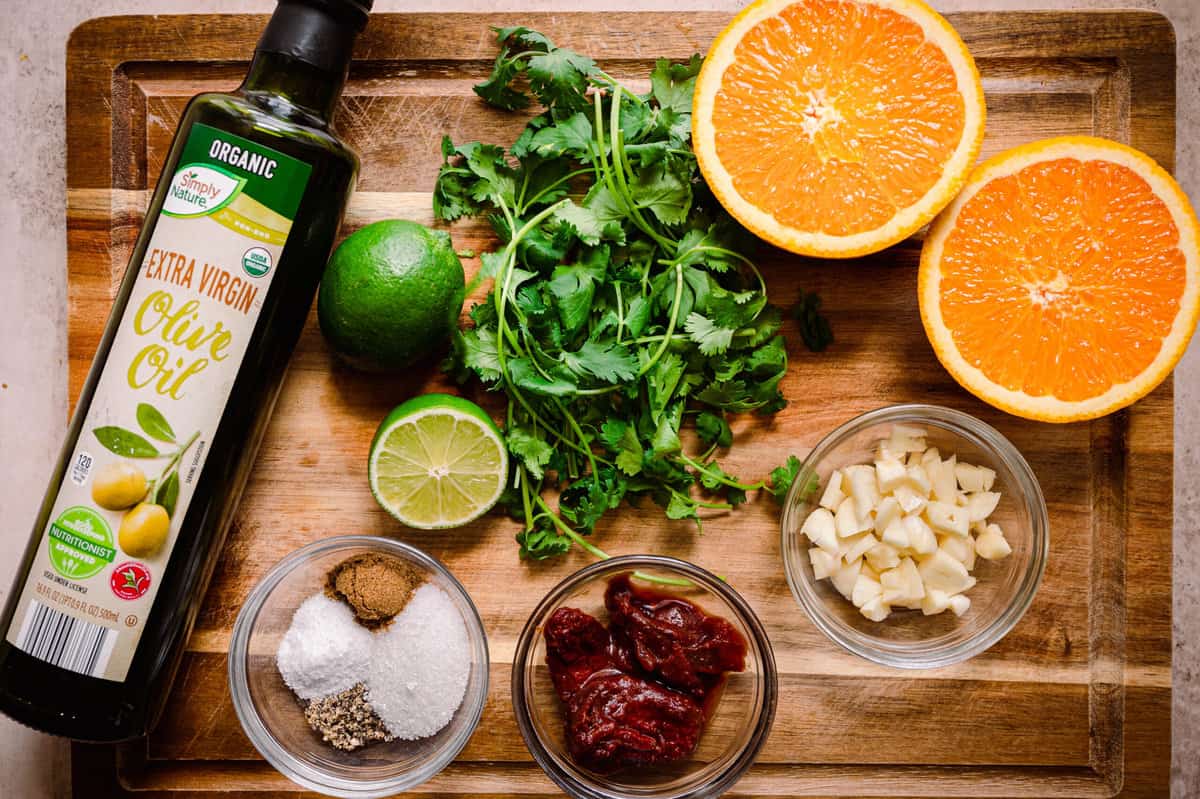 Cilantro Pesto
A spicy, Latin-inspired spin on pesto featuring cilantro, roasted pistachios, garlic, jalapenos, lime, and extra virgin olive oil. Use leftovers as a spread for tacos or drizzle over burrito-style bowls.
Cashew Cream
The all-star multi-purpose vegan sauce! Minimal ingredients—soaked raw cashews, lemon juice, garlic, Dijon mustard, onion powder, salt—and work (the blender does it all for you). If you want to jazz up your cashew cream with herbs or spices, check out my comprehensive blog post on how to make Cashew Cream here!
Spicy Peanut Sauce
All you need are 8 ingredients, a bowl, and a few minutes to make this sauce. It's creamy, nutty, savory and salty with a hint of sweetness. A must-make for peanut butter lovers (I'm not even a peanut butter lover and I really like this sauce).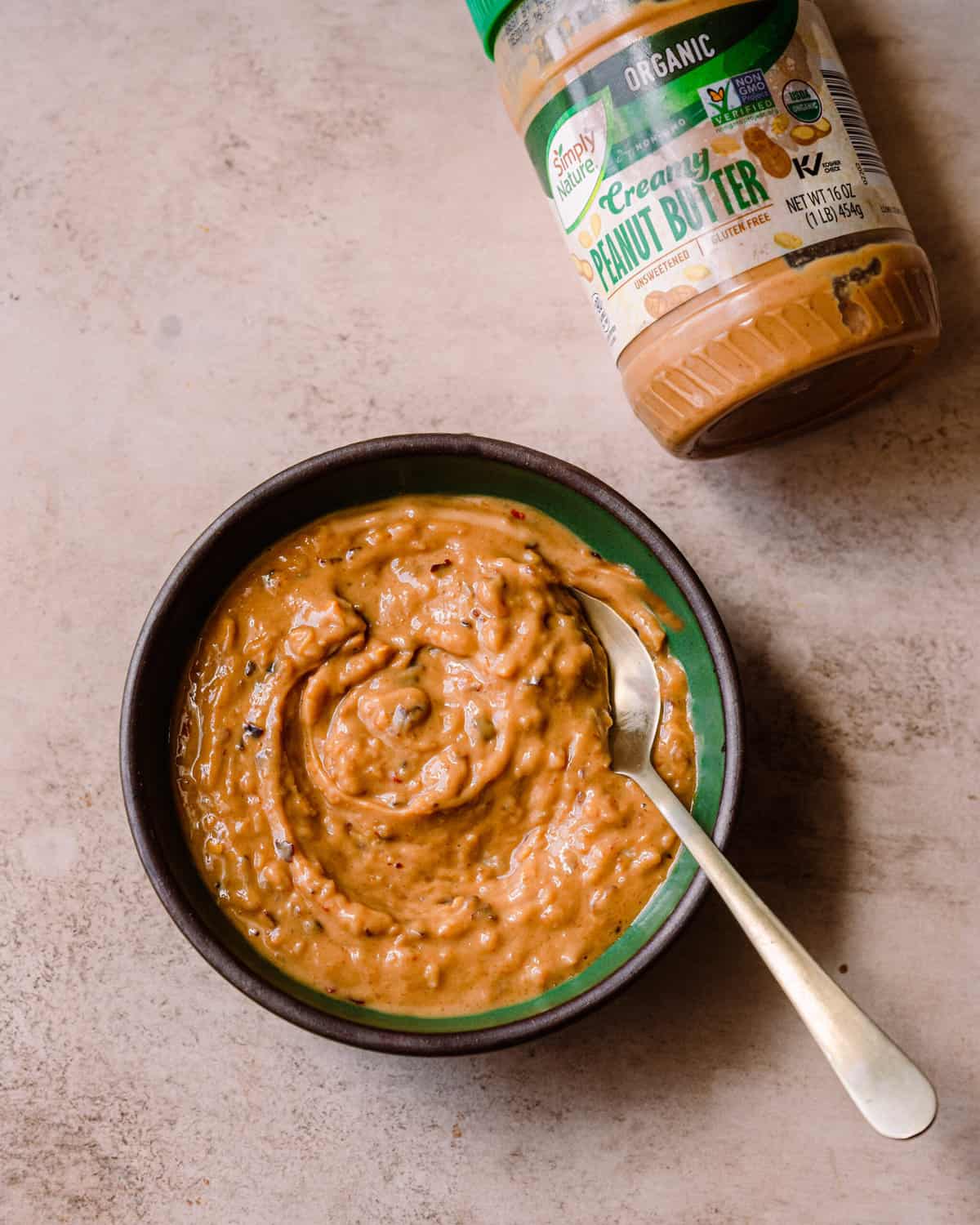 Peach Avocado Salsa
While technically not a sauce, this is such a fun and delicious salsa for summer that I don't think you'll mind. It's such a fun pairing with the tofu skewers. And you'll have plenty of leftovers to serve with tortilla chips (or, you can add some black beans to the mix and turn it into a salsa-salad mashup).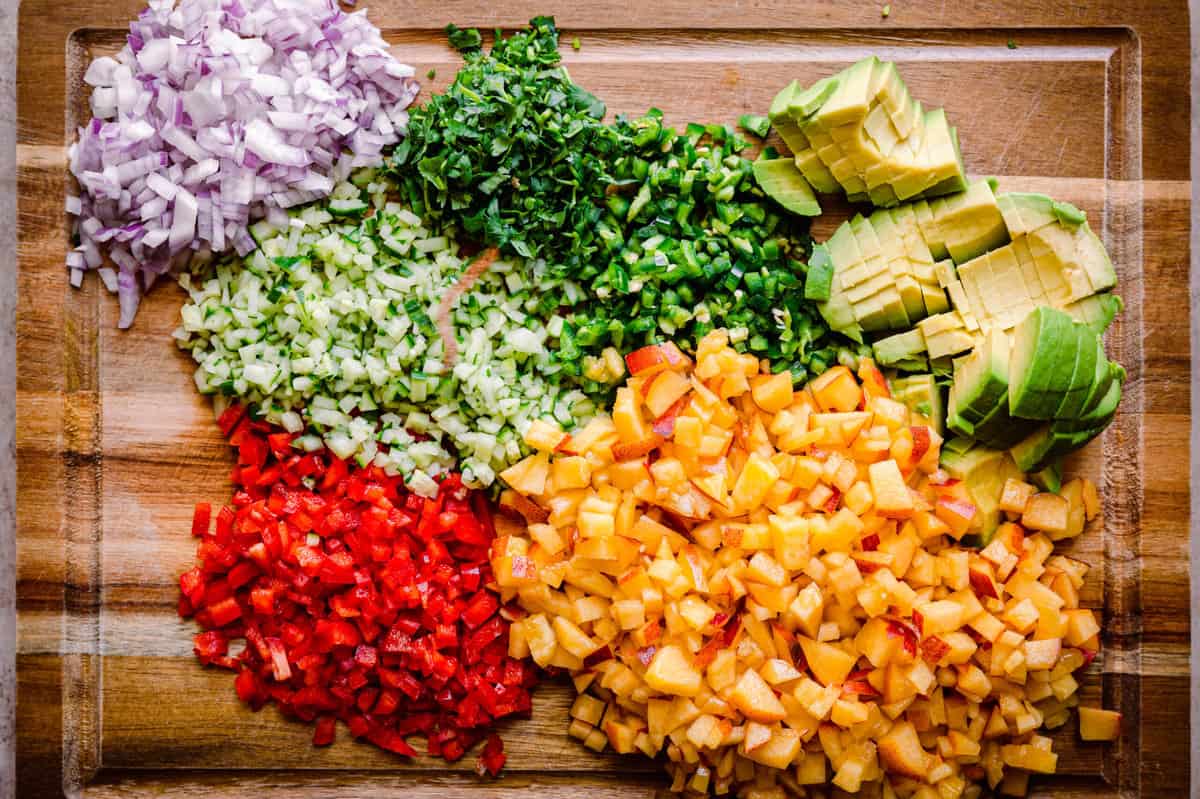 I love using peaches in summer since they're one of my favorite fruits, but you could also swap them with the mango or pineapple spears that ALDI sells (just finely dice them), or even use finely chopped strawberries.
If you want to speed up the prep, add the fruits and veggies to your food processor and pulse repeatedly until it's broken down.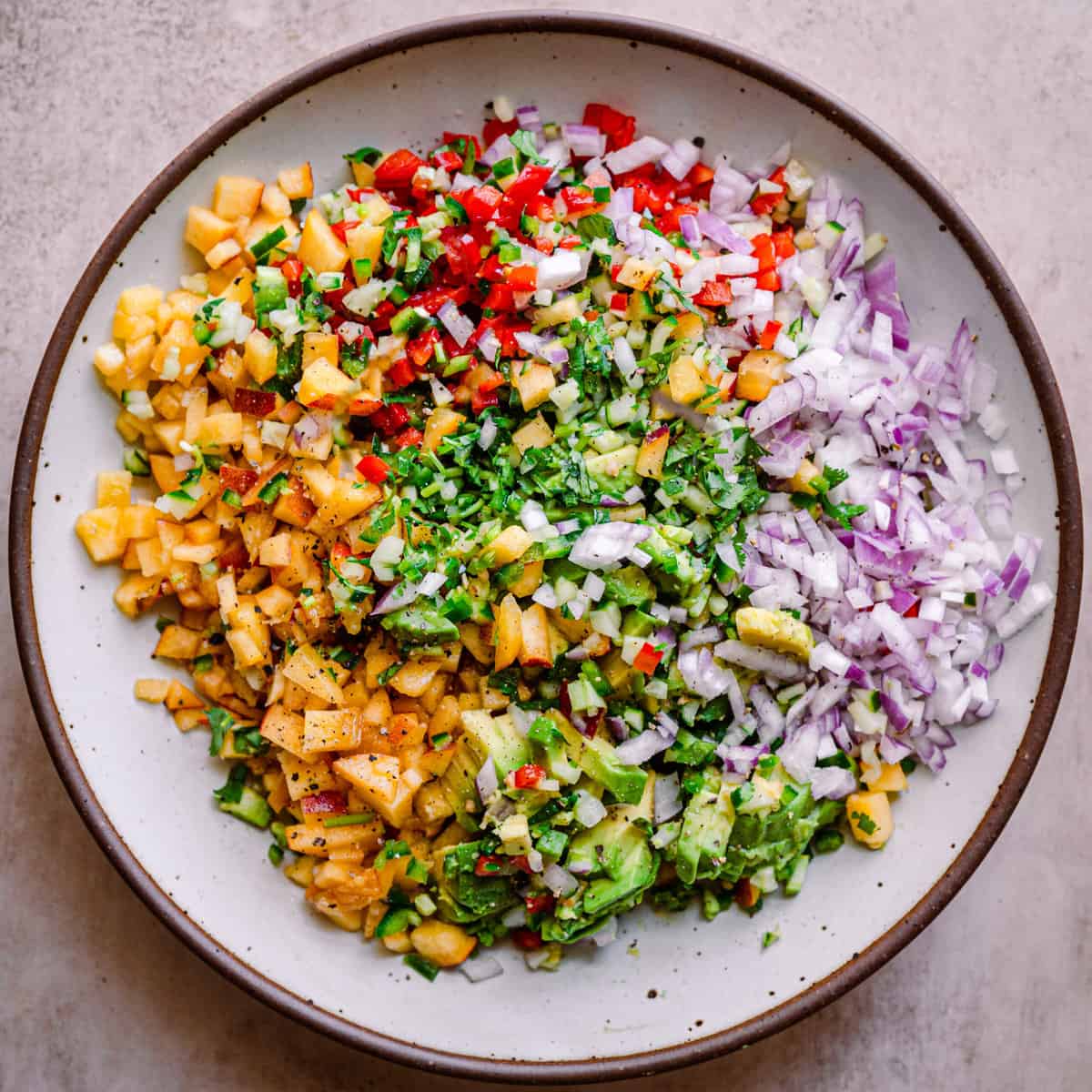 Frequently Asked Questions
Can the sauces be made ahead of time?
All the sauces can be made ahead of time except the salsa, as it will get watery. These sauces will stay good in the fridge for at least 5 days.
Can you double the tofu recipe?
Yes, of course. This would be optimal if you're serving more than four people.
How should I store leftovers?
To maintain freshness the longest, store grilled tofu skewers separately from the sauces in an airtight container in the fridge for 4 to 5 days. Store sauces separately in jars in the fridge.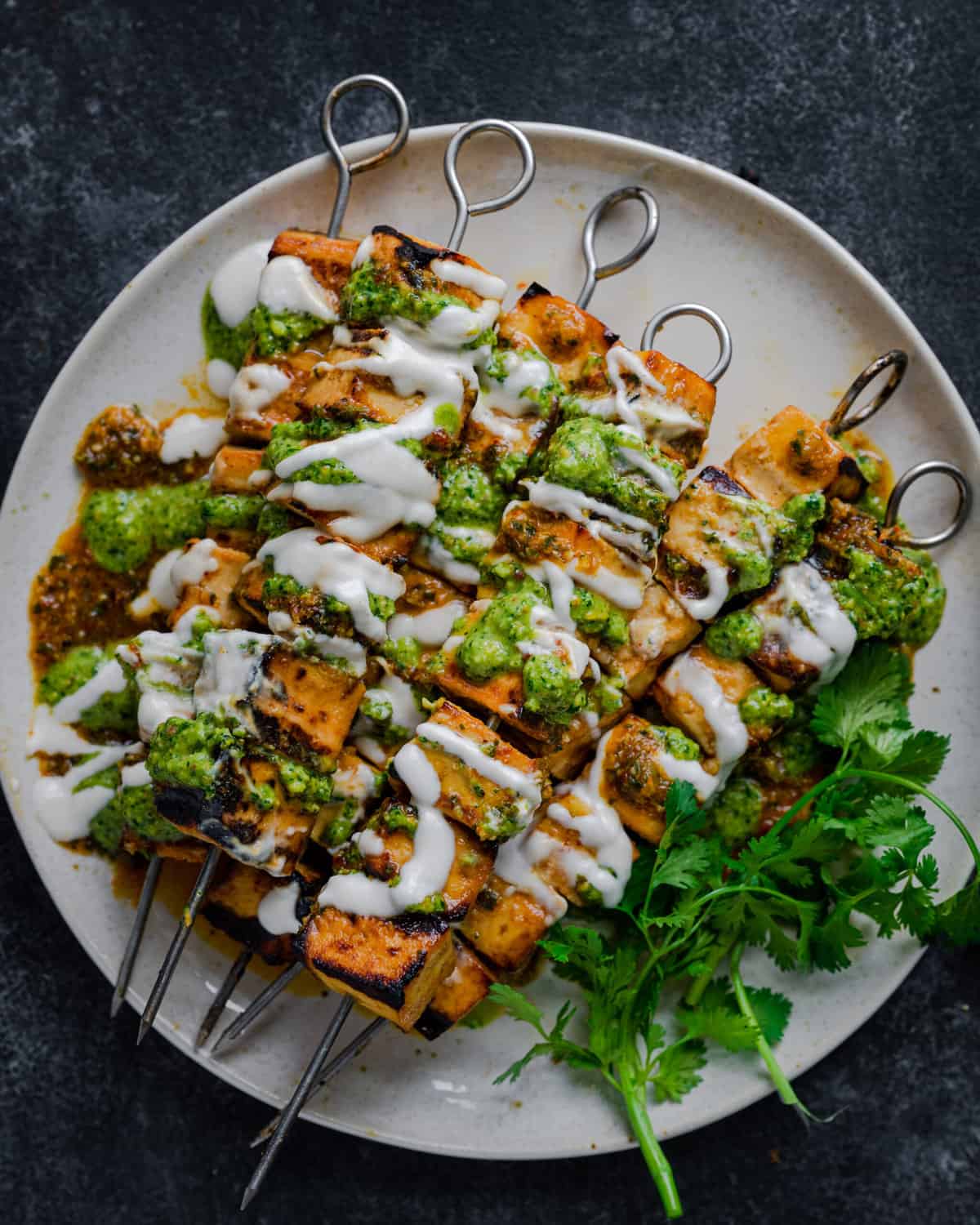 Watch! How to Make Tofu Skewers
Whether you're a tofu lover or just love firing up your grill in summer, I hope you'll enjoy these Grilled Tofu Skewers with a variety of sauces!  For the best prices on lots of fun and fresh summer food, be sure to visit your local ALDI and then put that grill to good use!
Fire up the grill this summer and make these simple but delicious grilled tofu skewers! With these tips, you'll have perfectly grilled tofu: chewy, charred, and crispy! Take them over the top by serving them with one of five different flavorful sauce options.
If using wooden skewers, soak them in warm water for 20 to 30 minutes (make sure they're completely submerged) to prevent burning. If using metal skewers, no need to soak.

Slice the drained tofu into 4 vertical slabs. Cover them with a few paper towels or a clean dish towel. Weigh them down with your heaviest cookbook and even out the weight with a few cans of beans (or use or a heavy skillet weighed down with a few cans). Press for 15 to 30 minutes.

Cut the tofu into cubes, not too big or small but as evenly as possible. I usually slice each vertical slab in half, vertically, so I end up with 8 slices. Then cut each of the 8 slabs into 4 or 5 cubes.

Make the marinade. In a jar, combine the soy sauce, lime juice, mustard, agave or maple syrup, cayenne, garlic powder, and onion powder. Seal the lid, and shake vigorously to combine. Or add all the ingredients to a bowl and whisk well until spices are dissolved.

Marinate the tofu. Transfer tofu cubes to a large reusable bag, pour on the marinade, and gently toss to coat. Marinate for at least 15 minutes at room temperature, or up to 8 hours in the fridge. Flip the bag a few times to ensure the tofu is evenly coated.

Thread several tofu cubes onto a skewer, trying to get them evenly lined up and closely pushed together (this makes them easier to turn on the grill). Repeat with remaining tofu and skewers. Reserve the excess marinade.

Prepare the grill. Preheat a gas grill* over medium-high heat (close the grill lid to trap the heat) for at least 10 minutes to get the grates really hot. Scrub down the hot grill with a heavy-duty grill brush to remove any gunk or drippings.

After cleaning the grill, set a small bowl with a few tablespoons of avocado oil near the grill and oil up a wad of paper towels or a clean dish towel. Use a set of stainless steel tongs to rub the preheated grill grates with the oiled towels. Let the oil smoke for 3 to 40 seconds. Repeat this oiling process three to four times total to build up a good layer of seasoning.

TIP: If you skip this step, the tofu will stick to the grill.

Grill the tofu. As soon as you add the tofu to the grill, turn the burners directly underneath the tofu to low heat, but keep the other burners on medium-high heat. Close the lid. Open the lid every 3 ½ to 4 minutes and carefully rotate the skewers using tongs and/or a long stainless spatula. Close the lid and continue grilling, rotating every 3 ½ to 4 minutes, until grill marks are uniform, and parts of the tofu are charred, about 20 minutes total. Occasionally, after rotating the skewers, brush some reserved marinade on top of the tofu.

Take the skewers off the grill and serve with sauces of choice.
---
Sweet and Tangy Chipotle Sauce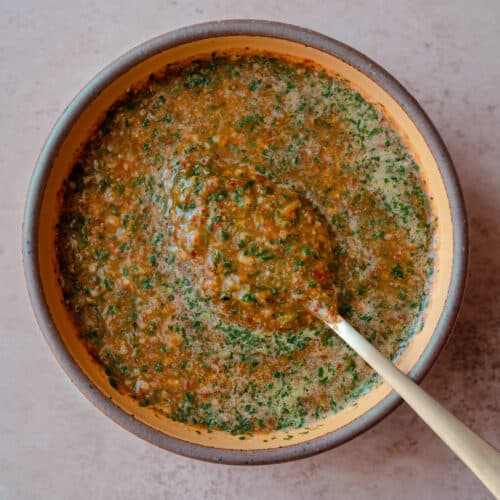 Made with simple and wholesome ingredients, this 10-minute sweet and tangy chipotle sauce is deceptively delicious. With chipotle peppers in adobo, cilantro, two types of citrus, lots of garlic, and olive oil, it's bursting with flavor.
To a blender or food processor, add the cilantro, chipotle peppers and adobo sauce, garlic, orange zest, orange juice, lime juice, sugar, cumin, salt, a generous amount of pepper, and the olive oil. Blend until relatively smooth, scraping down the sides as needed. Season to taste with more salt and pepper as needed.

Store leftovers in a sealed jar for at least a week in the fridge.
* This is just 2 peppers from a can/jar of chipotle peppers in adobo sauce, not 2 whole cans or jars. 
---
Using cilantro instead of basil, and roasted pistachios or cashews instead of pine nuts, along with a jalapeño pepper, gives this cilantro pesto a fun zingy, and spicy spin on the classic. It takes just 5 minutes to make and is a versatile sauce for grilled tofu, tacos, grain bowls, and more!
Add the pistachios (or cashews) to a food processor and blitz until they're in small pieces. Add the cilantro, garlic, jalapeño, lemon or lime zest, 2 tablespoons of lemon or lime juice, salt, and black pepper to taste. Blend until a paste forms, scraping down the sides as you go along. Push the mixture into the middle of the food processor.

With the motor running, stream in the olive oil to start to form a sauce. Scrape down the sides again, and stream in more oil as needed until you have a smooth yet thick texture.

If the pesto is still not smooth enough but you don't want to add more oil, add a spoon of water at a time until the sauce comes together into a creamy, spoonable consistency. Taste for seasonings, adding more salt, lime, or garlic as needed. If it's a bit bitter (depends on cilantro quality), add more lime juice and salt, and a pinch of sugar or agave nectar.
*If your nuts are unsalted, use more salt. Start with ¼ teaspoon kosher salt or ⅛ teaspoon sea salt and add more as needed.
---
Cashew cream is an incredible dairy-free all-purpose cream sauce. It pairs amazingly well with this grilled tofu, but also works well in grain bowls and salads, as a sandwich spread, or stirred into curries or soups.
Drain and rinse the soaked cashews with fresh water. Add them to a high-powered blender.

Add the water, half of the lemon zest, 2 tablespoons lemon juice, garlic, onion powder, mustard, salt, and several cracks of pepper. Blend until creamy and thick, and all cashew bits have been pulverized, scraping down the sides with a silicone spatula as you go, about 2 minutes. If using a food processor, you will need to blend for longer (the consistency will not be as silky smooth but still tastes good).

Taste, adding more salt for saltiness or more lemon juice for acidity. If desired, add the rest of the lemon zest.
* For a quick soak, add the cashews to a saucepan, cover with water, and bring to a boil. Boil for 15 minutes, then drain and rinse.
** For a thick consistency, use ½ cup water. For a drizzle-able consistency, use ¾ cup water. If you're using a large blender container (e.g., 64-ounce container), you'll most likely need to use the full ¾ cup to get everything blended.
---
This spicy peanut sauce is unbelievably quick and requires just 1 bowl and 5 minutes. With a creamy consistency and the perfect blend of spicy-sweet-tangy-salty, it's an irresistible sauce for peanut lovers.
Add the peanut butter to a bowl, along with the red pepper flakes, lime juice, agave or maple syrup, soy sauce, ginger, garlic, and 1 teaspoon sesame oil. Whisk well to combine. Season to taste with a pinch of salt. Taste, adding more of the sesame oil as desired. Add more lime juice for tang, agave for sweetness, or red pepper flakes for more heat.

If making in advance, you'll need to add a few splashes of water and whisk until it's thick but pourable.
---
Enjoy summer's finest produce with this colorful and nourishing salsa featuring fresh peaches, red bell peppers, cucumbers, red onions, jalapeños, avocados, and lots of citrus. Serve with tortilla chips to start your BBQ and then again with grilled tofu for your main meal.
In a medium bowl, combine the peaches, onion, bell pepper, cucumber, jalapeños, orange juice, 3 tablespoons lime juice, and cilantro. Mix to combine. Season to taste with salt and pepper. Taste, adding more lime juice as desired. Don't add the avocado now.

NOTE: This salsa is quite spicy, so if you're not sure what heat level you can handle, start with 1 jalapeño pepper, taste the salsa, and then add more as desired.

Only before serving (to maintain texture and freshness), add the avocado and gently mix to combine, taking care to not smash the avocado. Taste for seasonings and add more salt and pepper as desired.
*If you don't have good peaches, feel free to sub with mango, pineapple, or diced strawberries.
**If you really like bell peppers, feel free to use the whole pepper. 
---