Veganism hasn't always had a great reputation in the mainstream spotlight. First, the food was considered boring. When realistic meat alternatives started popping up in national restaurants and grocery chains, suddenly, it was "too processed." Activists were, and still are, framed as angry and unfun. But, Jane Velez-Mitchell, an award-winning broadcast journalist, best-selling author, and the founder and managing editor of the streaming service UnchainedTV, is changing that.
At the helm of UnchainedTV, Velez-Mitchell has built a network of filmmakers, journalists, content creators, and animal-rights activists who are all working towards a common goal: to make it as easy as possible for a global audience who isn't necessarily interested in animal rights to stumble upon content with an underlying vegan message—for free. 
"We have to put ourselves in the shoes of the people who don't necessarily want to be lectured to. If we put out finger-wagging content, people might just stop watching."
—Jane Velez-Mitchell
Its breadth of content spans cooking shows, talk shows, music videos, and documentaries, all without the big budget of a mainstream news network. UnchainedTV is a streaming platform, but it's also a nonprofit. "We want to address the issue of what I would call the vegan bubble," explains Velez-Mitchell. "It's very easy to get into an echo chamber." 
That's not to say that vegans are unwelcome. The content on UnchainedTV is powered by passionate activists who want to spread the message of showing compassion for all living beings. At the same time, it's showing viewers that the lens through which mainstream culture portrays veganism—eating grass, harassing people who wear fur, and arguing with your uncle at family dinner—is unfair.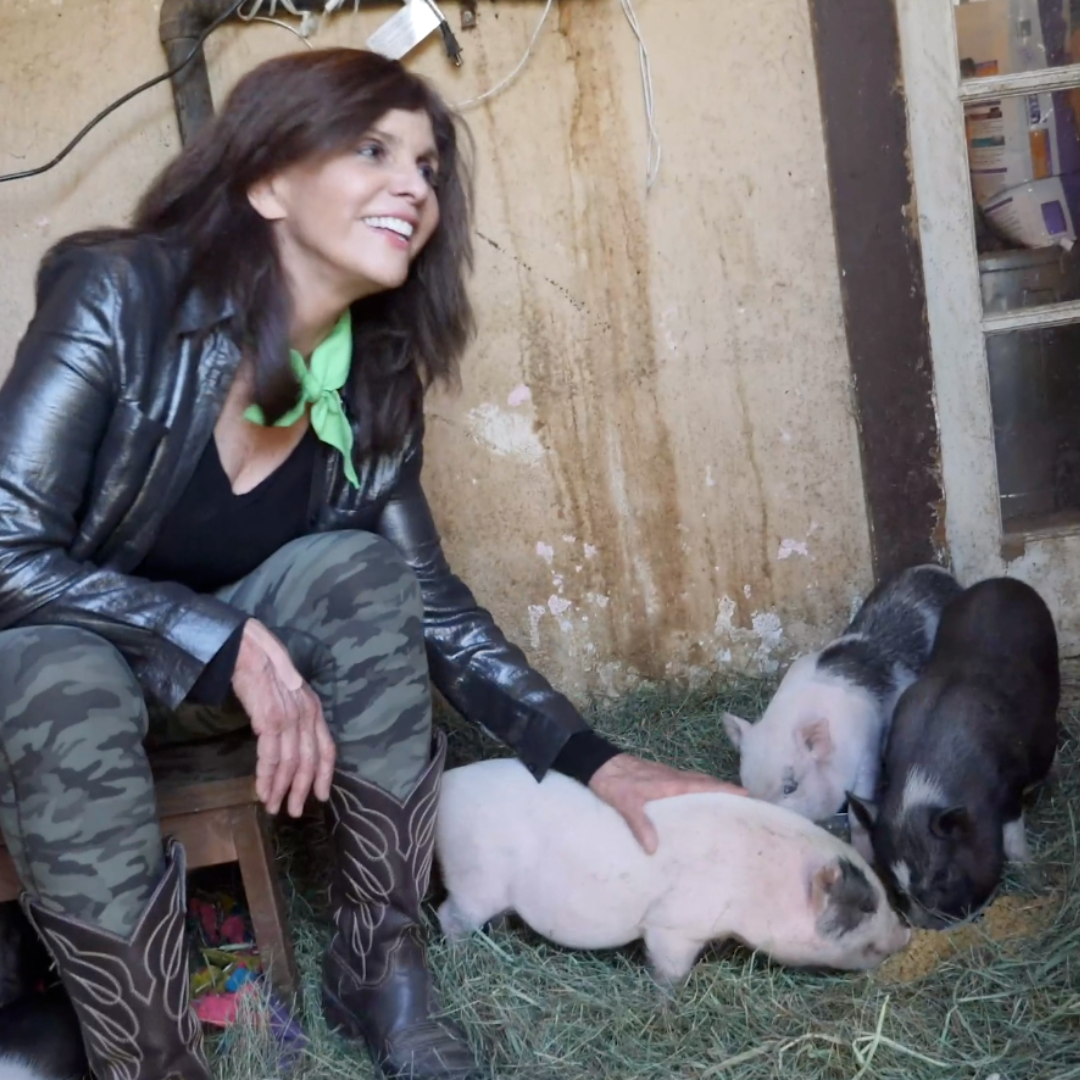 Jane Velez-Mitchell
The beginnings
The daughter of an Irish-American advertising executive and a professional dancer from Puerto Rico, Velez-Mitchell's interest in using her voice to make an impact started young. She grew up in Midtown Manhattan, right across from Carnegie Hall, and long-held aspirations to become a syndicated columnist. As a teenager, she got into activism. "I was a little protestor," she says. "I was that kid leafleting outside the high school." 
The young protester caught the attention of local news stations, who interviewed her a couple of times. This, Velez-Mitchell says, is where she first thought about a career in broadcast journalism. So when she applied to New York University, she "checked off 'broadcast journalism,' not really thinking a whole lot about it."
After graduation, she made her career debut in Fort Myers, FL. "It was a very tiny place. But it's good to go to a small market to make your mistakes. I certainly did. I even shot film there and held the camera upside down one time," Velez-Mitchell says with a laugh. 
Velez-Mitchell's career would then take her to Minneapolis, then Philadelphia, and then CBS New York, where she worked as a weekend anchor, mere blocks away from where she grew up. It was grueling work, she recalls. "There were times where I did three stories a day. For the last story I covered, I was standing on the Triboro Bridge for eight hours covering a sick-out. I love New York, but I don't think I've ever worked harder."
So when some friends of hers left New York media to move out to Los Angeles, she jumped at the opportunity and landed a job as a weekday news anchor at KCAL-TV, a local news station located on the Paramount lot. There, Velez-Mitchell worked alongside legendary news anchor, late Jerry Dunphy for 12 years. And, a chance encounter with an interviewee would be what led her to go vegan.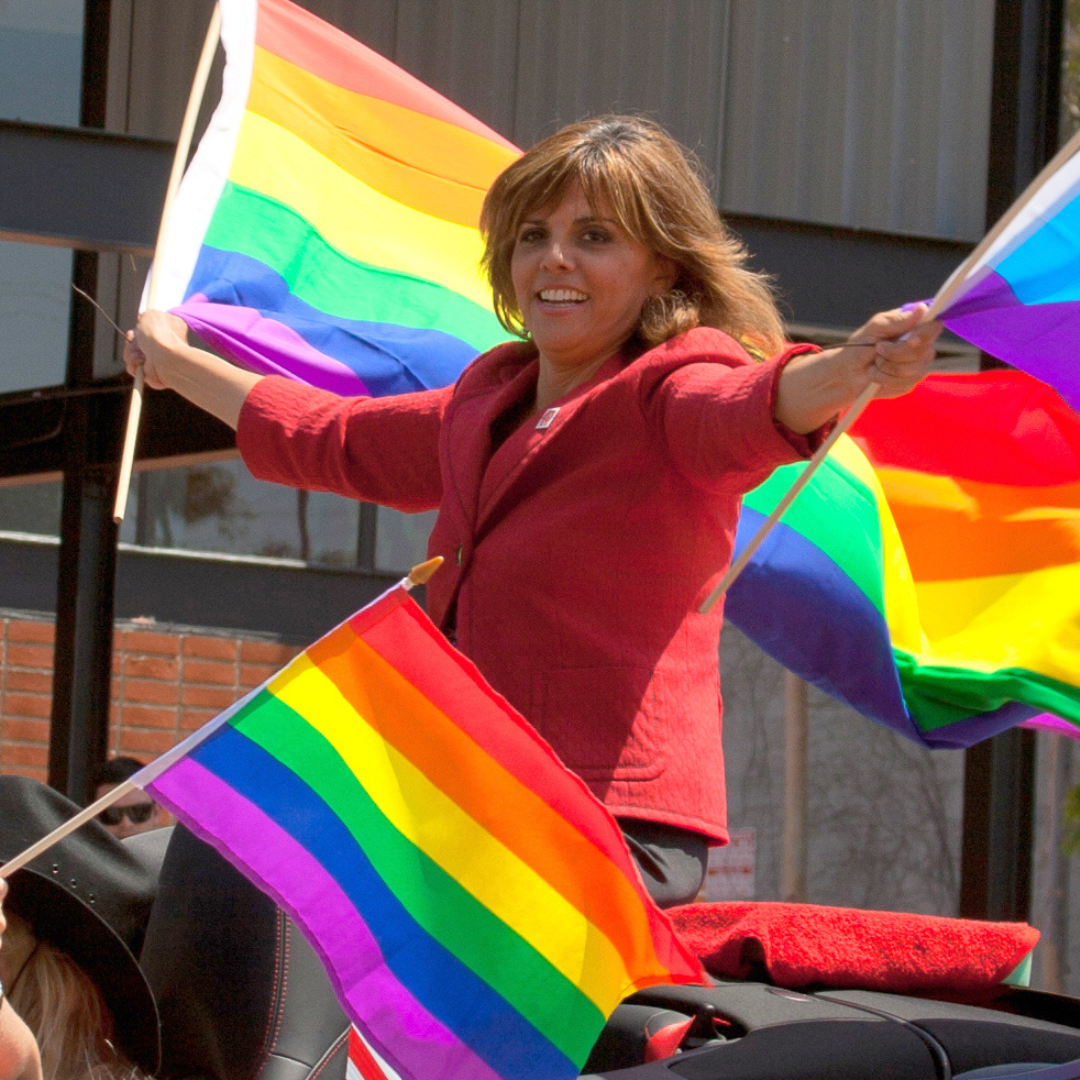 Jane Velez-Mitchell
Bringing animal rights into the picture 
Velez-Mitchell grew up in a pescetarian household and was a self-proclaimed "half-assed vegetarian" during her KCAL-TV days. But, an awakening was around the corner. 
"I'm 27 years sober, and I wrote a book about what I call my three miracles: getting sober, coming out as gay, and going vegan," she says. "When you get sober, you get clarity. I realized I couldn't lie to myself about my sexual orientation. And then I started realizing that my behavior wasn't in alignment with my values. I began thinking about factory farming."
The tipping point was meeting Howard Lyman, a fourth-generation cattle farmer who went vegan and gained national attention after appearing on The Oprah Winfrey Show in 1996. 
"I interviewed him and after, he and his publicist walked to my cubicle and said, 'We heard you're vegetarian. Do you eat dairy?' I hung my head and said 'yes,' because he had just told me about mother cows being separated from their babies and baby boy cows being put in veal crates. He looked right at me and said 'liquid meat,'" she says. This was the moment that made her go vegan.
Velez-Mitchell readily admits that she was shamed into going vegan, but that approach won't work for everyone. "I was confronted with my own hypocrisy and this was my wake-up moment. And I'm so grateful for that," she says. 
From that moment on, Velez-Mitchell looked at everything through a new lens. She recalls removing glue-traps set out for mice around the office and refusing to cover a story about a rodeo. "I was just a budding activist at that point. I didn't really know what was going on," she recalls. But, her next career move would bring her closer to her calling—marrying animal rights with journalism.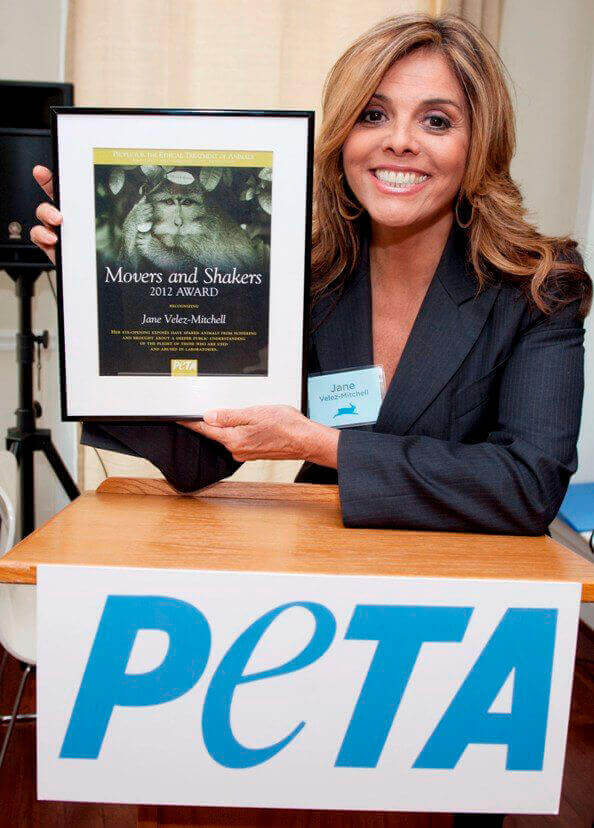 Jane Velez-Mitchell
Robert Redford and the whales
After 12 years at KCAL-TV, Velez-Mitchell moved on to work on the show Celebrity Justice, a precursor to TMZ. The job required talking to the stars but according to Velez-Mitchell, the trouble was that "celebrities hated us. We needed celebrities who would want to talk to us about justice."
It was 2003, and Velez-Mitchell had begun attending galas hosted by People for the Ethical Treatment of Animals (PETA), seeing how the group leverages star power to bring national attention to animal-rights issues. She had even received a letter from Academy Award-winning actor and longtime environmental activist, Robert Redford, who was concerned about the negative impact of Navy sonar on whales.
"He was going to be at the grand opening of the National Resource Defense Council's new green building in Santa Monica," says Velez-Mitchell. "The executive producer told me that I could do the story if I got a one-on-one interview with him. So I went to the opening and I literally jumped out from behind a dumpster when he pulled up in this movie-star red Thunderbird. And I told him, 'Mr. Redford, I got your letter about the whales.'" 
The tactic worked—Velez-Mitchell got the interview and says that this was one of the "most treasured moments" of her career. Celebrity Justice ended in 2005, but Velez-Mitchell would go on to work for CNN's Headline News (HLN), where she covered the Michael Jackson trial and regularly appeared on Nancy Grace. 
There, she got her own show, Issues With Jane-Velez Mitchell, where she got permission from the network to have a regular animal-rights segment, which covered everything from the use-restrictive gestation crates used on pig farms to Josh Tetrick's early days as CEO and co-founder of the alternative protein company, Eat Just.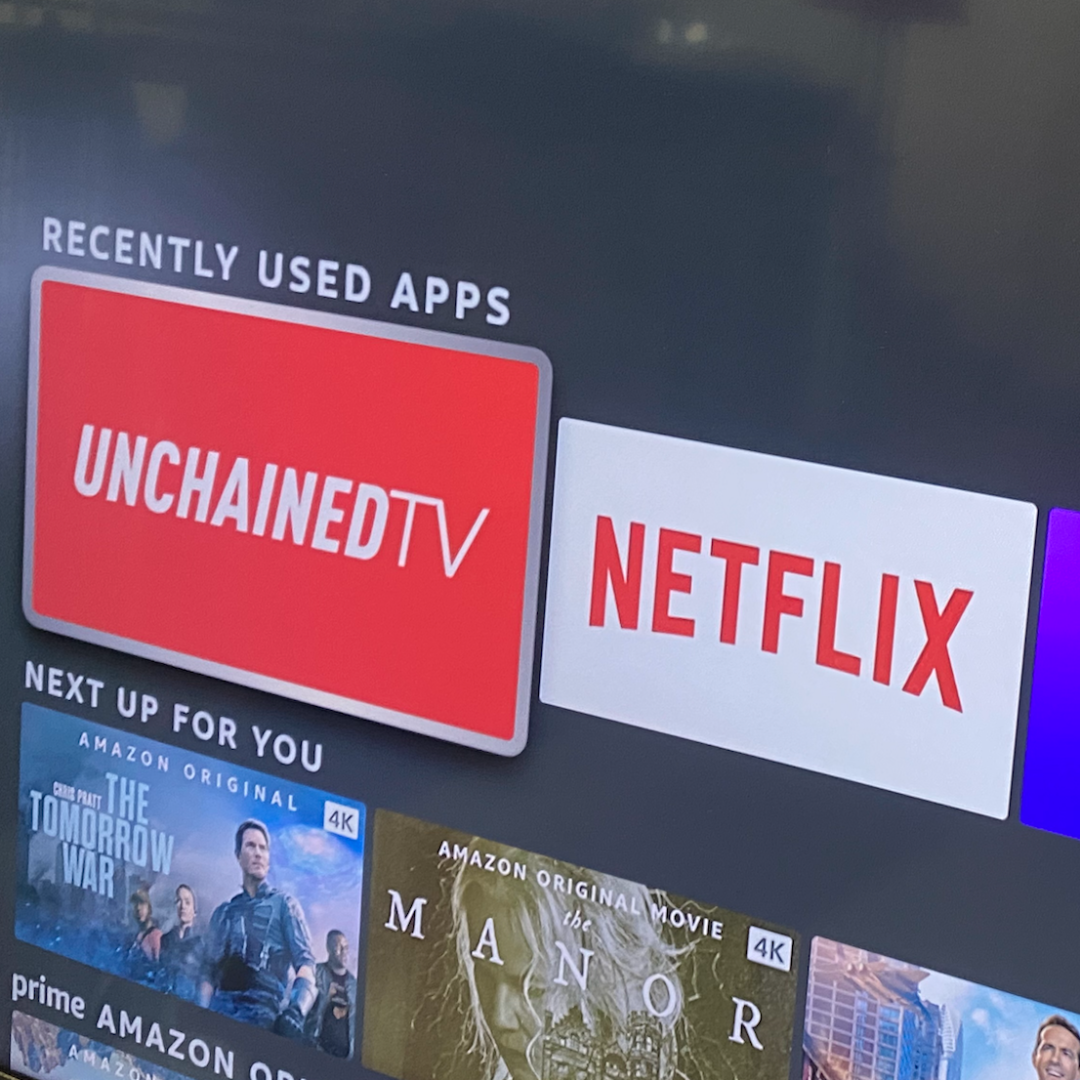 The founding of UnchainedTV
Velez-Mitchell hosted her show from 2008 to 2014. But, what was next? "After the show ended, I went to my producer and asked, 'What should I do next?' And she said to me, 'Jane, you're so passionate about animals. You should do that full-time,'" she recalls. That's exactly what would happen next.
Thankfully, Velez-Mitchell's time at CNN ended on a good note, and she was allowed to keep access to her social media accounts. "I said to my girlfriend at the time, who's still a good friend. I said, 'You know, now I'm unchained. I can go to protests because as a reporter, I could never participate.' I could only watch from afar. Or if I was covering it, which really didn't happen on mainstream TV, we didn't cover animal-rights protests."
This joke would lead Velez-Mitchell to start Jane Unchained, which would later become UnchainedTV. It all began with a protest of the Ringling Bros. Circus outside of the Barclays Center in Brooklyn. Velez-Mitchell attended a protest of about 200 people, GoPro camera in hand, in -9 degree weather. "And when I asked myself, 'Is this worth it?' I told myself it was, because these people are out here in the cold protesting, but nobody's documenting it. That's the missing ingredient. And I realized that I had found my niche. I documented everything and put it on my social media."
Jane Unchained was always mutable. As Velez-Mitchell continued to cover animal-rights events with her followers, her show turned into a product powered by 40 contributors, all covering stories across the globe. She adopted the use of Facebook Live—but, social media algorithms are notorious for being subject to change. 
As algorithm changes nerfed her viewership, Velez-Mitchell realized: "You constantly need to pivot. So we decided to pivot to new platforms."
This shrewd observation would lead to the formation of UnchainedTV. Cable was collapsing, but streaming services were popping up worldwide—and streaming's popularity could be a useful ally. "To paraphrase Jennifer Stojkovic, the founder of the Vegan Women Summit, we have an obligation to use every technology available to spread the message," says Velez-Mitchell. Fittingly, UnchainedTV is also available as an app.
Some of UnchainedTV's in-house content includes New Day, New Chef, a two-time Taste Award-winning cooking show that's now being shown on public television across the country. Another show, the short-format reality series Pig Little Lies, features the ups and downs faced by a family of rescued potbelly pigs living in Hollywood, CA. There's also the feature-length, award-winning documentary Countdown to Year Zero, about the link between industrial animal agriculture and the climate crisis. 
And, there's more content coming in the future. A new series called OMG LA will explore the city's famous vegan food scene. Another show, You Gotta Have Hope, is about a hen named Hope who lives in Southern California with a family of humans and dogs. All of the content seeks to show that veganism is a multifaceted lifestyle, and everyone is welcome.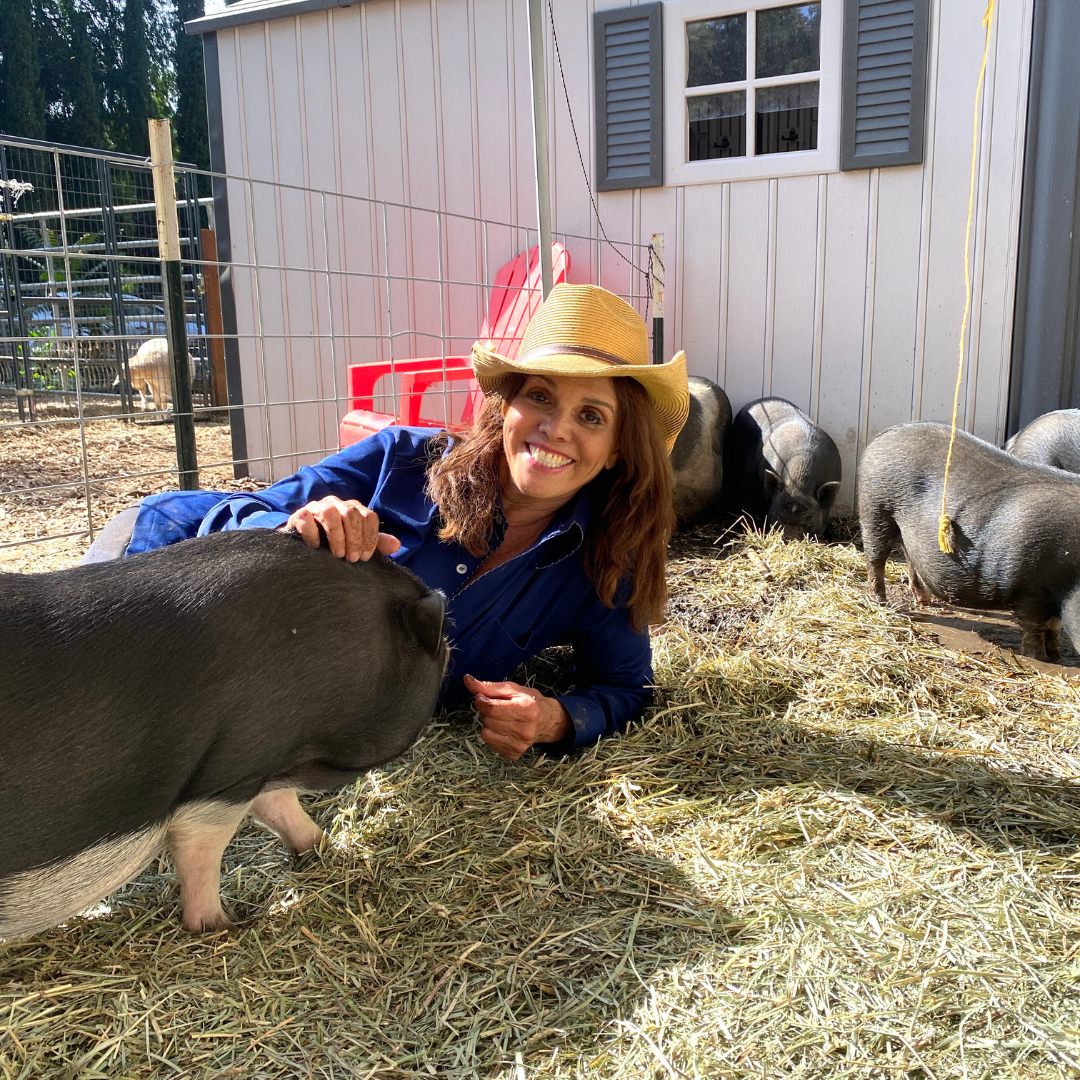 Jane Velez-Mitchell
An invitation to all
These are only snippets of what's to come in the future and Velez-Mitchell has no plans to slow down. And, she invites creators who share her passion for spreading the vegan message to join her network, whether that content is music, a cooking show, or a talk show.
"I absolutely consider this to be a community platform," she says. "We invite people to submit their work, and it doesn't need to be exclusive. The point is to reach as many eyeballs as possible."
To learn more, visit UnchainedTV.com.
For more on veganism in the media, read:
Tabitha Brown Hosts Food Network's First Vegan Cooking Show
Vegan Cooking Show Wins 2 Prestigious Awards
Gordon Ramsay's MasterChef Confession: 'I Actually Love Vegan Food'
Happy birthday, VegNews! To celebrate, we're having a mega subscription sale—complete with incredible vegan prizes.
Happy birthday, VegNews! To celebrate, we're having a mega subscription sale—complete with incredible vegan prizes.