Introduction
[00:00:00] Detective Ev: Hello, my friends. Welcome back to another episode of the Health Detective Podcast by Functional Diagnostic Nutrition. My name is Evan Transue, AKA Detective Ev. I will be your host for today's show about my friend and colleague, Matt Terry's health journey with kidney cancer, obesity, and an eating disorder.
He is an FDN himself. This guy has been in the health space for a while. He was doing functional lab testing over 10 years ago before it was really cool. I think that's a huge testament to our program because even with that background, he still chose to go through the FDN course. And he loved it. He's had great success with it.
This is also a guy who has the business side of things down. He does about half of his day with clients in person, because he has a personal training business as well. He does another half online with the FDN clients. He's done by four or five in the afternoon, just like we should be right. He actually can shut off the work when it's done, that's what he said. I thought that was pretty cool.
We have a lot of different things we'll talk about today. There is a really interesting part at the end, the final, roughly 15, 20 minutes where we're talking about eating disorders, eating disorders in men, eating disorders in the fitness space.
It was cool of him and just very courageous to get on here. He talks about this so openly; it is what it is. I think there is something to be said about his type of personality doing that, because Matt has, at least my impression of him was, that very stereotypical in a positive way. He looks like an alpha type of person.
A Little About Matt Terry
He's a big and strong, man. He's confident with what he says. That's a great thing to have, but you associate that type, maybe unfairly, with people who are unwilling to be vulnerable or talk about stuff that they've dealt with emotionally. Not this guy.
He's got the best of both worlds because he's strong as an individual, both physically and mentally, but then also courageous enough and vulnerable enough to allow us to know, hey, I have dealt with some stuff. I've struggled with my things. He told me, he actually tells every single one of his clients that, so that they know that he's human and that he's been through things too.
I think that's pretty amazing. I hope you guys enjoy this episode. A little bit about him really quick. Matt Terry is his name again. He's a presenter, personal trainer, nutrition coach, and full-time practicing FDN in Overland Park, Kansas, where he owns a personal training studio.
He has used his personal struggles with obesity, injuries, and disease to help his clients at new levels, with customized solutions that get to the root of the issue. His mission is to provide people with the right education, support, and coaching to create sustainable solutions for optimal lasting health, energy, and confidence.
Well, how are you not gonna like that? I would love that.
FDN Open House – Ask All the Questions You Want
One more thing I wanna say before we get to today's show is if you are listening to this in the month of June, it's gonna be pretty late in the month. You have just a few more days before the course goes up a thousand dollars.
This is not to match something that's about to come out. We're actually only raising the price of the course due to what has been added to the course over the last two years. So, it is gonna go up a thousand dollars.
There are still multiple opportunities to check different aspects of the course. What we're doing here on June 28th, in fact, there is an Open House with Reed Davis himself, he is the founder of FDN. We just did an episode with him recently. Make sure that is in your schedule. Go to fdntraining.com/summer, and you will get all the notifications and emails for that.
That is fdntraining.com/summer. You can ask all your questions that you'd like with him on the 28th.
There's also some other events that went on this month, tons of stuff, actually. You should be able to check that out as well. So fdntraining.com/summer to look at all of that and get into the course possibly before the thousand dollar increase on July 1st, 2022.
But with that all said, let's get to today's interview.
Dealing with Health Issues Before FDN
All right. Hey there, Matt. Thanks so much for being here with us today.
Matt Terry: Thanks Evan. Thanks for having me.
Detective Ev: Yeah. This is cool because when I was going back and forth on the emails, I understand that you've had a lot of success with the FDN system, both health-wise and business-wise. That's amazing. I feel like that's what everyone's listening to this podcast for. They wanna know does this stuff work.
But I was curious with something for you, how long have you been in FDN? A long time?
[00:04:01] Matt Terry: It's over two and a half years. It was the early part of 2020, maybe, actually, latter part of 2019.
[00:04:04] Detective Ev: Very cool. Well, I think that's even more of a testament. I wasn't sure because there was this huge wave of people that were very personal trainer or fitness oriented that came in like 10, 12, 13 years ago. I wasn't sure if it had been that long. But I think that's even better to know that two and a half years ago you came in and you're telling me off air, we got the in-person thing going on and the online. That's pretty special.
But I'm getting ahead of myself. I will talk about that later in the show. How we actually always start this one, Matt, is we ask the person, what were their health symptoms like? And when did they start? I know you and I are literally just meeting each other, but from the bio that you sent and the background that I have on you, I kind of know that you were like pretty much everyone else in that you dealt with your own variety of things before getting into this work.
Appendix Rupture and Kidney Cancer
[00:04:46] Matt Terry: Yeah, actually, my health journey probably started when I was much younger. I was really overweight, and I was overweight most of the first half of my life. Then I was a really successful athlete. I kind of kind did things in a different arc.
[00:04:58] Matt Terry: So, I was really overweight, kinda lost that weight. Sports really helped me do that. Then I really got focused on weightlifting. My background was, I was an Olympic weightlifter for a long time and I've done body building shows and other things.
Actually after my last body building show in 2015, I ruptured my appendix trying to do a failed ketogenic diet experiment. The good news about that was when my appendix ruptured, that was when they found the tumor on my kidney, which is when they told me that I had renal cell carcinoma, kidney cancer. And they found one in my hip, which was actually benign.
So, for the last seven years, I've been watching that doing scans. Then, where really FDN came in for me is I did FDN cause I had so many gut problems post the appendix surgery. I had sepsis, almost died, and was on IV antibiotics for a week. After that, my stomach didn't work at all for two years.
My mom had just died of colon cancer prior to that. So, I was like, do I have colon cancer? Like what exactly is happening at this point? For two years I just, I kinda wasted away. I'm about 200 pounds now. I got down about 150. I think the lowest I got was 155.
FDN Brought Me to The Best I've Ever Felt
I was losing like two or three pounds a day. I just couldn't eat anymore. I had massive gut issues, so that's kind of what got me into FDN. I'd been using lab testing, functional health practitioners and lab testing in my practice for at least 12 years. But I didn't really understand some of the gut stuff and I really wanted to dig deeper into that.
That's when I got into FDN, I really dove deeply into that. That really helped me a ton. That's where I really started seeing some big improvements just in how I felt day to day and some of my gut symptoms. I had a lot of skin issues, you know, lot of histamine problems. I didn't really know what they were. I was able to fix those.
FDN was like, most things, helps you fix yourself. Then you kinda work concurrently on your clients. They get better results, and you get better results. It kind of evolves from there. That's really kind of where FDN has brought me to, where now everything was pretty much for the best I've ever felt. My labs are the best I've ever felt. My business is structured well, very little stress. I only work 40 hours a week and I make more than I've ever made.
Knock on wood. Everything's going pretty well right now.
[00:06:43] Detective Ev: That's great. I'm glad that it all came out on the other end because you threw a lot of us there for second. There was like quite a few things.
Too Much Will Break Your Body Down
I wanna rewind for a moment, but I gotta touch on that 40-hour week thing because listen, I love working. Many of us are very passionate about what we do and that's great. But at the same time, so many of us in this space have had severe health issues.
You realize, it's like exercise, this is perfect example. I could love Olympic weightlifting. I cannot do that 12 hours a day, seven days a week. Even if I was a top level athlete that that was their life. That is not going to work. You're going to break your body.
Similarly, although you might be able to get away with it longer, working excessive hours, especially when it's at the sacrifice of sleeping or eating properly, forget it, you're on a one-way ticket to disaster there. FDN, what's cool about it is you can make a living doing this within that 30-to-40-hour range pretty easily.
You might know, Jenn Malecha, I'm sure. She's someone that swears by only doing the 40-hour week, she will not go higher than that. She figures out how do I become more valuable in that 40 hours, rather than just adding hours to my work schedule. Kind of a cool philosophy there, which, maybe we'll get to, maybe we won't.
I gotta pop in for the failed ketogenic diet thing for a second though. When you say that failed, that can mean many different things. So, what does that mean to you? Do you mean the diet failed you? You failed at the diet? I'm curious.
[00:07:56] Matt Terry: I did the diet to a T. I started as a dietician 25 years ago. I've been in this world for a long time.
The Ketogenic Diet and Genetics Collide
[00:08:01] Matt Terry: I've worked with clinical patients for a long time, people who are really sick. I work with in my health coaching practice, more like MS, lupus. So, it's more of that realm. I've been dealing that kind of area for a long time.
[00:08:10] Matt Terry: I totally lost my train of thought. What was your question? I'm thinking of like seven things ahead.
[00:08:11] Detective Ev: I can't even tell you how many times I've done that live on this show. It's better when you're just the person being interviewed. Cause if you do it once it's not a big deal, but when you do 150 episodes, it shows that we're all human and we do this all the time.
My question was regarding the keto thing, like what made it fail for you? And I'll explain why that's important to me in a second, but I'm curious.
[00:08:31] Matt Terry: Yeah. I did the ketogenic diet to a T. The reason it failed is when you now look at my genetics, it makes a lot of sense why it failed. Some of my genes, like the APOE gene variant, the PNT gene variant, poor gall function. I don't respond well with saturated fat.
Everything went bad when I started the ketogenic diet. My cholesterol basically went from, it's usually pretty low actually. Usually, 150 -160. It went to over 400 in probably the first five weeks. I mean, it just skyrocketed. My liver enzymes skyrocketed. I was nauseous. I was really tired. I did not feel good. I just stopped eating cause I just wasn't hungry. It was new to me, so I really just wasn't sure what was going on.
Testing and Not Guessing Because Everyone's Different
Then I just realized I just don't do well in any type of high fat approach whatsoever. When you dig deeper, I mean, I see a lot with clients too. Not a lot of people I've seen actually do great on it, they don't thrive on it.
Once I saw, like when I said it failed me, meaning that's not the right approach for me and that's not an approach for my genetics, that's how, when I use nutritional approaches, one of the labs tests I will use is genetics and other things to look at what does a person really respond well to? So, we're just not guessing based off what they may wanna do, which could be really well intentioned, but it still might be the wrong approach for them.
[00:09:33] Detective Ev: That's really interesting.
I know we just started interacting. I never am challenging people, I'm just always curious to learn more for myself. Because one, I'm in ketosis as we speak right now. Metabolic, you know, actually can track this blood. I feel amazing when I do this. I gotta be very careful with the electrolytes.
I do a lot of other things too, to make this work. But it's something I've done long term and feel amazing. This was as someone who is, I mean, still to this day, a very lean person. I was never even trying to lose weight, quite the opposite. If anything, it's helped me gain strength in the gym and have better records than I've ever had before.
Some People Will Never Get into Ketosis
Now of course, that can be contributed to a genetic thing. So, I'm not going there.
What I'm curious about, especially with someone that has the background that you do, ketosis, is a metabolic state, right? Keto diet versus ketosis. I mean, there is no way any ancestor, no matter if they lived for more than just a little bit, would've not been in ketosis at some point. Babies, obviously, for example, if they're breast fed are in ketosis a lot of the time.
So, I'm curious, where do you separate that? Because if it's a metabolic state, I would assume you would agree that at some point we're supposed to be getting into this. How is that differentiated for maybe clients? Like take the genetics out of it. I'm not saying everyone should be doing this 24/7.
What do you think about it being a metabolic state?
[00:10:48] Matt Terry: Some people will never get into ketosis. And if you look at Dominic D'Agostino's research on that, it's about 20% of the population. I'm one of those people. I'll never get in deep ketosis ever, even after 40 hours fast. Even when my appendix ruptured and I was in the hospital, I still wasn't that high.
You'll see, like, even when I was measuring my blood ketones with a BOHB monitor, I never got above 0.4, ever. Even taking ketogenic supplements, I was taking ketone esters. I was doing everything I could, never got above it. So, I dug deeper on that. You'll see, some people just will never get into ketosis cause they lack some of the metabolic flexibility to do it. Doesn't mean it's necessarily a problem, just some people won't.
Different Ways to do the Ketogenic Diet
[00:11:23] Detective Ev: I think I was definitely one of those people.
[00:11:25] Matt Terry: And some people just don't really feel great on it, but some people do. I've definitely had some clients who've thrived on it and they do really well. They have better brain function and they feel super alert. For me, I can fast and I feel great when I fast.
One of the problems for me with the Ketogenic diet, and you don't actually have to do a high fat ketogenic diet. You can do this a lot of different ways. If I do use a ketogenic diet, I'll actually use more protein, a little bit less fat for people and they generally respond. They would do much better with that. It's usually when we're pushing that 85 or 90% fat, which is the one I was doing at that time.
[00:11:53] Matt Terry: I don't see a lot of people do well with that. They just have a really hard time doing that much fat, depending on what the fat source is.
Mine was predominantly more coconut oil and other things. Cause I was just trying to keep my saturated fat up and keep my carbs down at that time. I just didn't respond well to it. I think you'll see some people, like a lot of things, we'll do well with some things and some things just don't do well with.
[00:12:13] Detective Ev: Absolutely. May I ask, not to make the whole interview about that, we'll move on. But I know the listeners are gonna be interested in that. What was the doctor's name too? Cause I'm not familiar with that research and I'd love to look into that.
Fasting May Help Achieve Ketosis
[00:12:21] Matt Terry: Dr. Dominic D'Agostino. He's one of the elitist ketogenic researchers, I believe from University of South Florida.
[00:12:27] Detective Ev: Thank you so much.
[00:12:27] Matt Terry: He's pretty much the biggest name in that space. He has also developed several lines of ketone ester supplements. He's done a lot of RTCs on various things that he's working on.
[00:12:36] Detective Ev: That was probably the most interesting part about what you said and all of it was interesting. But the fact that the exogenous ketones still couldn't even get yours up cause you'd think that would be the no-brainer.
I think, oh, okay. Well, even if I'm eating a hundred thousand grams of carbs every day, I should be able to fake this a little bit. Not recommending that at all guys, but I'm just saying should be possible. Really interesting. I will look into that. That's cool.
And I think the last point I'll make is the whole point of the excessively high fat. Cause, yes, people don't realize that in theory, let's say now you're in this 80%, assuming this is correct, which I don't know why it wouldn't be, that can get into a metabolic state of ketosis. Well, if you'd just fast, which I'm, again, not recommending necessarily. But if you just fasted for five days, water, you're gonna get into ketosis, assuming that you can.
Active/Lower Fat Versus Inactive/Higher Fat
You can also induce that with a ketogenic diet, but there's no requirement written that says I have to eat super high fat to get into that in a healthy way.
I actually find, if I'm not physically active, which sounds funny, I always am. But sometimes I get so caught up with work in the middle of the school year when I'm doing FDN and other stuff, I'm going for 12, 13 hours a day. For my body, I really don't feel good actually, when I go and then try to do an hour weightlifting session at that point. So, as long as my labs look good, my activity is me moving around all day and doing all this stuff. I can do lower protein and higher fat then and I feel great.
But if I am active, I find I actually like the higher protein, a little better. The carbs don't change much for me. I can keep pretty low on those. But the fat will actually come down a little bit and I find that I feel good with that. I'll leave it at that.
Getting into the world of the functional lab testing and all those types of things, you had said that you were doing that for about 12 years, I believe, before even finding FDN. FDN was to optimize the gut stuff. That's pretty impressive. If you're finishing this course up two years ago, to be using these types of lab tests 14 years ago is advanced. I mean, statistically it's advanced right now. Right? Because it's not like the majority are doing it. Back then, I think that's pretty interesting.
Where did you get the idea that, hey, I should be using labs when most people probably weren't?
BioSignature – Body Fat Testing
[00:14:35] Matt Terry: One of my backgrounds is, in the personal training side, was what's called BioSignature. Charles Poliquin had developed several systems, and really what his BioSignature system was, was really just a functional medicine system where he used body fat testing. It was supposed to be more of like an on-spot lab test without using lab tests.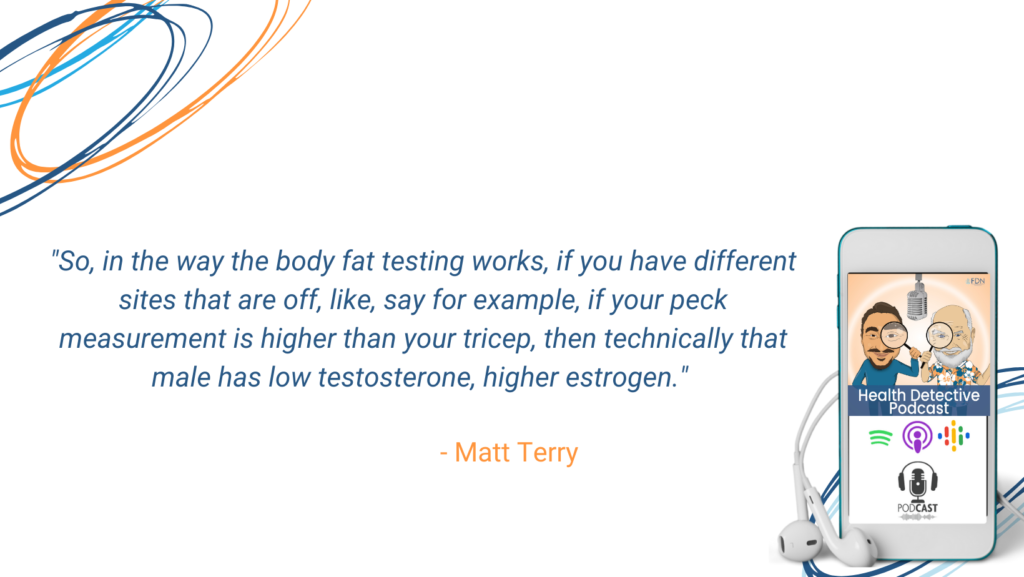 If you saw different sites, kind of like in hair analysis, you have the significant ratios. So, in the way the body fat testing works, if you have different sites that are off, like, say for example, if your peck measurement is higher than your tricep, then technically that male has low testosterone, higher estrogen. I'm not a psychic. We can't tell you values, but that's probably what's happening.
[00:15:07] Matt Terry: That's where you would then say, ok, let's order this blood test so we can confirm this. It was basically just a functional medicine system. You'd use the MRT for food sensitivity testing. We'd use some kind gut stool testing. Blood work, cortisol testing, I mean, we would use a whole gamut of things.
Then, I had developed some local relationships where I'm at in my town with some functional medicine practitioners where I would send my clients to them. I'd say, I'd like to have these labs ordered, blah, blah, blah. Are you ok with that? And a lot of them would do that. The only problem was they'd come back with these enormous bills.
[00:15:35] Matt Terry: The only problem was they'd come back with these enormous bills sometimes from functional medicine practitioners. Sometimes those bills were so big those people couldn't work with us anymore.
FDN Supplies the Ability to Facilitate Labs
So, I said, we will get rid of the middleman, and we will start doing that so we can be a one-stop-shop so we can help our people. Then we can adjust pricing so that people can afford to do everything.
[00:15:51] Matt Terry: That's really when I happened to find FDN. The number one reason I took FDN and looking at other programs was what I saw was, at least as far as I know, FDN was the only program I found where you could actually order lab testing.
Some of the other ones that were available out there, if you're not a licensed practitioner, you cannot order lab testing even when you graduate. That's why I was like, well, FDN is no-brainer. That's why I think it's so valuable, especially if you're going to use lab testing in your practice or with your clients or whatever. It's very important.
[00:16:15] Detective Ev: I totally agree. For those a little more interested in that, cause that's a question, Matt, that comes up all the time. How can I order the labs? Is that legal? Is that ethical?
It's like, yes. Go back a few episodes, check out our interview with Dr. Sandeep Gupta. He's one of our medical directors here, guys. He actually did an interview with us where he explains why he puts his name on the FDN stuff. Why he's one of many that are willing to do this because he trusts the system.
That's what it comes down to. The education's strong.
Loving the Lab Testing but Maybe Shunning the Coaching
Now, what's cool is, Matt, I don't wanna stereotype this at all. I think you would agree with this. I have a friend, especially, my God, I love this guy. Very, very successful in like the strong man space. Killing it on YouTube, a hundred thousand plus subscribers. He's a well-known name. He's won at nationals, competed internationally. He's very open to what I do, which is cool.
But I have found, again, stereotypically, people that are more like into the fitness, especially at a high level. I mean, you said you're 200 pounds. For those not on video, this is a good-looking guy, man. You're a pretty strong, jacked up person. I have found that as some of the groups that are most resistant to the stuff that we talk about, it's not the labs necessarily that turns them off. It's like, the health-oriented stuff. Like, hey, maybe you need to take a break from exercise for a while if you're in this exhaustive phase of HPA access dysfunction.
Is that just my own bias? Maybe I can't communicate with them as well because they look at me and think, all right, well, this guy doesn't know crap about our space. Why would I listen to him? It could be that. Do you agree with that?
[00:17:33] Matt Terry: I have not run into that, and I work with a lot of professional athletes.
Detective Ev: So, it's me.
Matt Terry: They love lab testing. A lot of the people I work with who are high level performance people, love lab testing. Maybe it's just some of the people you're coming across. Cause that doesn't mean they're all into it you, know what I mean?
Using Lab Testing with Every Client
Yeah. I appreciate you being polite. I'm gonna guess maybe I don't have the image necessarily of someone who's gonna trust that right away. Especially since I challenge a lot of the bro science stuff, obviously, when it comes to the nutritional side of all of this.
I think it's cool, anyone that combined it. I think that's already the future of this stuff, right? When we can merge both worlds together perfectly. I mean, these athletes are looking to optimize at any little level that they can, especially at the highest level.
Joey always says, if you can get half a percent at his stage, he's like, that's great, man. That's the difference between a championship and not, perhaps, at that level. He always uses that in explaining like supplements are supposed to be supplemental, these little half a percent changes, ideally. So it's pretty cool.
How did you over time then, I guess, go from someone who, just to be clear, at one point, there was a time where Matt existed with personal training, perhaps without any labs whatsoever, right?
Matt Terry: Yes.
Detective Ev: So how has this now become an integral part of your practice? Because based on what you said to me, this is something that you're doing every single day, it seems.
[00:18:36] Matt Terry: Oh yeah, no, it is. I probably get, I bet probably 20 or 25 labs in a week that I have to review because of just some of the stuff that I do. I use it with every client who comes in, I will use some form of lab testing.
[00:18:47] Matt Terry: I'll use an intake form, which I use to decide what I wanna work on based off their symptoms and their goals.
Assessments, Supplements, and Protocols Based on Lab Results
Then from there, that kinda direction, based off my analysis, based on my initial assessment, where we're gonna start and what labs we're gonna use.
Where I'm kind of at now, my favorite labs, I will use on everyone that I will order, is hair, blood, and stool. I always start with hair, blood, and stool. Because you can see so many things. And when you understand how they go together, there's so many ways you can cross check and look for things.
For example, you can see deficiencies in one panel, you can spot the deficiencies in another to confirm it. You can see gut infections on one. We can see something else in the other. When you're putting those altogether, that's how I design someone's nutrition program. That's how I design all of their supplementation. I don't give anybody supplements without lab testing.
After that, when we get it back, that's where I start to design their protocol. I result everything based off when I get back the labs. That has been, for me, that's been a game changer. Because then you can start to work with people, not just on the external, but you can also work on the internal so you can make them feel good and look good on the inside and outside. And that's also so we can get better labs.
Then we're more concerned with longevity and optimal health in the full health picture, not just performance or not just being myopic about a few things.
Matt's Structured Day & the Clients He Works With
[00:19:49] Detective Ev: That's amazing. Everyone has their niche or their elevator pitch, whatever. Who is coming to you to work with you, like, what is their expectation?
[00:19:57] Matt Terry: What I'll tell people is, I own a personal training studio and I work there in the mornings. Then I usually come home at lunch and have lunch with my wife. I usually work with my online clients until about four in the afternoon. I start at five, and I end at four.
I have a pretty tight day. I only work half days on Friday. I don't work weekends and I don't work nights and I don't respond to emails. I have office hours. My day is very structured. My clients know that and that's how it works.
What I would say is the whole process itself in terms of lab testing, is the people who are coming to me primarily. it's gonna be weight loss. That's where I do my nutrition coaching program. Cause that's really my background. It's just being overweight.
I understand those who have eating disorders. So, I kinda work in that world. I do a lot of counseling for eating disorders. I do a lot of coaching in that realm in terms of just eating problematically.
[00:20:35] Matt Terry: Then performance.
If someone basically wants to lose weight, or they're an athlete who wants to up their performance or has gut issues, or something's, what I call, under the hood that we don't really know what it is and has symptoms we wanna get to the root of, but don't wanna use medications or other things. Those are really the people that I work with.
Rest and Recovery – Most Essential Parts of the Sports Process
[00:20:52] Detective Ev: Okay, cool. I'm glad I asked that, cause it's always important for the audience too, that they might be resonating with you and want to work with you. I don't have to necessarily be like, all right, Matt, listen, I wanna achieve this in the gym right now. This could be totally just for health and Matt still helps him out with that. That's really cool to offer both of those things.
Because again, I think the people that are competing at a high level athletic wise, or sport wise or whatever you want to call it, especially if they are natural athletes or lifters, this stuff is a necessity. You can get a big advantage over the other people out there. It's like so crazy.
I love that you do that thing with no working nights. Because you'd think that'd be common sense, but I know these athletes are so motivated, and God bless them because they're trying hard to get all this stuff done. But I'm like, where on earth did you think that you were supposed to be sleeping five hours a night?
You know, I mean, these people are going to bed at like one in the morning, sometimes waking up at six, push and push. I'm like, you are an athlete. You need that recovery. I'm no expert, but I would assume that's one of the most essential parts of the process or the sport process, you know.
Rest is Number One
Even Kobe Bryant, yeah. He said it eventually that he learned, I gotta get to sleep and he was a nut with that. He did it for years. But he said, you know what? This actually is having this counterintuitive effect. I thought I could just work more and more, but now it's affecting me on the court. It was leading to injuries, and he realized, all right, rest is number one.
I heard at one point, LeBron James, I have no way of fact checking this, I suppose, but I'd read it right online. It said it in the news articles as well. He sleeps apparently 10 to 12 hours a day. Pretty interesting. Especially considering how he competes at his age now. Obviously, he's not old, but in his sport, you would think he's capping out a little bit. Man, his team fell apart this year, but he is doing overall okay, himself personally.
What are some cool stories or testimonials that might have happened with some of your clients to the degree that you're able to share it? I'm not asking for like names. But you seem like a guy with your structure, you've worked with so many people. So, I'm curious, who's come through that door and how it's worked for them. There's some really, really cool ones.
[00:22:38] Matt Terry: There's some really, really cool ones. I work with people from basically in their thirties up to my oldest client is 82. I've seen so many really cool health changes.
Client Success Story – Lost Weight, Better Digestion
Probably one of the first one come to mind. I had a client who came to me who had lupus. She was a nurse. She was a night nurse and she had massive edma in her calves. She's a very tiny woman. When she first came to see me, her calves were enormous. I was obviously concerned for lots of reason for that.
She was very bloated, had tons of gut problems. She had a massive fungal infection. First time we saw that, when I was doing her intake, we're seeing all this. So, we changed her diet and put her on some gut supplements. I did some gut testing, a bunch of other stuff.
In the first month, she had 14 pounds and five inches off her waist and none of it was body fat. It was bloating. It was fluid. Her legs normalized. A lot of her digestion was so much better and that was in the first month.
It was one of the first things I could really see that when you line everything up correctly. We're using like a little fodmap approach, and we got a stool test done so I could see what was happening. She had tons of gut infections, she had H. pylori, she couldn't digest anything.
So worked on her digestion, supporting where needed getting her more sleep. Really just trying to educate her on the full paradigm of health. She actually did really well.
Another Client Success Story – Back to a Normal Life
And I've got one right now, this was actually really funny. I say funny, cause I felt bad for her, but she's improving so quickly. I had a consult that started with me last month, really bad histamine issues. Like when I'm doing the consult, she's itching from head to toe like she has fleas, and really around the joints, you know what I mean?
[00:23:53] Detective Ev: I was like, can you show me your elbow? And as she takes off this bandage, I mean, it's like, whoa, it's like monkey pox. I mean, it was like everywhere, just like swollen, you know?
[00:24:06] Matt Terry: Within the first couple weeks, no longer itching. That somewhat normalized. Like we just removed a handful of foods that were trigger foods. She's sleeping better and she's already lost like 12 pounds, in like the first three and a half weeks. This is someone who's like, I can't eat anything.
I'm like, no, no, no, this is temporary. We're gonna just go through the process. I was like, you're not gonna have to do this forever. It's just kind of educating people like, we do have a systematic process. We go through these things, we have timeframes. We retest, none of this is guessing.
None of this is, you know, I saw this on YouTube, and I think. We have specific protocols we go through.
[00:24:35] Detective Ev: I saw it on YouTube.
[00:24:36] Matt Terry: She got better really quickly. When you see things like that, when people are like, you know, I went from not being able to live a normal life to now it's like, I can pretty much do what I want. That's huge for people.
Make a Life Change, Fix that Sleep
I've actually had people lose like 200 pounds. I mean, those are amazing.
You know, older people who have a lot of issues, maybe sometimes like balance issues, a little dementia, that cognitive decline, you know? Sometimes it's not as bad to fix as you think. Now, all of a sudden, they can remember things. And now all of a sudden, they can move and they're not falling over, you know? They have better balance.
My 82-year-old, she can do all the way down until like the full deepest squat you can possibly get. She can do three sets of 20 of those with body weight. And she will do perfect form. She does it three times a week with me.
Those are the things I really focus on with those people is just strengthening the legs as much as possible. In addition to, if I can help with nootropics, with brain function, and sleep, I think it's so much better. And that was the thing, really when you pinpoint sleep is what I really, really emphasize.
I had a consult with a client yesterday, she's a very successful attorney. She said, I don't go to bed till 3:00 in the morning, and I get up at 8:00 AM. She said, I put on 50 pounds in COVID. I said that would be the least of your worries if you don't fix that sleep. You're gonna have way bigger problems, that start with C and D like cancer and dementia. You need to make a life change.
Pushing too Hard Only to Stop and Fix Health Issues
Sometimes when you have that information you can relate to people and you have background stories, you can say, I have research. These are things you can really educate people on. Not scare tactics by any means, you know. In that whole entrepreneurial world of I'll get all the sleep I need when I'm dead, I'm just gonna keep pushing. It's like the worst advice you can possibly give someone. They start to develop health issues.
[00:26:00] Detective Ev: I love that you talk to people about that because we've mentioned this on the show before. I feel like, myself, I fall more into that category. I'm like, I'm almost grateful for my health issues because I'm wondering what the heck would've happened. Because I know how badly I pushed and pushed and pushed, even with the health issues.
I'm just like, okay, well there's no cap on this. Then eventually something is gonna happen like you said. It's like, guys, there's going to be that wall eventually. I think you can have your cake and eat it too here. I'm all for working hard and striving for crazy goals, man. I understand that mentality enough that I wouldn't try to shut that down in someone else and neither would you.
But it's like, do you want it to be sustainable or do you wanna have this crazy five years and then you're spending all the money that you made to fix your health issues for the rest of your life? Cause that's what it ends up being for these people. It's the saddest thing. It's like, so instead of three to eight, I mean, even if she's only willing to do the five hours right now, could you do, you know, nine to two or whatever?
Noticing the Subtle Differences
And I'm not suggesting that. It's not gonna be fun to wake up at two. But guys that five hours is not the same as the other five hours. You still got your 19 hour work day, go do your thing.
But it's amazing how big of a difference. I don't know if this is just because people that are in our space, we're very aware of our bodies. We've been doing this for years, so we kind of notice subtle differences. For myself, I take the sleep very seriously, cause I went to bed super late when I was young.
Matt, if I go to bed at 9:30 pm versus 10:30, I notice the difference. I'm not saying I can't operate the next day. I mean, I feel fine. But it's just like 9:30 pm is like, whoa, I'm good, man. I can go buff out that long day that I want to do. But 10:30, 11:00, I start creeping up on that, all of a sudden that's just enough away from me that by the end of the day, I'm like, I can't wait to go to bed versus like, all right, I feel good. I had a great day, time to rest.
There can be really subtle kind of differences for people. Are you in that same FDN mindset of like, Hey, try to get to bed at the 9:00 pm to 10:00 pm range, latest?
Matt Terry: Absolutely.
[00:27:39] Matt Terry: I get up at four most days. So, I definitely try and get to bed by 8:00 or 8:30 pm. I mean, 9:00 pm is my cut off. Then I will usually work all day.
The Benefit of Health Issues – Perspective Change
[00:27:46] Matt Terry: My schedule is very tight. It's like minute-by-minute plan so that when I'm done at 5:00 pm at the end of the day, I am done. There's no more emails. Everything is done for the day.
That way I have time with my wife. I can chill and we can relax. I can do things that I want to do, and I can spend time with my family, which is very important. Which is what I didn't for a long time.
That's the benefit, like you said, health issues, that was a major benefit of my health issues. Because when I was sitting on a hospital bed, they told me I had kidney cancer, the first thing I thought of was, everything I did up to this point really doesn't matter, does it? You know what I mean? Like I have my wife which is the most important thing to me.
Putting work first for years, you learn really quickly when you're lying there in a bed, and you're looking at your CT scan and you have a tumor the size of a golf ball in your kidney, you rethink things. So, I vowed that when I came out of that, the benefit of that was I got the perspective of the life change without dying.
I have a lot of clients who had cancer. I have one client; he's had cancer five times. He was one of my best resources when I went through this. Him and his wife were my first clients. I live in Kansas City. Him and his wife were my first clients in Kansas City like 20 years ago. I still train him. They're kinda like parents, you know?
Mindset is Huge in the Healing Journey
I was able to lean on him. He was just saying like, multi multimillionaire, very successful. He was, not me, at an early age. And same thing, he had testicular cancer, terminal cancer when he was 25. And so, he lived it, he's now 80 and he's obviously been through it.
I said, how did you get through it? He said, every day I got up and I crawled, you know, like somewhat crawled, cause he was in very bad shape at the time. His story is unbelievable. The one thing I will share about that is, so he had testicular cancer and they took out his entire abdominal lymphatic system as a precaution.
This was in like 1961. Then they just got chemo, but they didn't know how to use it. So, they gave it to him intramuscularly, like a B12 shot, instead of an IV. And that's how his chemo was administered for two years. He would get unbelievably sick. He said he would throw up every five minutes for eight hours, all weekend.
He was very wealthy, so he had an on-call doctor come to his house to administer the chemo. I said, how did you get through it? He's like, well, after they gave me what I think was morphine or something, once I would wake up from that, I'd crawl over to the window, and I'd eventually make myself stand up. I would look outside and be like, today's a great day and I'm so glad I'm better today. He was like, I just did that until I got out of the hospital.
Stress Really Can Kill
I mean, some of those mindset things of people who kind got through it was just like. So, I said, what do you think the biggest difference is? Oh, stress. Like stress killed me. He goes, I'd try to go back cause he was an investment maker. He said, I'd try to go back as soon as I was done. And he was like, immediately got sick again.
He's like, it was worse than chemo. He was like, I was just so sick all the time, tired, got every cold, and I was run down. So, he went on lifelong disability. And when he went on disability, he immediately started getting better, cause he wasn't working anymore. He didn't have the stressor.
That was when he was like, I really am convinced it was just stress. Around that time, I got into FDN. I was like, you have no idea how much stress was contributing to it. And it probably was the stress. So those perspective changes can, obviously really shape your life, you know? And if you let it, in a good way.
[00:30:36] Detective Ev: I love that you brought up the mindset thing first, because that's the first thing I'm thinking.
How on earth do you get something like the cancer at 25? And now we know, because you said this, he had it four more times at various times. And then you're telling me he's 80 years old. I cannot help but believe, I know that medicine doesn't fully understand probably something like that anyway. I would have to guess that that's mostly to do with mindset, this will to live and keep going and keep that positive mindset throughout all of that.
How You're Engaging with That Work
Because you would think, knowing what we know, your body's gotta be in pretty bad shape to be getting a diagnosis like that, that young. And then, oh yeah, no problem. I'm just gonna go live triple that, you know? At 25, yeah, no, I'll just do that a couple more times. I'll be okay. That's amazing.
I think it goes to show, I'm gonna guess, like every time that he got these diagnoses, he was probably pushing it a little too far and then he had to bring it back like you said. Like he started working again and he realized, on the lifelong disability, oh, wait a second. This goes away. And this gets better. So we gotta be careful with that.
And listen guys, you can go out and do these things and work hard, but it's almost like trading stress. And I know this as someone who's been pretty sick most of his life as a kid. So, it was right out of the womb pretty much stuff's going on.
I can do long weeks, but it's how you engage with that work. I feel like you would totally understand this. There is a difference between typing, let's say, an hour's worth of emails in that frantic, caffeine driven, crazy stimulated way, versus, okay, I'm typing my email. And my heartrate is not elevated right now. I'm still taking deep breaths and relaxing. That makes a huge difference. Then again, you can do those other things on your day-to-day basis.
Juggling Life and Coming Out Unbalanced
I think it's funny because a lot of people think I do a lot, but everything else is strict. I'm not drinking. I never go out and drink. I'm not getting drunk. I don't do late flights when I travel. I always plan it within the day. Because if I do one of those little things, Matt, that sets me off as someone who's been sick, yeah. It throws me back.
It's like, you guys can go do stuff. No one cannot have a life here. That's fine. But you gotta just like, kind of trade your stresses here a little bit. I'm sure you can get away with certain things now that you maybe couldn't have before, because you've really figured out how to optimize life and like, hey, this is when I work, and this is when I enjoy my family. This is when I play.
I think that's something I can learn from myself, for sure. Cause somehow, they all seem to be mixed in which some days can be brilliant, other days an absolute disaster, trying to mix three things in like that.
[00:32:42] Matt Terry: It's difficult to juggle. And I think that was the biggest lesson I learned. Cause when I was younger, I was one of those higher achievers. I was like the same thing.
[00:32:48] Matt Terry: I was like, you work 15 hours a day. And as a trainer, you get used to that. I mean, most trainers, if you're a good trainer, like there was many days I would train 15 – 16 hours a day straight with no lunch break.
This is a Marathon, Not a Sprint
[00:32:58] Matt Terry: Like when you're busy, you're busy. I mean, and when you get paid by the hour, you have to work. When you're a trainer, you work when people don't. That means holidays, weekends, nights, mornings.
It's like the first, probably three years, my wife and I got married, I would get up at 3:15 am. I was at work by 4:30 am and I didn't get home until 8:15 pm each night. I would see her for about 10 minutes, take a shower, go to bed, and I'd see her on the weekends. That was when I was around late twenties. That was when I started getting chest pain at work from those hours and the stress of it.
That's when I was like, my first red flag of something is not right. Why am I having chest pain? You know? When I was 32, I went to the hospital cause I thought I was having a heart attack. Which turned out to be nothing. Definitely, you can push it too hard.
When I work with a lot of entrepreneurs and like high performers, that's the first thing you see. I'm like, you need to set a cap on your sleep limit. You need to set a cap on your work because you're not gonna get it all done today. You have to understand this a marathon not a sprint.
I will show you other clients' labs who've done the same thing who have spiraled out of control with their health. And if you're serious about this, this is not something you wanna do.
Optimizing Your Time Is a Better Option
[00:33:59] Detective Ev: I'm sure you help them in many ways just from having that mindset of optimization because there's many. Listen, I don't wanna just project, but I know I've done this myself.
There's many people that are busy. It doesn't mean that you're using that time most efficiently. So, I love that mindset, that again, Jenn Malecha has. We mentioned that earlier in the podcast where she will not do more than the 40, 45 hours a week. She asks herself, how can I become more valuable within that 40 to 45 hours? That's how you could make more money.
Because guys, the time does have a cap. We all only have 24 hours. Right? So, if you're just constantly chasing that hourly wage, which I fully understand, all of us have to do at some point. I still get hourly stuff for certain things. But you can only add so many more hours on.
You can grow indefinitely. I don't know about you, but I don't have a cap on that. I can keep educating myself and keep learning until the day I die. So, it actually is a way smarter system, if you take that approach. But we're taught yeah, just keep pushing, keep pushing, keep pushing when those hours that we're adding on aren't even optimized to begin with.
Then yes, you can get the total freaks of the world. If you get an Elon Musk, now you have brilliance mixed with extreme optimization, mixed with a willingness to work a hundred hours a week. Okay. You get Tesla, right? If you're shooting for that, maybe you gotta go take that route and have your five-minute sandwich break that I know he has in the middle of the day, every single day it says.
Overweight and an Eating Disorder
But if you're like the most of us, you can still do very well financially and then actually have a life and health. That would be wonderful, wouldn't it? There's one thing I wanna rewind to for a second. I wanted to bring it up before, but we ended up talking about other things which were great.
You mentioned an eating disorder at one point. We've only had two people come on this entire, 150-something episodes and talk about that. We've never had a male come on and talk about that. I'm in the mental health space because of the things I've dealt with. I know this exists and people don't want to talk about it.
So, if you're comfortable, can I ask what that was. And like, what did you experience?
[00:35:40] Matt Terry: I was bulimia for probably six years. When you get into fitness space, you're gonna quickly learn a lot of people have, so there's eating disorders and there's disordered eating. OK.
Eating disorders are bulimia, and anorexia. Disordered eating is everything else, which is a lot of things, especially in the health and fitness world. Most people have disordered eating patterns.
I started because I was overweight, and I didn't know how lose weight. I was really, really overweight. When I was in the fourth grade, I was 200 pounds. I had a 44-inch waist. I always joke, like I was never little. I was just young.
[00:36:07] Matt Terry: I'm the same way I am now at 43, as I was in sixth grade. I obviously have a much different composition, but when you're a beach ball and you're 4′ 11," life's not fun.
Trying To Compete While Obese and Dealing with an Eating Disorder
[00:36:13] Matt Terry: As I got older, I had a lot of health issues just because when I was a kid, I was always sick cause I was always eating garbage. I was like really overweight, which is obviously a problem.
For me, as I got older, just getting into sports and other things were really helpful, but some of these things, you know, we'll just push so hard. I see this all the time, people get really hyper fixated on their food, right? When life feels out of control, what do we do? We double down on things we can control. This is where you start seeing eating disorders come out, especially people that have those traits and tendencies for controlling, like I did. I do.
Bulimia really started for me at first, cause I had a weight class to make. So, I had to make weight class all the time for lifting. And then, I got so big I really barely maintained my weight class anymore. I was actually, between that and injuries and I was just getting older, my journey was I was kinda done with it. I needed to move on with my life. So I retired, but I carried all those eating disorders with me.
Then when I played football in college, part of the problem was as a shorter guy, I've always had to be very, very heavy to compete in the high-level things I've done cause I'm shorter. When I played football in college, I was a running back. I was in a pretty big division, but I was a short guy. I mean, we had guys that were literally a foot taller than me in some cases, a foot and a half taller.
Gaining Weight and Back to an Eating Disorder
It's like, you have to do what you have to do to compete. So, I was eating massive amounts of food. Well then you get out of there, and then this is what most athletes do when they move on with their life and they become normal or a general population person, you're not training that way. They carry a lot of those habits with them, in terms of the overeating. Because we're trying to eat so much to keep our weight up, to compete. They don't understand, we're not competing anymore. You're not supposed to eat that way anymore.
Then I started gaining weight and I'm like, why am I gaining weight? So that triggers my background. Like I'm not gonna be overweight. So, I'll use bulimia to control this like I did before. As I got through that, I think, as just doing self-development and realizing this and educating yourself as like a health professional and learning more things, you start to realize, you start to see your own flaws.
[00:37:59] Matt Terry: And it's OK. I mean, we all have them. But once you start to see them, that's when I was like, hmm, I have a real problem with food, don't I? For a long time, you just ignore it. Like, I just did it a couple times, not that big a deal. That meal didn't make me feel that good. I made myself sick cause I don't feel that well when I eat anymore.
You feel that well cause you overate, like, you induced this. You kinda start realizing things.
Finally Understanding the Eating Disorder & Kicking the Habit
So, when I work with people, especially when I start talking about nutrition, all my intake form is, do you have a history of eating disorders? And do you feel comfortable talking about it?
Cause I always open up, I say, I do. I had a history of it and I'm happy to talk to you about it. And I counsel a lot of people on it. So, if you feel like struggling with that, that's something we'll work through. Okay. That's how I was bringing it up with clients. But yeah, mine was bulimia for a long time.
And then, probably by the time I was about 31 to 32 was when I finally kicked the habit and kind of realized what it was and why I was doing it and my triggers. And then once I got rid of it, like it was pretty easy to see what I was using that tactic for. That wasn't a good tactic.
I think when people have some of the eating disorders, they feel like they can't talk about it. They feel like they're unique. You're not. Way more people have it than you think.
That was really, my big background was just kind of being overweight for a long time, really struggling to lose weight and then losing weight, incorrectly. Starvation, just dumb things.
We just don't understand when you're trying to lose weight, but you don't know how to do it, then doing everything wrong, which leads to eating disorders because you can see some progress with that, unfortunately. It's obviously, not great. But people doing it incorrectly and that becomes that control mechanism, when people are out of control.
That's like what I really liked about the FDN coaching model.
There's More to an Eating Disorder than Food and Exercise
You look at the behavioral wellness wheel. And we're really looking at all the components of health, right? Relationships, work, creativity, sleep, sexual health, like, do you have a good partner relationship? Like all these things, do you have purpose? You don't see just food and just exercise.
There's like all of these things on this wheel that's really health. But when I present that wheel a lot to clients, I'm like, where on here do you feel like you need to work the most? And you'll always see people just go straight into the diet and exercise piece. You're like, okay, how about these guys? How are these over here?
[00:39:47] Matt Terry: Oh, those are all fine. And then you start digging into them and they're not fine. But those problems that they have in those other areas are what's driving the eating disorder. So, when you get to the root cause just like we do with everything else, then you can actually get them to see some of their traits. That's when you can start to make progress.
[00:40:05] Detective Ev: You rock, man. I appreciate you just shining light on this so much, because this is something that I see a lot as someone in the mental health space and in the fitness world. You're right. It's coming out a little more unsocial. You see some people talking about it, but it's shut down, man. There is some deep stuff buried there sometimes, and people aren't addressing it.
An Eating Disorder Can Turn into Disordered Eating
Then there's just stigma around this stuff anyway. Half these people in the world don't even believe the eating disorders are like, well, is that actually real? And then God forbid, you say, you're a male with one. Now you are really in trouble. It's just, ridiculous guys.
Like this is real stuff. This actually is something that people experience. And for those that don't know, forgive me for my oversimplified definition of this, but I had a person, very close to me that dealt with this. And I did not know until it was years and years. Really it takes a toll. Bulimia, and if you wanna add something again, please feel free, but this is the one that's categorized basically by these instances of like binging and purging, correct? You have both aspects.
[00:40:54] Matt Terry: Correct. You'll see this a lot with just it'll spill over into disordered eating behaviors too.
So, eating disorders, as we said, anorexia and bulimia. Disordered eating is everything else where like you're over obsessing about food. The problem with tracking your intake in disordered eating, is like, let's say just for arbitrarily, your calorie numbers are 1,500. These are the people that are like, I had 1,501, I have to go work out. Like calm down. This is where disordered eating starts.
I'm not going to this party because I can't control that food. That's disordered eating. It's okay if you wanna bring your own food, because maybe you're trying to eat healthy. Maybe that place just has McDonald's, whatever. OK. There's nothing wrong with that. I've done that for years. That's not disordered eating.
An Eating Disorder – Thoughts and Behaviors
Disordered eating is like, you're gonna go to another party. You knit pick at everything. That food's not clean enough. That food's not healthy enough. You become, what's just called orthorexic. Which is where you get fixated on the cleanliness of food and the food is not clean, meaning it's not non-processed.
[00:41:56] Matt Terry: It's not a whole food sprinkled with like super food and like unicorn dust, you don't eat it. And it's like terrible for you, and that's a problem. And if they have one cookie, then I get a text with like 10 exclamation points, like I've failed.
Those are all disordered eating behaviors and thought processes. And those are the things that we have to work through. But it is everywhere. You would not believe how many people have it. And a lot of people don't talk about it.
I encourage people to talk about it. I will catch clients doing it because of some the accountability measures I have built in my programs. I can catch disordered eating. Like, they'll start skipping weigh-ins, that's the first one. We weigh in everyone on Monday for one reason, accountability. And helps them stay on track.
[00:42:28] Matt Terry: You can start to see people, disordered eaters, will turn their trackers off on the weekend, won't track on the weekend. They won't show up on Mondays. You start seeing patterns. It becomes very easy to spot.
An Eating Disorder Can Turn into a Different Issue
I will then pull them in my office and just say, hey, I noticed a couple things. Is there anything you wanna talk about? You know, cause we just say, this is safe space and they'll always come out with it. Yep. I didn't track this weekend cause I binged. I didn't wanna weigh in on Monday because I felt bad. I'm like, okay. This is the first step, we have to talk about this. I'm like, this is a safe space.
This is how we get it out. This is how you get past it. And they all know that I have it. Cause every time a new client comes in my studio, they always get to sit down with me for about 90 minutes. This is where we do the deep dive. We dig through their history and their health history. Look, for root causes.
And I always share all my struggles. I'm like, you're gonna be surprised how many people have this and even experts struggle with a lot of these things. There isn't anything wrong with you. This is part of the process. I'm very open in trying to help people figure it out. Cause again, it is a problem.
If you don't figure it out, this is the binge-purge thing that will then lead to the restrict binge cycle and chronic dieters. Where they're like, I'm gonna white knuckle it. I'm only gonna eat perfect food, whatever that is, for the next, whatever, is like, the rest of my days. And I'm not gonna have sugar. I'm not gonna have alcohol. I'm not gonna look at M&Ms.
They build all these very rigid boxes around how they eat that are impossible to maintain.
Being Open About a Personal Eating Disorder Is Part of Being a Great Coach
[00:43:38] Matt Terry: So, like, if you do this on Monday, what happens on Wednesday? Well, I failed, couldn't do that today. Then they binge and you create these binges of strict cycles they never get out of. That's a disorder eating behavior.
These are all things that if they're not careful, spill into an eating disorder. So, this is why you as a practitioner, regardless of what really your specialty is, you're gonna see this. And if you know what to look for, you'll see it with lots of clients when you really know what to look for. But it's very common.
[00:44:05] Detective Ev: You legitimately sound like the perfect coach. I know that so much of this is your dedication to clearly lifelong learning. It doesn't sound like you've ever really stopped, so I'm sure a lot of that's a skill, but you also have a gift in that sense. This ability to come across as very confident and firm, but also, hey, I'm humble enough to show you exactly the things that I've struggled with.
That is a coach, man. That's what coaches are actually supposed to do. It's not putting on this fake image of perfection and then saying, oh yeah, you know, you'll be lucky enough if you're like me. It's showing that I'm human so that it relates. And then, hey, I've learned a lot of things so I can actually share this with you and guide you through your human experience as well.
An Eating Disorder is More Common Than You Think
That's pretty cool. We have wonderful people that come on the show. I don't meet a lot of people that I feel from what they've said on the show, are just so naturally inclined to that. I think that's cool. I, again, appreciate you sharing the eating stuff, because this is something that affects our space a lot, whether it's the bulimia and anorexia or not, the disordered eating's huge.
It's even trickier sometimes because there are moments where some of this seems justified. And here's what I mean, cause it happened to me, that restrict binge cycle that you talked about. There was a point, Matt, where I was playing this guessing game. I did not have a system like FDN where there was an actual plan.
So what happens? I am genuinely experiencing symptoms or acne or whatever it was at the time that I saw from the foods that I ate. But the problem is, which you've seen probably with people who are super sick, in their head, and it actually probably is true, they just don't realize what's going on, every food seems to trigger the symptom.
Like I eat this, I get acne. Okay, well I'll stop eating that. No problem. Oh, this is a problem though too. This is an issue. Now really the whole issue probably was like a leaky gut at the time, and the gut infections. It led to everything causing an issue because it's going right into that bloodstream, creates that waste, there's backup.
We Need to Talk More About Topics Like an Eating Disorder
Of course, you're gonna break out in your skin if that's something you're prone to then. So, I eventually come to this conclusion. There's only like four or five things I can even eat, and that is not sustainable for anyone. That is restriction. Then of course it comes in with this binge cycle and then you feel guilty. You feel terrible.
So that's why, guys, I mean, FDN, whether it's something you're looking at for the course or something you'd consider working with someone like Matt for, this is why this system's important. You mentioned in the beginning, you had this woman with these histamine things. She did have to remove some stuff for a while. She had to get a little strict. But you let her know when you said it on this episode today, this is not forever. It's not even for a year. It's not even for probably six months.
We're gonna get you better in a good amount of time here. You'll be able to add these foods back in. We might have to remove it for a little bit. But when we're playing guessing games with ourselves and we're trying to figure out, well, what doesn't work for us, you'd have to be one out of a hundred that is lucky enough to figure this out and heal on your own. Otherwise, you're just gonna restrict until the point there's nothing left. Yeah. Like you said, on paleo, vegan, and need the unicorn dust, whatever you said on top of it. And then my food's perfect and clean.
I appreciate you bringing this topic today. I didn't think it was gonna go this way. This is something that needs to be said on this show.
Taking Emotion Away from Food Can Help an Eating Disorder
[00:46:46] Matt Terry: Good. I'm glad.
Yeah, I think that the more people understand it's there and I think that's where really one of the things that I've done is I'll coach more from a calorie management standpoint. I'll let people discover their own health food journey, and you'll see it every time. You'll start just giving them some guidelines, giving them some parameters, giving some training wheels, just teaching how to control their intake, and those food choices evolve.
They'll be like, I feel better on that food. I don't like that food and that doesn't make feel good. And that's why I tell them like, there's no good or bad foods. If you eat a good food, you're not a good person. You eat a bad food, you're not a bad person.
Calories are a unit of measurement, just like mile is unit of distance. That is it. And once people take emotion away from their food choices, which is very important, then they can move on with their journey.
Then they stop worrying about things when like, oh, I think I had this grape, and it wasn't organic. You'll be fine. So, as you move through that, that's where some of the head space can start to open up. That's where people make really amazing progress, is when you see people who are eating disordered people and are really hung up on very certain things thinking this is the only way this is gonna work for me. It's not working. You can then get them to maybe shift their paradigm a little bit more open to looking at everything, not just the food, not just exercise, but living this entire lifestyle.
It's Going to Take More Than Just Eating Organic to Be Healthy
[00:47:54] Detective Ev: I could do a whole nother episode with you on this. I'm gonna wrap it up here since we're getting close to our time. But the one thing that you said about the organic, I think that's the biggest trap I fell in. Because listen guys, organic, generally speaking, especially if it's local and not just commercial crap, it is better. There are less toxins.
But I don't think people realize that in today's world, unless you are living in a remote area of Montana, you have such an abundance of toxins coming at you at all times of the day from the air, from the water, or whatever. And I don't mean that to fear monger. I'm not trying to scare people.
But my point is, if you really think that the same exact food, organic versus not organic a few times per week is going to be the make or break for you, that's insane. That's just not factual. There's a huge difference between someone that has celiac disease and cheating on gluten once a week, Matt and I didn't say that.
But to say, oh, well I can't eat that banana because it's not organic. Whoa, whoa, we're getting a little dogmatic now. That's probably when you're entering that orthorexic type of phase. I think people do hear about this in a certain way. Like to me, organic was the pinnacle, like, this matters all the time. And I do my absolute best to buy only things that are organic. But there are bigger things to your health, like probably a list of 50 things that matter more than just that.
Where to Find Matt Terry
I know that pisses a lot of people off, sometimes. They're really blocked in on that like I was. Like, no, that can't be true. There's 50 things plus? I would guess there's even more that matter more than just the slight amount of extra toxins that might be in the organic food only because of how our world is today.
So, with that all said, few things to you, Matt. One obvious one, where can people find you? And please shout out your in-person stuff, just God forbid, someone's listening there and online.
[00:49:26] Matt Terry: Sure. So, I'm in Overland Park, Kansas. If you're in that area, the studio that I co-own with my partner is called Body Solutions.
[00:49:32] Matt Terry: It's called bodysolutionskc.com. You can see our studio. And then my actual website, especially where I do health coaching, where people can reach me, is my name. It's Matt Terry and the word "fitness". So, it's mattterryfitness.com. That's where people can find me.
[00:49:42] Detective Ev: Nice and easy URL. Thank you. We'll have that in the show notes for everyone.
Health Detective Podcast Signature Question
And Matt, we always finish with the same question on this podcast. It's really straightforward. And you have so much education and clearly continue to study that I'm curious to see what you'll say about this. But the signature question, the one we finish with on this podcast is, if I could, in this case, give Matt a magic wand and you could get every single person in this world to do one thing for their health, what's the one thing you'd get them to do?
[00:50:07] Matt Terry: Sleep more. Very easy.
If people slept at least seven, eight hours a day, you actually, technically wouldn't age. If you look at the sleep studies on that, one of the reasons why you age, and age poorly is you don't recover from the day. So, if you had recovery from the day and you have full sleep cycles, you would age much slower and you'd have way less health problems.
Like that's number one thing I would tell people when they first come in. They meet with me, like I said before, if we don't get you sleeping, we've got some major problems. I don't care about really a lot of other things, even food choices. I care about sleep way more than that cause I've had people eat perfect foods and work out tons who sleep like crap, who are very unhealthy people and have bad labs.
And I've had people who are like my food's okay. They sleep really well, they do some major movements, they control their stress. They're not super like high strung. Their labs are awesome, and they feel really good. So, I would say before anything, sleep.
Is the FDN Course Right for You?
[00:50:53] Detective Ev: Okay guys, that'll do it for today's episode with Matt Terry FDNP amongst many other things.
Again, if you guys are interested in the course, you wanna learn more about this before the price goes up, fdntraining.com/summer. Check out our Open House. I will be there not on the 28th, but we'll be doing another thing on the 30th, I believe. And I will be hopping on and talking with Reed Davis himself.
I'm excited to be there. Always fun talking to him. Ask questions. Figure out if this course is right for you, schedule calls, whatever you gotta do, figure out if this is right for you now, if you've been on the fence.
If you're just hearing about this for the first time, no problem. It takes a while sometimes for people to make decisions about this. So don't rush yourself just because of a price increase. We're not here to do that or use some stupid sales tactic. That's not what this is about. The course needs to be raised cause it's long overdue. That's the fact. So, if you're just hearing about this, you're totally good. The thousand dollars can be made back easily over time. Don't feel like you need to rush into something you're not sure of.
Conclusion
But if you've been on the fence and you're pretty sure of it, why wait until it goes up another a thousand dollars just to decide two weeks in. Oh, well, yeah. You know what, I do want to do that. fdntraining.com/summer. Check it out.
I will be back next time with a solo episode, I'm gonna be going over one of the labs that we use at FDN continuing my solo series with that.
And just because we've had so many good interviews, I'm probably gonna buff out a lot of those solo episodes at least once a week, just so that we can get that over with. Not that it's something that's not fun, but I definitely don't want it to go on forever because I'm prioritizing these interviews.
Now, I love the interviews. I know that you guys do too. So, we will still have at least one of those a week until I'm finished up. But yeah, I think that's all I have for now.
I'm looking forward to talking to you guys again soon, but until then, please take care.
If you're interested in natural healing and or functional medicine, congrats, you are in the right place. You can always visit us at functionaldiagnosticnutrition.com.