A former Queensland senator has suggested that the Liberal party should go back to its original roots instead of becoming the "diet Coke" version of Labor and Greens.
The comment comes after the Liberal party's loss in the 2022 federal election sparked calls for the party to adopt progressive policies and preselect more women to win back government and inner-city voters.
But former Liberal party senator Amanda Stoker recently argued that doing so means that there's "really nothing in terms of differentiation in perspective to attract people to voting for our cause."
Speaking at Australia's largest annual liberty conference on July 15, Stoker said that from the marketing perspective, "if you're in a sea of left-leaning candidates, it can help an awful lot if you offer something different."
"Why do you go for the diet coke version of being a left-leaning progressive when you've got three sorts of full-strength Coke options for which to choose?"
The three-day Friedman conference held in Sydney from July 15 to 17 attracted over a hundred participants this year and featured prominent figures including Victorian MP David Limbrick, former Liberal MP Tim Wilson, Indigenous community leader Warren Mundine, as well as academics and think tanks.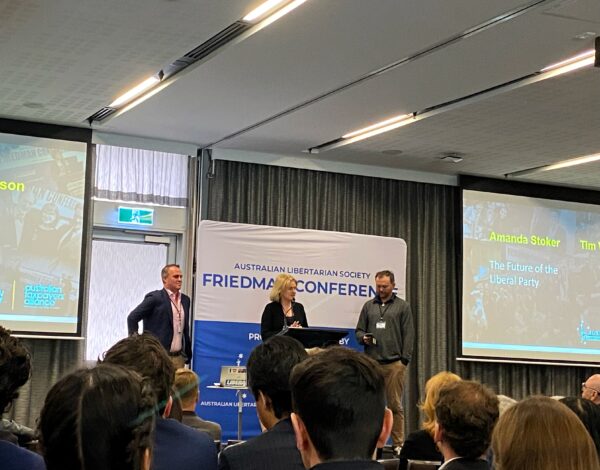 Ethical Reason to Go Back to Liberal Roots
Stoker also noted that ethically, the traditional Liberal party values, which focus on freedom, families and businesses, have been known to "deliver the greatest liberty, the greatest individual choices, [and] the greatest human flourishing."
Failing to consistently uphold such values would result in the loss of trust among its voter base. A lesson the party has recently learned after an "era of capitulating to progressive positions," she added.
"As a government, we have largely vacated the field for a number of years leading up to that election; then we shouldn't be surprised that the belief set that dominates is one that doesn't match ours," Stoker said.
Lessons from 2022 Election Loss
The 2022 election has seen a large number of moderate Liberal MPs losing to so-called "teal" independents who advocated for strong climate action, including former Treasurer Josh Frydenberg, while the Nationals retained all of their seats.
Matt Kean, the New South Wales Treasurer and a leading moderate, said his interpretation of the Liberals' loss is that "when the Liberal party goes too far to the right, we lose in the centre".
"The Liberal party is at its strongest when we represent the diversity in the community," Kean said. "Tonight, we have had a very strong message from our heartland that we are not representing them."
Moderate Liberal Senator Simon Birmingham said in May that the party needs to invest in Labor's agendas such as gender equality, diversity and climate change to claim back the government, but new Liberal leader Peter Dutton said he would instead focus on appealing to suburban voters' aspirations and small business people.
Stoker told the conference that it is vital that the party learns "the right lesson," which is to have the "courage and intellectual rigour" to make arguments that might be unpopular at times but aligns with its principles.
"What we need are people who are prepared to make hard arguments, to do them as articulately as they can and to do them with a view to moving the dial," she said.
"If you want to be inoffensive, there's plenty of other fields in which you can world … But if you want to come to politics, it's not the right place for you if what you want is to be universally loved."