On National Ice Cream Day on July 17, Swedish oat milk company Oatly is taking over 25 traditional ice cream trucks to give away over 16,000 of the brand's new vegan frozen dessert bars. The non-dairy ice cream bars—which are available in Vanilla, Chocolate Fudge, Salted Caramel, and Strawberry Swirl flavors—will be distributed throughout Los Angeles, New York City, and St. Louis. The bars feature a flavored frozen ice cream filling made with oats and surrounded by a dairy-free chocolate shell. 
With the National Ice Cream Day tour, Oatly aims to flip the annual ice cream holiday on its head by offering a better and more sustainable alternative. "At Oatly, we believe a global shift to a more plant-based food system is vital for the survival of our planet, so we couldn't help but make sure Angelenos, New Yorkers, and St. Louisians could celebrate this traditionally dairy-heavy holiday, 100 percent plant-based," the brand said in a statement.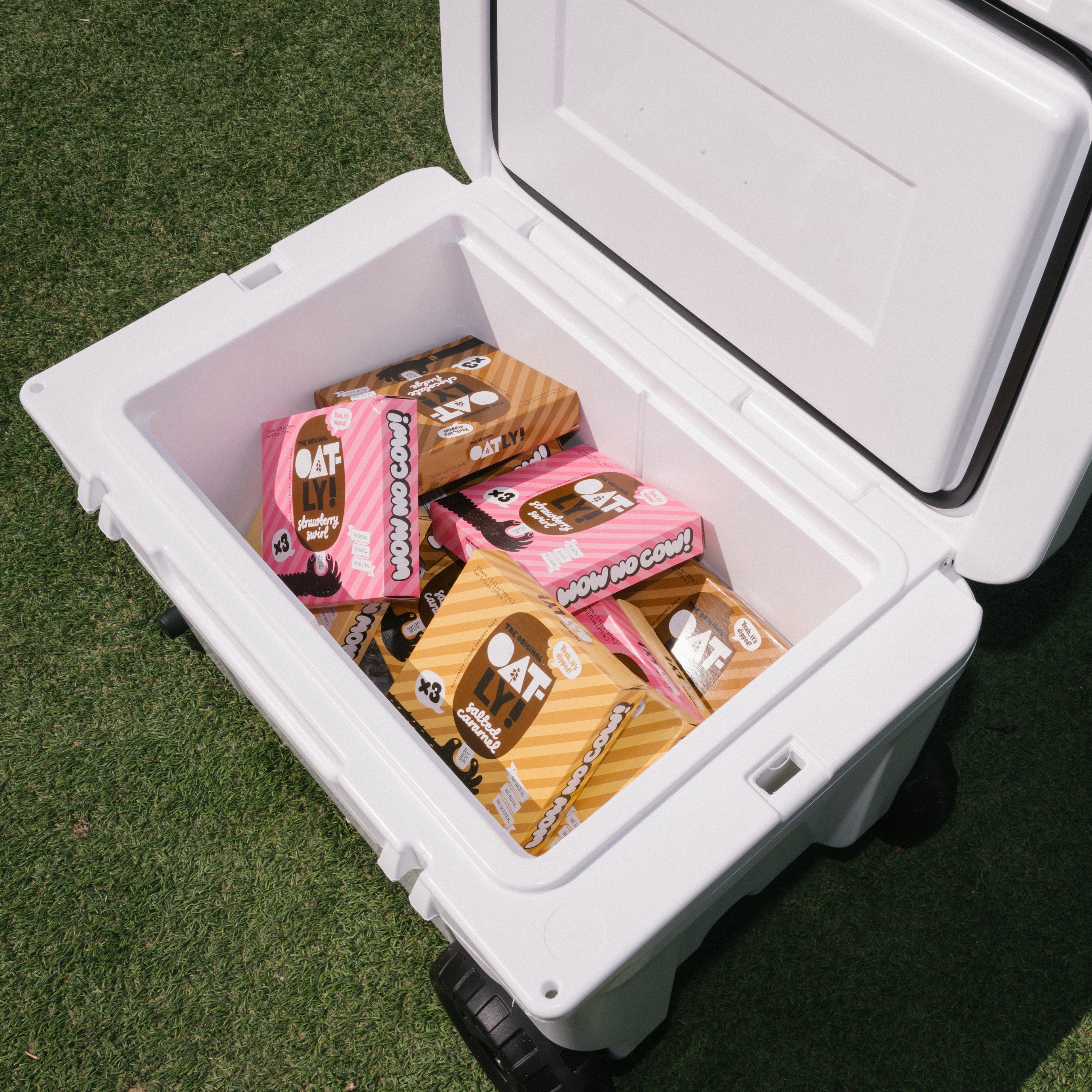 Oatly
Oatly arrives in the US
Oatly has been in the oat milk business for more than 25 years in Europe and entered the US in 2017 by way of New York City coffee shops. Since then, Oatly has been working to make its products more accessible to American shoppers. Last spring, the brand expanded in a major partnership with Starbucks, where its oat milk is now available at locations across the country. To promote the launch, the coffee chain crafted the Iced Brown Sugar Shaken Oatmilk Espresso, which promptly sold out in multiple stores and contributed to oat milk shortages. This spring, Starbucks reignited the oat milk trend with the launch of the Iced Toasted Vanilla Oat Milk Shaken Espresso, which features a blend of Starbucks' Blonde espresso and oat milk spiked with a caramelized vanilla flavor. 
After its oat milk gained popularity stateside, the brand began expanding its product offerings to include vegan ice cream and other frozen desserts. In 2019, the company launched Oatly Frozen, a seven-flavor, oat-based ice cream line available in Oat, Vanilla, Chocolate, Strawberry, Chocolate Chip, Mint Chip, and Coffee flavors. Prior to the launch of the line, Oatly deployed a similar ice cream truck tour around Los Angeles where it sampled its ice cream line, espresso-based drinks, and "affogat-oats" (a combination of the two).
The brand expanded further into the frozen dessert category with the launch of Oatly soft serve. Made for foodservice, the treat was initially introduced through major league baseball stadiums, such as at Wrigley Field in Chicago, IL (home of the Chicago Cubs) and Globe Life Field in Arlington, TX (home of the Texas Rangers). It has since expanded to all 32 locations of New York City-based frozen yogurt chain 16 Handles; along with other select restaurants nationwide, including Gott's Roadside, which offers the treat at its historic Ferry Building location in San Francisco.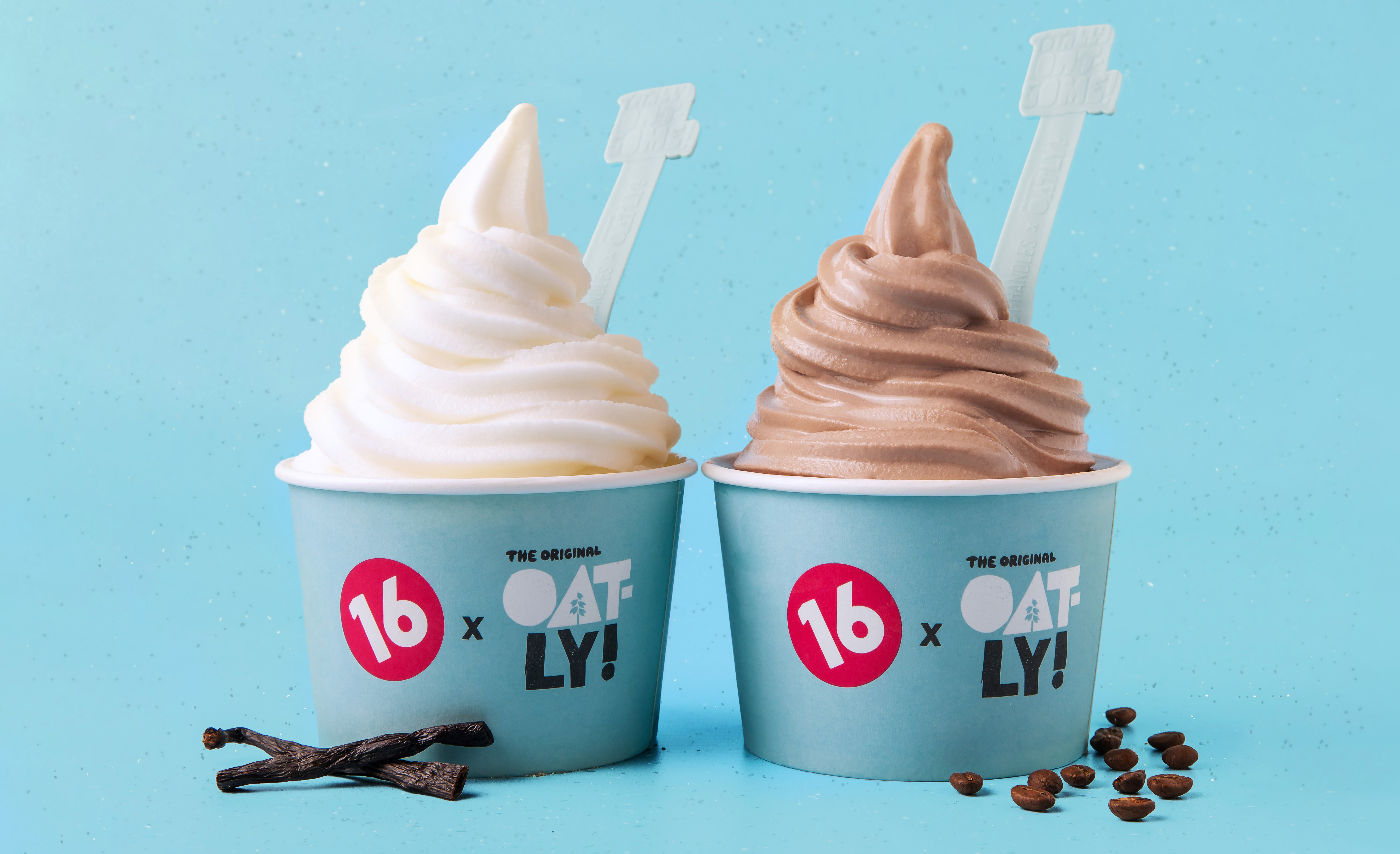 16 Handles
Last December, Oatly began rolling out its new vegan ice cream bar line at 3,000 stores across the United States, including Target, Wegmans, Schnucks, Harris Teeter, and Stop & Shop, among others. "We're proving that oatmilk is not just for coffee, cereal, or cooking, but can also be the foundation for great-tasting treats to be enjoyed during celebration moments or when a pick-me-up reward is needed," Mike Messersmith, President of Oatly North America, said in a statement at the time. "We are so proud of this product and are very excited to bring it to many frozen aisles across the country soon."
Oat milk delivery in minutes
Oatly has a reputation for coming up with often-cheeky campaigns to attract new consumers to its oat-based offerings. In May, the brand attempted to quash customers' fears of running "dangerously low" on oat milk through a partnership with REEF Kitchens. Oatly fans in New York City and Los Angeles can now order its products through branded storefronts on delivery platforms Postmates, UberEats, DoorDash, and Grubhub and receive their orders within an hour. The online selection includes its ice cream bars; 64-ounce oat milks in Original, Low Fat, Full Fat, and Chocolate varieties; 32-ounce Barista Edition oat milk; and ice cream pints in five flavors. 
"We're incredibly excited about this launch and the ability to get Oatly products into the hands of our consumers in LA and NYC within mere moments," Mike Messersmith, President, Oatly North America, said in a statement. "These cities have proved their love of oat milk, being early adopters of Oatly, and we're thrilled that as we grow, we can expand access to our products where and how consumers want to shop for them, in an easy and convenient way." 
Later this year, Oatly plans to launch the one-hour delivery option in NYC and LA directly through its website. Oatly has no immediate plans to expand the initiative to other cities. 
For the latest vegan news, read:
Impossible Foods Launches 2 Easy Plant-Based School Lunch Items
Plant-Based Meat Can Better Address Climate Change Than Electric Cars
Sophia's Famous Lasagna Goes Vegan at 'Golden Girls' Pop-Up in Beverly Hills
Happy birthday, VegNews! To celebrate, we're having a mega subscription sale—complete with incredible vegan prizes.
Happy birthday, VegNews! To celebrate, we're having a mega subscription sale—complete with incredible vegan prizes.