This pesto pizza recipe will be a hit at your next pizza night! Topped with basil pesto, mozzarella, and tomatoes, it's simple, classic, and SO flavorful.
Jack and I have been making great homemade pizza for years, but when I took my first bite of this pesto pizza, I knew that we'd outdone ourselves. To be honest, I was surprised. This pesto pizza recipe doesn't call for any fancy ingredients or special techniques. It's simple and classic, a delicious reminder of how flavorful seasonal ingredients, like summer tomatoes and garden-fresh basil, can be.
If you find yourself with this summer bounty on hand in the next few weeks, I really hope you'll try this pesto pizza. It's so much more than the sum of its parts. Trust me, you don't want to miss it.
Pesto Pizza Recipe Toppings
This pesto pizza recipe is all about two things: roasted cherry tomatoes and (of course!) basil pesto.
If you've never tried roasted tomatoes before, get ready – you're in for a treat! To make them, you'll bake cherry tomatoes at a low temperature for around 2 hours, until they shrivel up around the edges. This process dries them out slightly, giving them an irresistible chewy texture, and it concentrates their savory flavor. Pop them on a pizza, and they add amazing bursts of umami. SO good!
Tip: Uhhhh, yes. I said these tomatoes roast for about 2 hours. I know that's a long time, but I promise that it's totally worth it! To make this pesto pizza quick and easy to assemble, I recommend cooking them a day or two in advance and storing them in the fridge. For even quicker assembly, you can sub in oil-packed sun-dried tomatoes.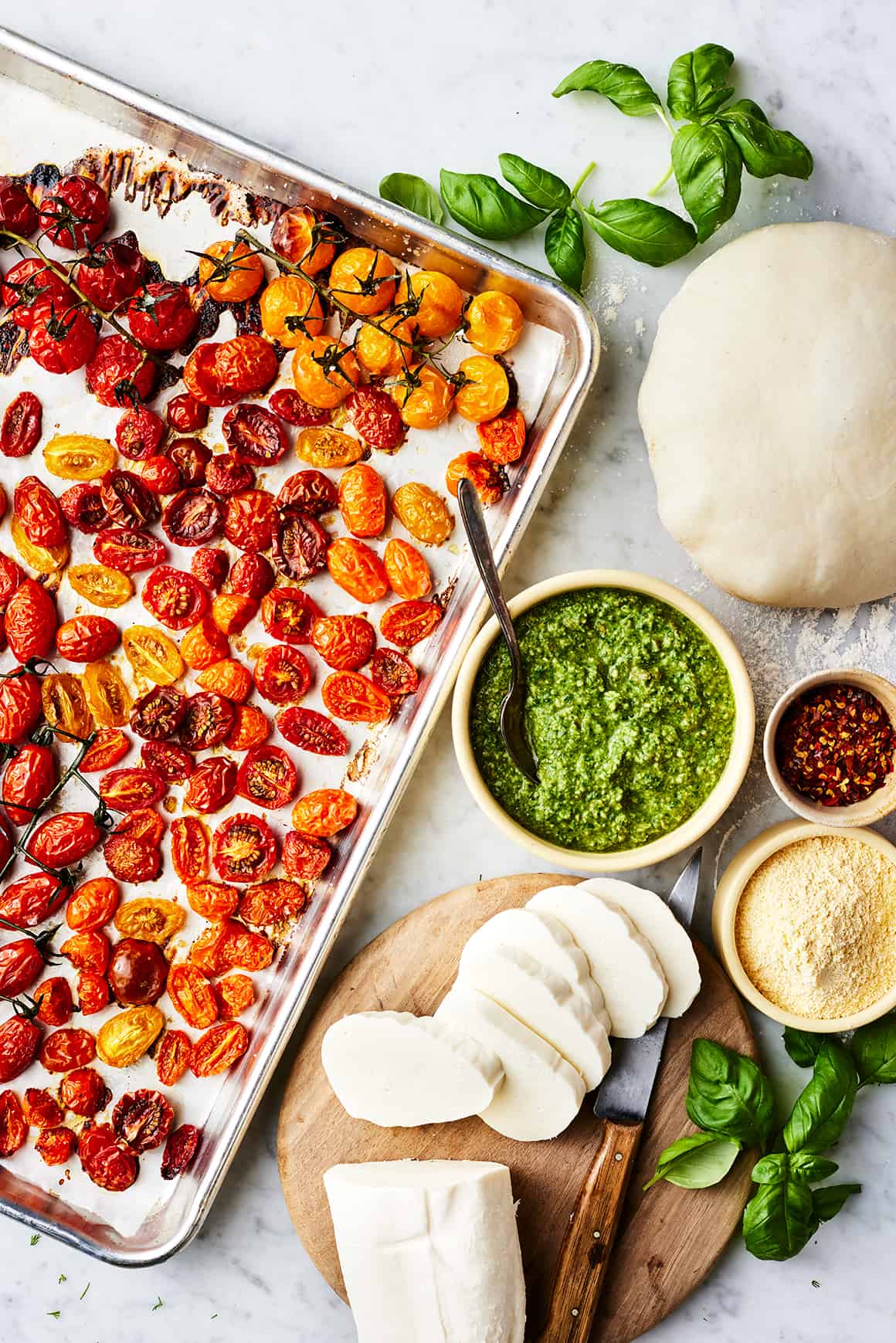 Once you roast the tomatoes, make the pesto. You can also prep it a day or two in advance. Note that my recipe calls for 1/4 cup olive oil, but for this pesto pizza, I like to use 1/2 cup instead. It gives the pesto a looser consistency, which makes it perfect for spreading on the pizza.
Aside from these two components, you'll need fresh mozzarella, red pepper flakes, and some more fresh basil, plus a pound of pizza dough. Use refrigerated store-bought dough (we like Whole Foods and Trader Joe's), or make your own.
How to Make Pesto Pizza
Once you prep your toppings, you're ready to make the pesto pizza.
The first step is par-baking the crust. The fresh toppings on this pizza don't need much time in the oven, so I like to give the crust a head start. Baking it a few minutes without toppings helps it become crisp and chewy in the time that the pizza bakes. No one likes soggy pizza crust!
Dust a pizza pan or baking sheet with cornmeal, and stretch the pizza dough into a large oval or circle. Lay it on the pan and use a fork to poke holes all over its surface. Bake for 5 minutes at 500°F.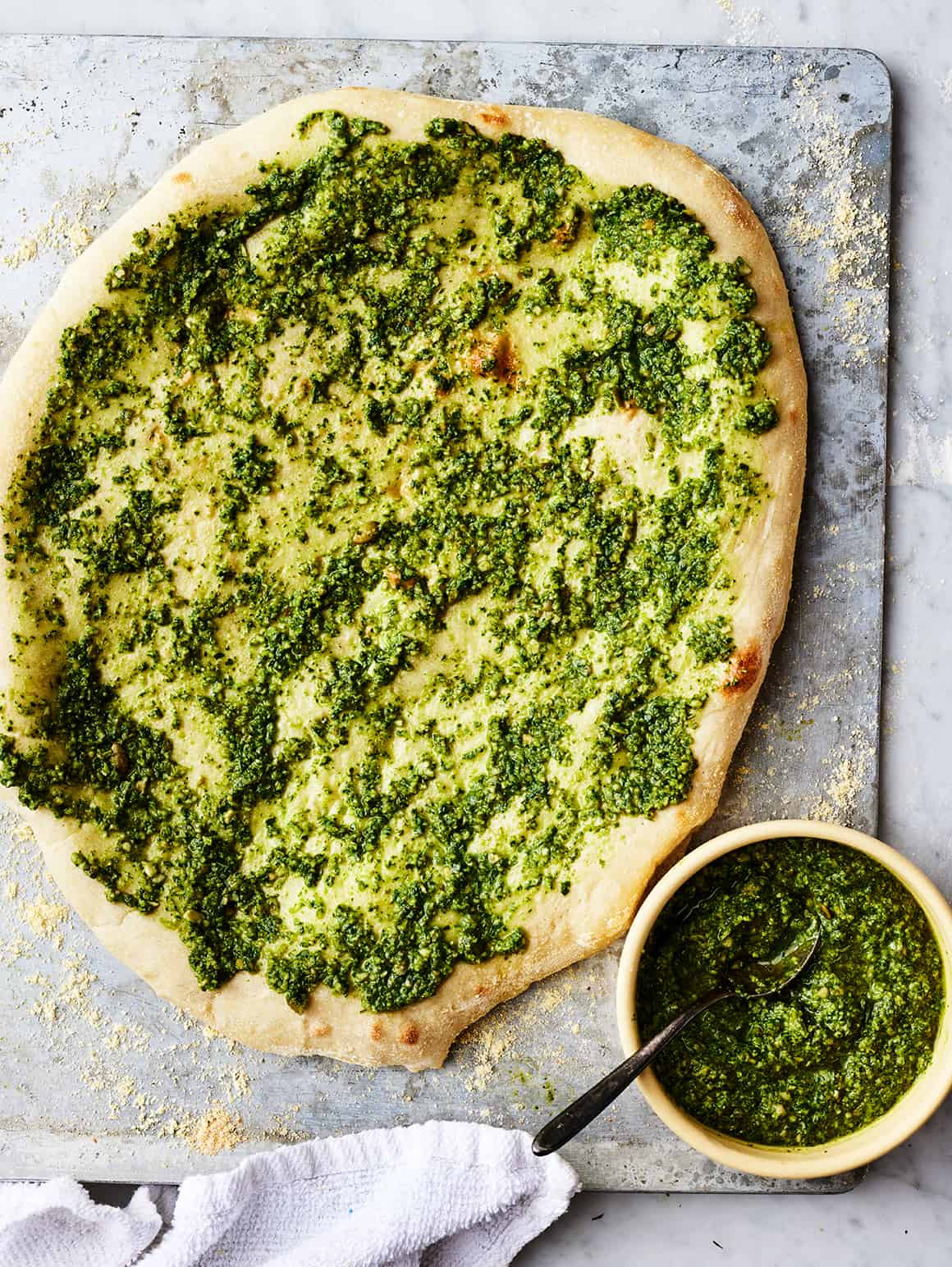 Then, spread on some of the pesto sauce. Save the rest for dolloping on the pizza after it bakes!
Add the cheese and tomatoes and bake for another 6 minutes or so, until the crust is golden brown.
That's it! Remove the pizza from the oven and top it with more dollops of pesto, fresh basil leaves, and red pepper flakes. Slice and serve!
Pesto Pizza Recipe Variations
We love this pesto pizza recipe as it's written, but by all means, feel free to change it up! Swap in what sounds good to you or what you happen to have on hand. Here are a few ideas to get you started:
Switch out the roasted tomatoes. For a quick and easy twist on this pesto pizza recipe, replace them with oil-packed sun-dried tomatoes. Roasted red peppers or caramelized onions would be good here too.
Add extra veggies. Pile on tiny broccoli florets, fresh corn kernels, shaved red onion, sautéed mushrooms, or a few leaves of fresh spinach. Roasted garlic would be another great addition.
Or extra cheese. After the pizza comes out of the oven, shower it with freshly grated pecorino or Parmesan cheese.
Use a different pesto. My kale pesto would be fantastic!
Make it vegan. Start with my vegan pesto recipe, and skip the mozzarella. After the pizza bakes, top it with drizzles of cashew cream. If you like, serve it with sprinkles of my vegan Parmesan for even more savory, cheesy flavor.
Let me know what variations you try!
More Easy Summer Dinner Ideas
If you love this pesto pizza recipe, try one of these easy summer dinners next: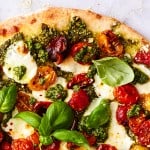 Pesto Pizza
Serves 3 to 4
This easy pesto pizza recipe is a delicious summer dinner! It's topped with bright, nutty homemade pesto, fresh mozzarella cheese, and savory roasted cherry tomatoes. To get ahead, make the pesto and roast the tomatoes up to two days in advance.
Preheat the oven to 500°F.

Dust a baking sheet with cornmeal, place the dough on the baking sheet, and stretch it into a large oval. Use a fork to poke holes all over the dough. Bake for 5 minutes.

Remove the crust from the oven and brush with 2 tablespoons of the pesto. Top with the cheese and tomatoes and bake for 6 to 8 minutes, or until the crust is browned.

Dot the pizza with additional small dollops of pesto. Top with fresh basil and red pepper flakes, slice, and serve.
*If using store-bought dough, allow it to sit at room temperature for 1 hour before stretching.