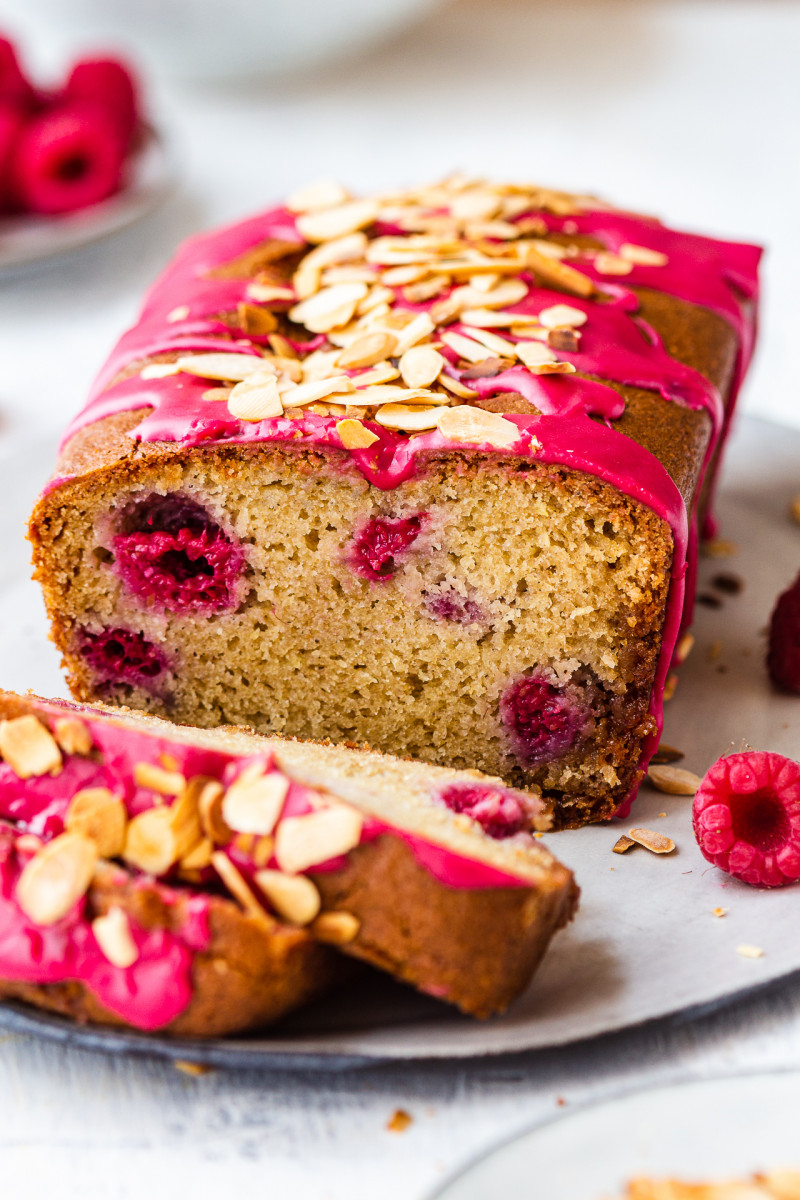 Happy Sunday, I hope you are in the mood for cake as that's what I am brining to the table today. It's raspberry season over here and it's one of my favourite summer fruit – for me it's a tie between raspberries and strawberries although…who am I kidding, I love them all – so I've decided it's time for a raspberry studded cake.
Duncan is away kayaking this weekend and I sent him with a loaf of this cake for himself and his kayaking friends as I imagine it must be extra nice to have a cup of warm coffee and a slice of cake after hours of trashing about in the cold water. He rang me to say that it was a massive success and people were fighting for the final slices. That's always lovely to hear!
This cake is a simple one bowl kinda cake. It can be adapted to be oil-free, it can be made gluten-free and refined sugar free if you wish too. It's deliciously moist thanks to ripe raspberries and almond flour, it's fragrant with cardamom and pops of sourness provided by raspberries contrast beautifully with melted chunks of vegan white chocolate. I drizzled the top with a beautifully vibrant raspberry icing and sprinkled with toasted almonds on top, but you don't have to.
MORE ABOUT THE INGREDIENTS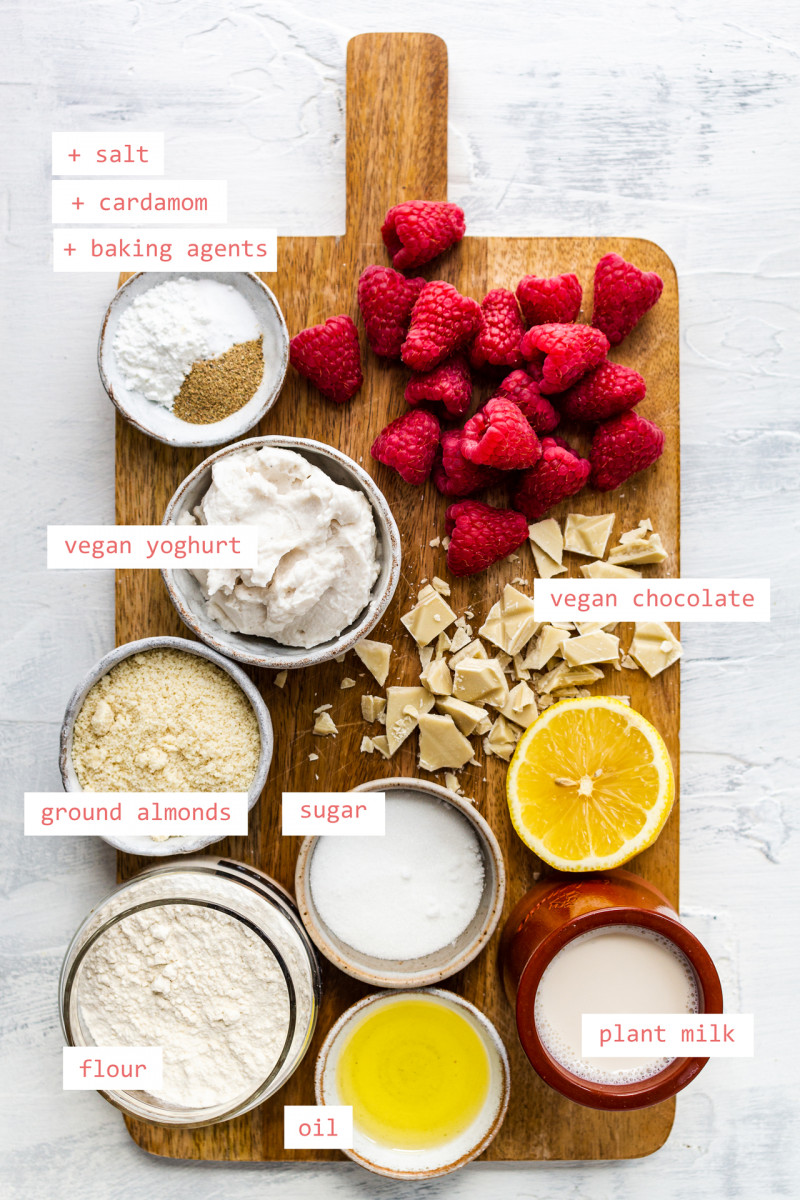 VEGAN YOGHURT – vegan yoghurt keeps this cake moist and minimises the need for added fat. In fact, you could make it completely oil-free by replacing oil with extra yoghurt. I recommend using thick (rather than pourable) yoghurt here for best results. I used vanilla yoghurt by The Coconut Collaborative.
OIL – a small amount of neutral oil (grapeseed, sunflower, mild olive oil) helps to keep this cake beautifully moist, but you can make this cake OIL-FREE by replacing the oil with extra yoghurt.
SUGAR – I used caster (superfine) sugar, but coconut sugar will work just as well if you prefer to use that – the colour of the cake will be a little darker though.
RASPBERRIES – I used fresh raspberries, but frozen will work just as well. Both types benefit from a little dusting of flour before being added to the cake. Be aware that if using frozen raspberries, they will bring batter temperature down a bit so your cake may need a little longer in the oven. If you'd rather use different fruit, I've also made this cake with blueberries before.
PLANT MILK – any plant milk will work well here although I like using soy milk in baked goods.
CARDAMOM – I like a light touch of cardamom here, but if you are not a fan, feel free to skip it and perhaps add a zest of another lemon instead.
LEMON – lemon juice helps this cake rise as it comes into a reaction with baking soda so don't skip it although you could use lime juice instead. As for the zest, it's optional, but I like its fragrance against white chocolate.
FLOUR – I used white all purpose flour here, but if you want to make this cake gluten-free, use a well balanced gluten-free flour mix. One that contains plenty of starch and ideally some xanthan gum too.
GROUND ALMONDS – ground almonds give this cake a beautiful, moist crumb. I love using almonds in baking but you could replace them with extra flour. My guess is that 100 g of flour (slightly heaped ¾ cup) would yield a perfect result.
WHITE CHOCOLATE – I added chopped white vegan (based on oat milk) chocolate to the batter, but you can skip it if you wish. It provides little sweet pops of flavour, which contrast really nicely against tart raspberry pockets. Adding chocolate does add a bit extra moisture and so I found that the cake needs 5 minutes more in the oven (50 minutes in total).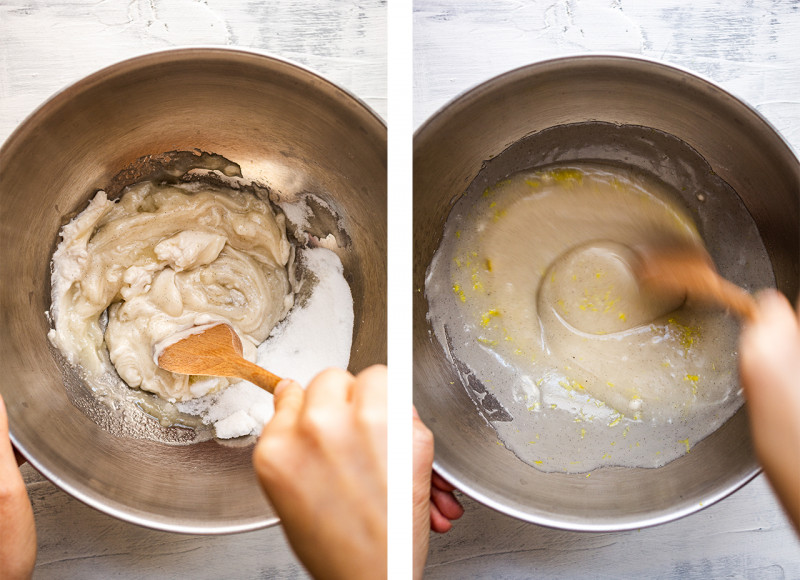 Combine the first three wet ingredients in a large mixing bowl. Mix until well combined. Add lemon zest and vanilla extract if using.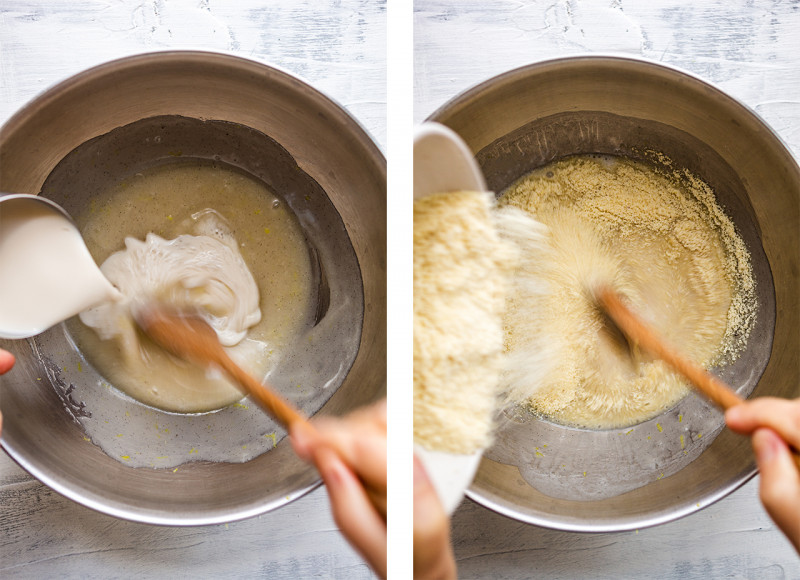 Mix in plant milk and once the mixture is homogenous, start folding in ground almonds. Incorporate them by making small circles in the middle of the bowl, gradually incorporating more and more of ground almonds into the wet ingredients.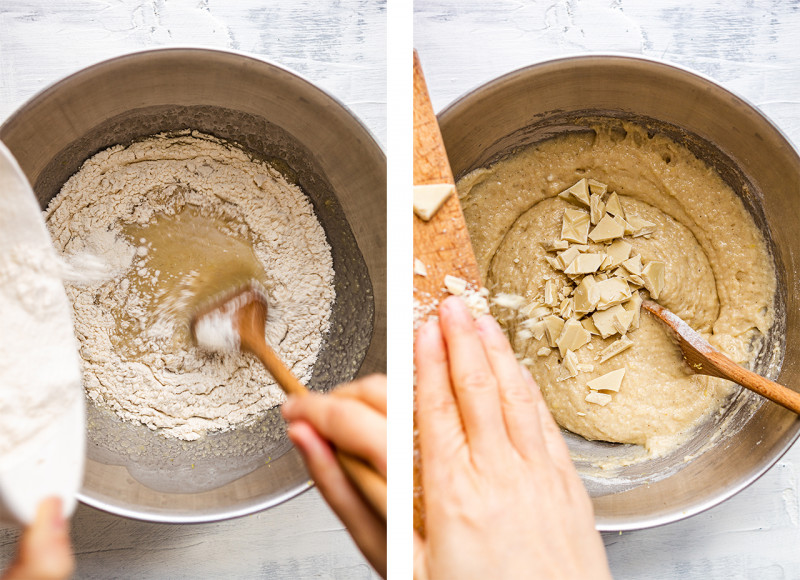 Place a sieve over the mixing bowl and sift the flour in small batches (I sifted it off the camera). Fold each batch in by making small circles in the middle of the bowl again. Finally fold in chopped white chocolate, if using.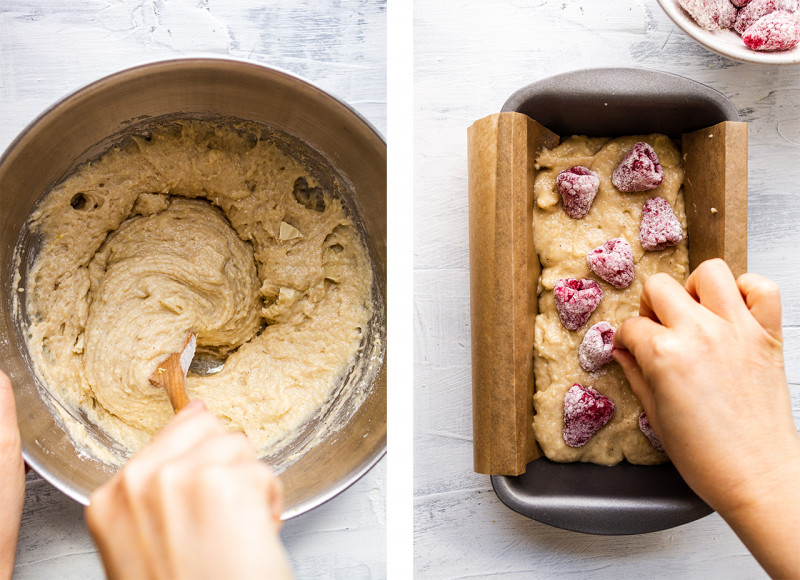 You could fold in the raspberries into the cake batter at this point, but I prefer arranging them in between layers of batter in the cake tin as this ensures a more even distribution.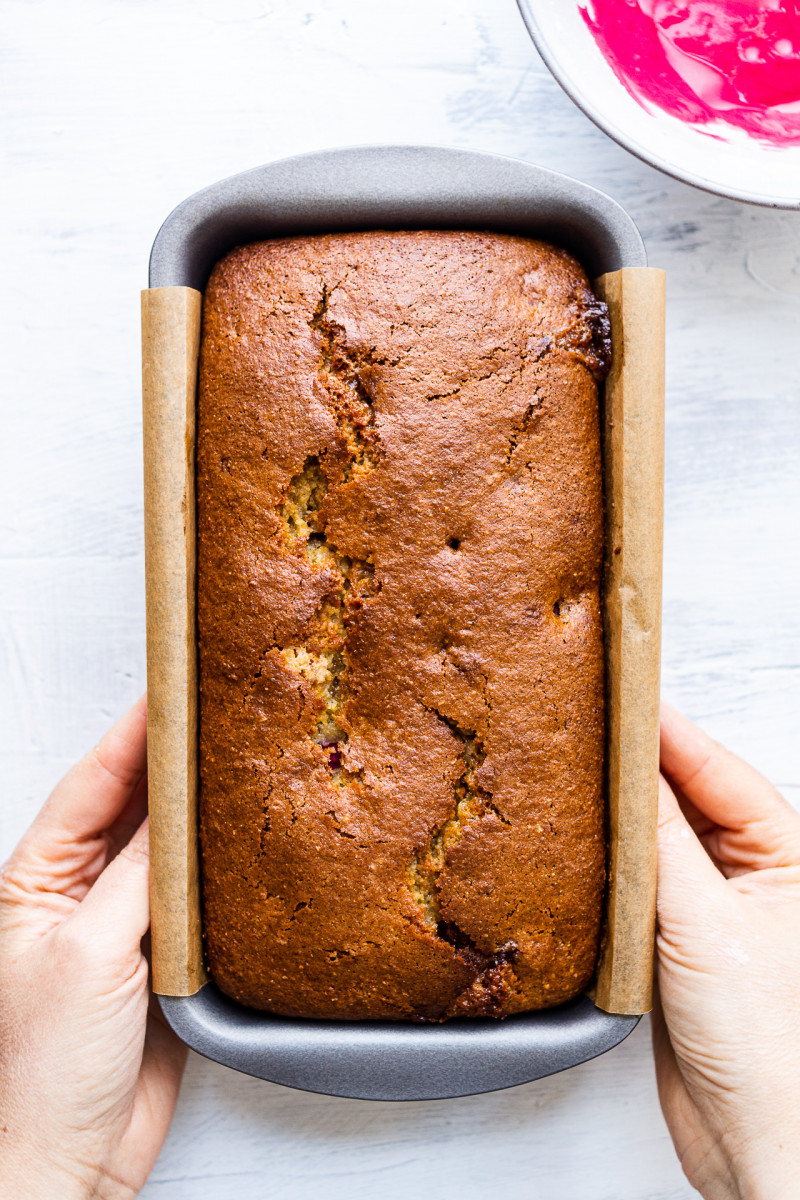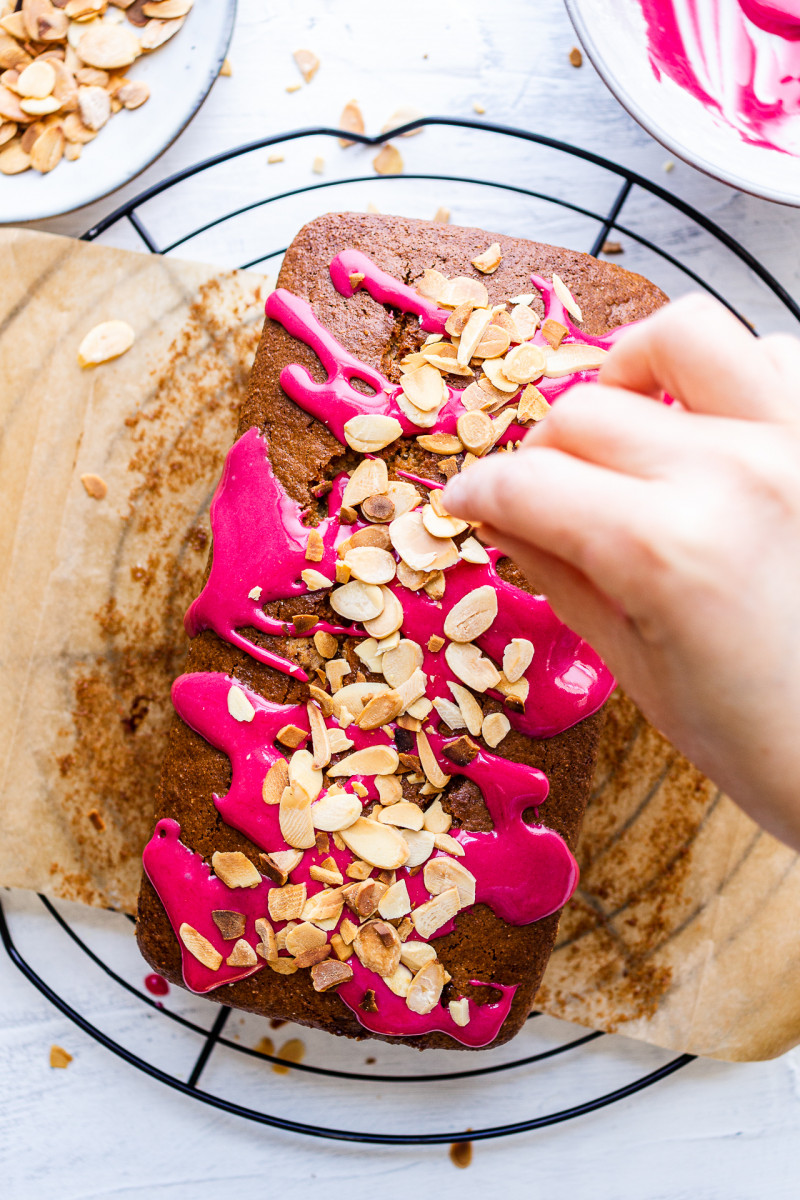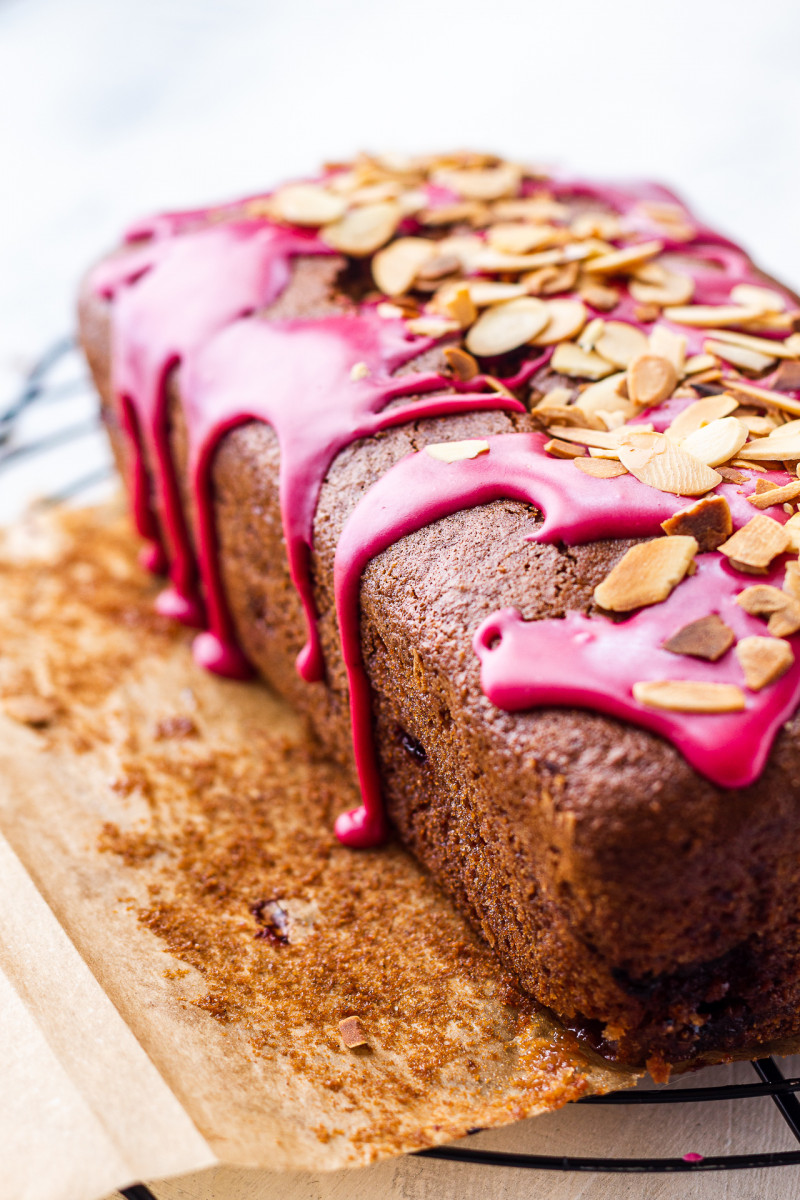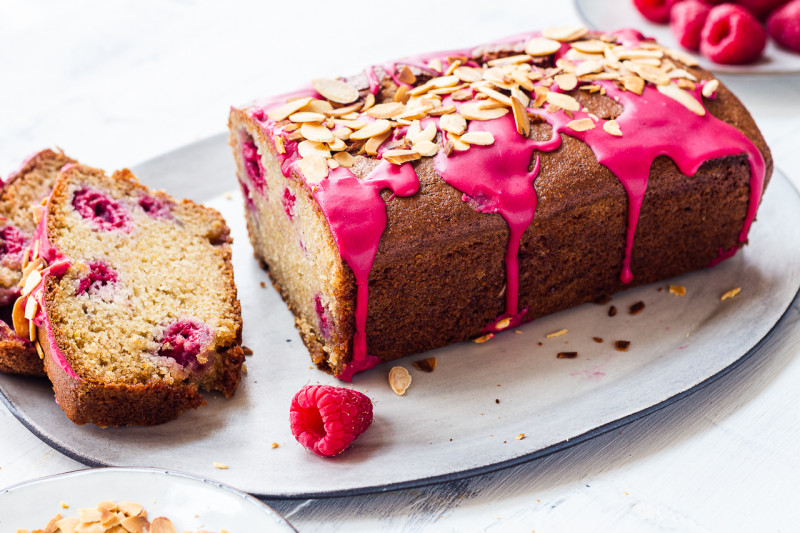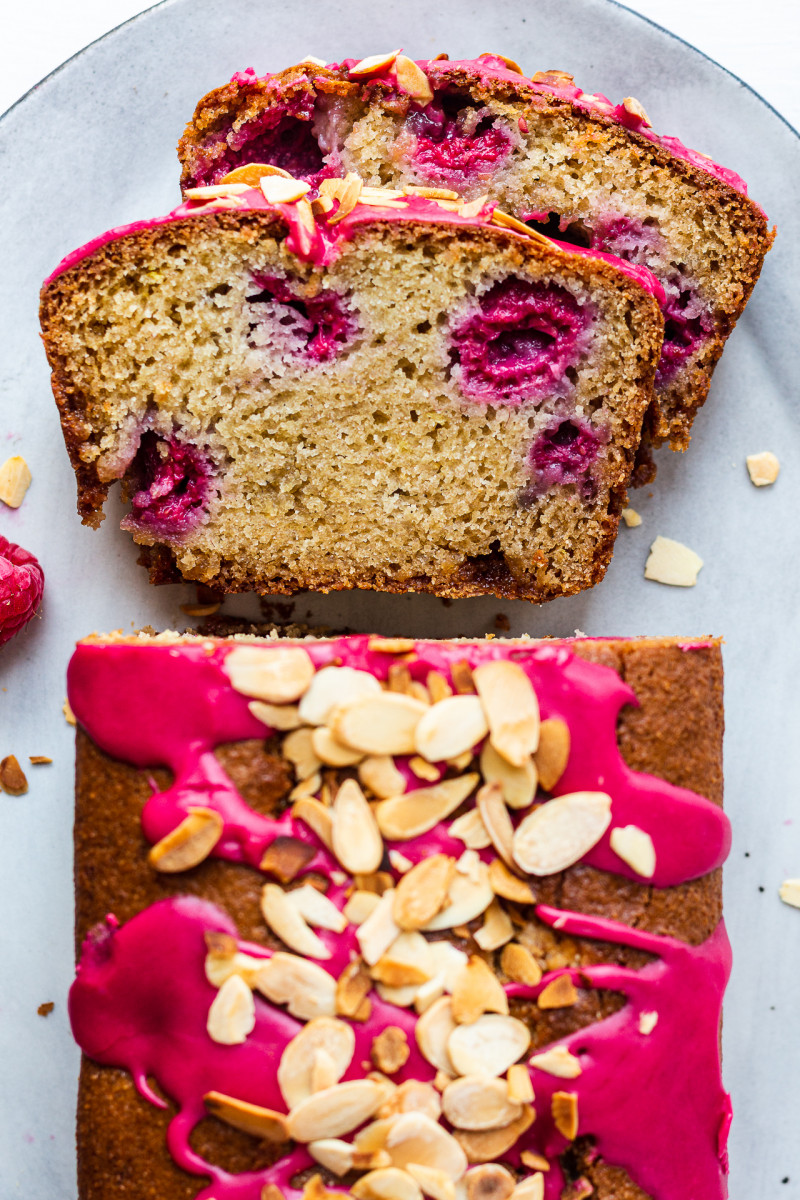 WET INGREDIENTS
115 g / ½ cup thick vegan yoghurt
30 ml / 2 tbsp neutral oil (I used grapeseed oil)*
175 g / ¾ cup + 2 tbsp sugar (coconut sugar for refined sugar-free version)
15 ml / 1 tbsp lemon juice + zest of 1 lemon
1½ tsp quality vanilla extract (optional)
120 ml / ½ cup plant milk
DRY INGREDIENTS
100 g / 1 cup ground almonds
180 g / 1½ cups all purpose white flour or GF cake flour mix, sifted
¼ tsp fine sea salt
¾ tsp baking soda
1¼ tsp baking powder
½ tsp ground cardamom (optional)
150 g / 1 heaped cup raspberries, coated in 2 tsp flour
50 g / 1.75 oz chopped vegan white chocolate (optional)
DECORATION
flaked almonds, toasted if using icing
raspberry / lemon icing*
METHOD
CAKE
Heat up the oven to 175° C (or 155° C fan forced) / 350° F (310° F fan forced). Grease a 1 kg / 2 lb cake tin (see NOTES) and line it with a wide strip of baking paper to be able to remove your cake easily.
Stir the yoghurt, oil (if using) and sugar together with a spatula until the mixture is uniform.
Add in the vanilla extract, plant milk, lemon zest and juice. Mix well.
Gradually add in almond flour while incorporating it into the wet ingredients. Make small circles in the centre of the bowl gradually incorporating more almond flour as you go along – I find that this method minimises lumps.
Next sift in flour, salt, both baking agents and cardamom (if using). Fold them into the wet ingredients gently, again use small circles technique I described above. The finished batter should have a fairly thick, rather than pourable consistency.
Finally, stir through chopped white chocolate. You could also fold in raspberries by this point, but I prefer laying them in between the layers of the batter for a more even distribution.
Cover the bottom of the baking tin with only a thin layer of cake batter. Arrange raspberries on top, cover with half of the remaining batter, follow up with more raspberries and the rest of the batter. Make sure raspberries are not peeking through the cake batter.
If not using icing, sprinkle flaked almonds in the middle of the cake.
Bake for about 45 min, until a toothpick comes out clean and the top is nicely browned. If using white chocolate, you may need to bake it a little longer – my white chocolate version needed 50 minutes.
Once cool, drizzle with icing first then immediately sprinkle toasted almond flakes on top. Allow to cool down completely before slicing – I find that a serrated bread knife works best.
NOTES
*OIL-FREE: make this loaf oil-free, substitute oil with 30 g / 2 tbsp more yoghurt.
*ICING – to make the icing, gradually stir 3-4 tsp (15-20 ml) of raspberry juice, lemon juice or plant milk into 50 g (½ cup) icing (confectioner's) sugar. This produces thick icing like in my photos, if you would rather have it thinner, simply add a little more liquid.
900 g / 2 lb tins vary enormously between brands so I recommend measuring the volume of the tin you intend to use first. For this recipe, I used a tin that holds 1250 ml / 5 cups of liquid (to the brim), but the batter should fill no more than 2/3 – 3/4 of the 2lb cake tin or else the cake may not raise.
NUTRITIONAL INFO
*per 1 out of 12 servings (without decoration)