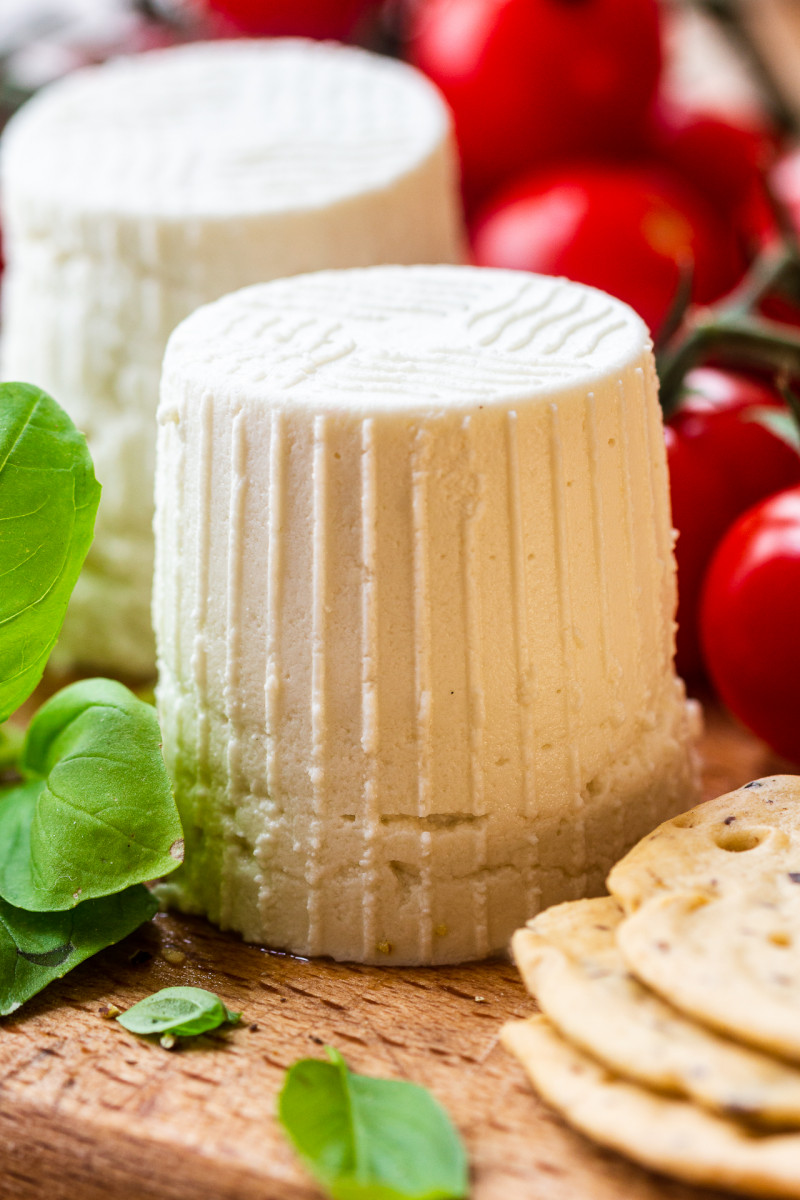 This is a simple vegan ricotta recipe that I've been meaning to share for ages, but I could not get round to it. I finally went through the process of writing it all down and taking photos to guide you in this ricotta making process. I hope you'll give it a go.
It's a really simple, 2 ingredient (3 if you count the salt), vegan 'cheese' that borrows from a traditional ricotta making process. It relies on curdling high percentage almond milk with the help of acid until it splits into what is known in traditional ricotta making as whey and milk curds. Although it is possible to make it without a kitchen thermometer – in fact my first few attempts were done without one and they all succeeded – I recommend you get one especially if this is your first time curdling (almond) milk.
I used Serious Eats recipe and tried to keep my almond milk in the prescribed temperature range of 79-88°C (175°F-190°F), but don't panic if there are times when your almond milk drops below that bottom temperature or climbs a little higher either. It happened to me a bunch of times when photographing the process because 'hello, singlehandedly photographing and doing technically challenging cooking at the same is difficult!' (that's a note to my inner critic who is obviously not happy about some of my photos – well, I am going to go ahead and publish them anyway!) and it still turned out fine.
If you want a less involved process, another – more straightforward – method is to warm the milk up a little higher (93°C / 199°F), add acid and let it rest once it starts to curdle. It worked well for me too, but I prefer the first method a little more.
MORE ABOUT THE INGREDIENTS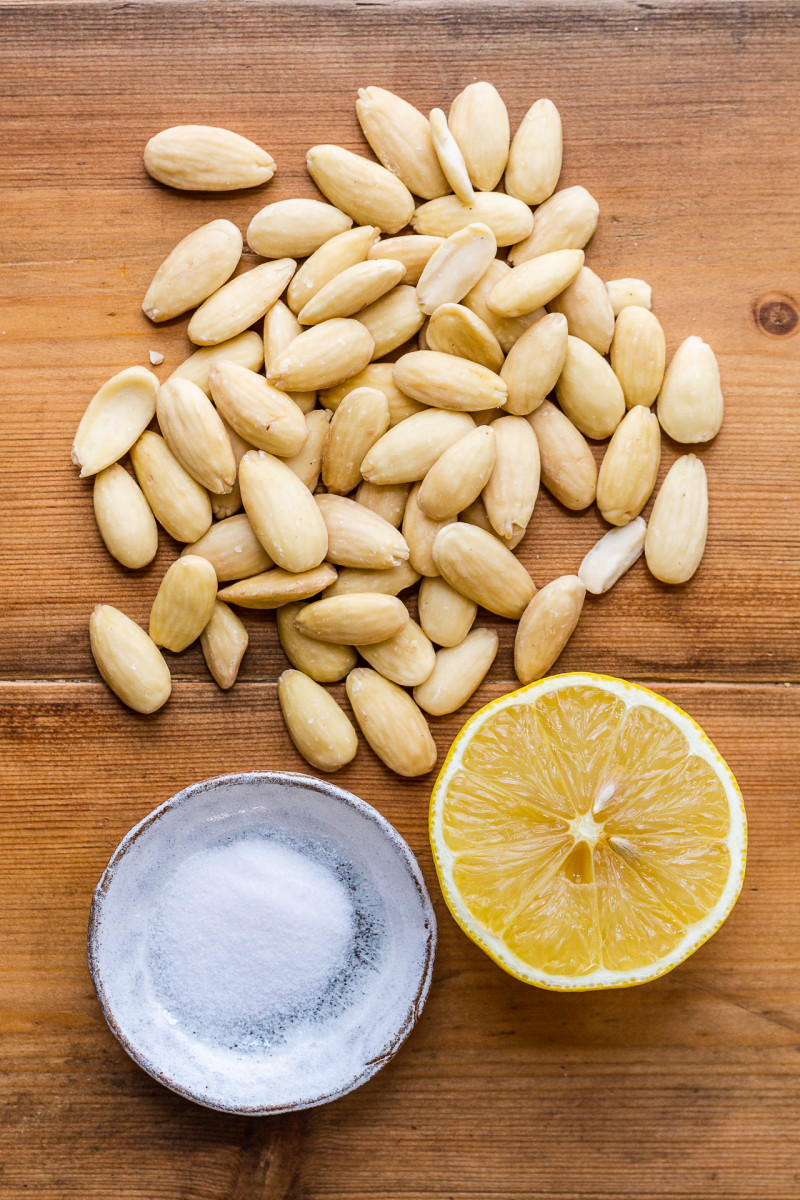 ALMOND – almonds form the base of this cheese. I used blanched almonds, but you could use unblanched or slivered almonds if you prefer. I have tried using sunflower seeds to create a nut-free version, but it didn't quite work for me so I have nothing to show for my attempt sadly. I might revisit it at some point.
LEMON JUICE – lemon juice is what helps almond milk to curdle when heated. You could use distilled white vinegar, but if you do use less 10 ml / 2 tsp should be enough to curdle this amount of almond milk.
SALT – salt is an optional ingredient and it isn't instrumental to the process at all. If you plan on using this ricotta in a savoury context, I like to add ½ tsp of sea salt, but you may find it too much or too little so best to experiment and adjust the level of salt to your taste. I recommend adding just a pinch of salt to your first ricotta and seasoning afterwards if needed.
I DON'T HAVE A RICOTTA MOULD…
If you don't have a ricotta mould, that's perfectly fine. You could use a single muslin cloth lined sieve, for example. Any container with plenty of drainage holes will do the job.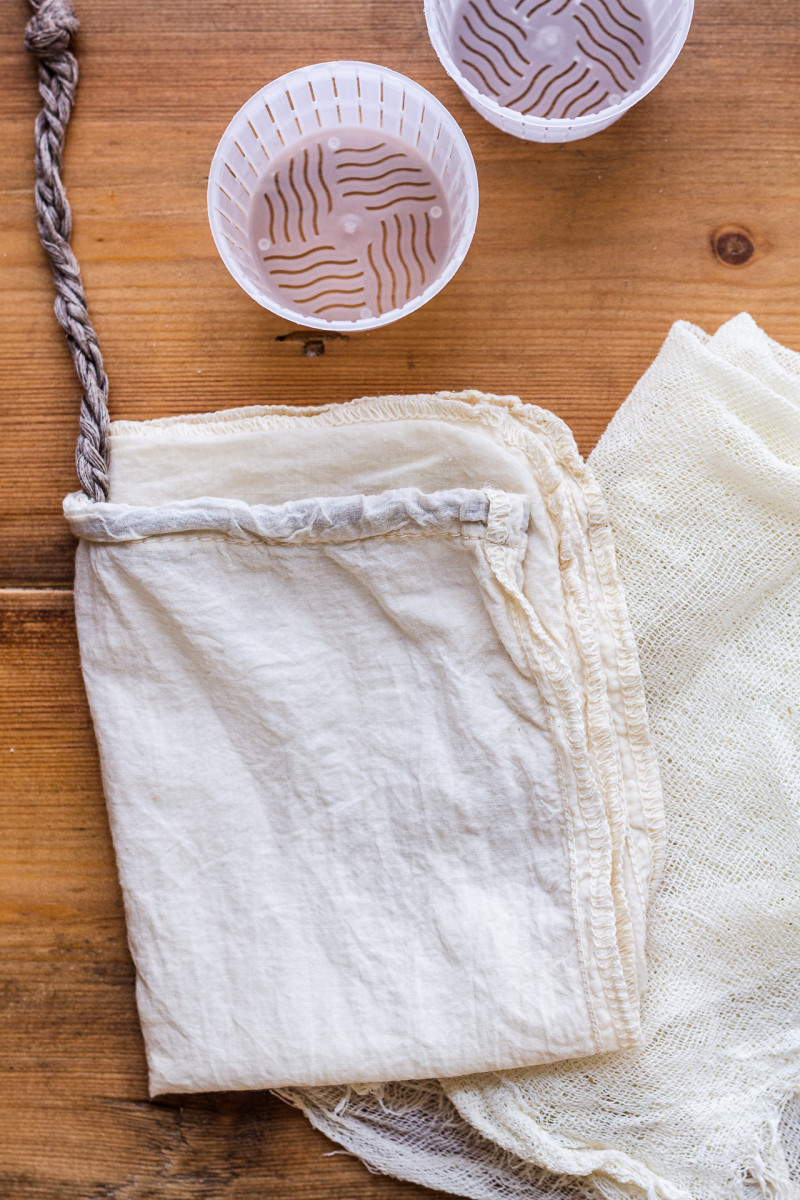 WHAT ABOUT LEFTOVER PULP?
If you hate food waste, you are in good company! I hate it too! 'So what do you do with leftover almond pulp?' you ask. I spread it on a large baking tray and air dry it or dry out in the sun (or low oven in winter). Once completely dry, I pop it into a food processor to grind up finely. I store it in an air-tight container and use like I would almond flour. It's great in baking – I add it to muffins and tart crusts (some extra moisture may be needed) and add it to 'meatballs' for example. If you don't want to go to the trouble of drying and pulverising it, use it as it is to make these or other muffins and cakes.
HOW DO YOU USE IT?
I like dotting it on top of pasta, gnocchi or salad. I also like to spread it on crackers or sourdough. You can use it in baked dishes too. I recently baked it on top of pizza and it worked really nicely, adding a much needed creamy element. It is very mild in flavour so it does well in all kinds of dishes, both savoury and sweet.
HOW LONG DOES IT KEEP?
I found that it keeps for almost a week (5-6 days) in an air-tight container in the fridge. I also tried freezing it and it freezes fine. Once defrosted, there may be some water and some loose curds at the bottom of the container, in which case simply drain the excess moisture away before using.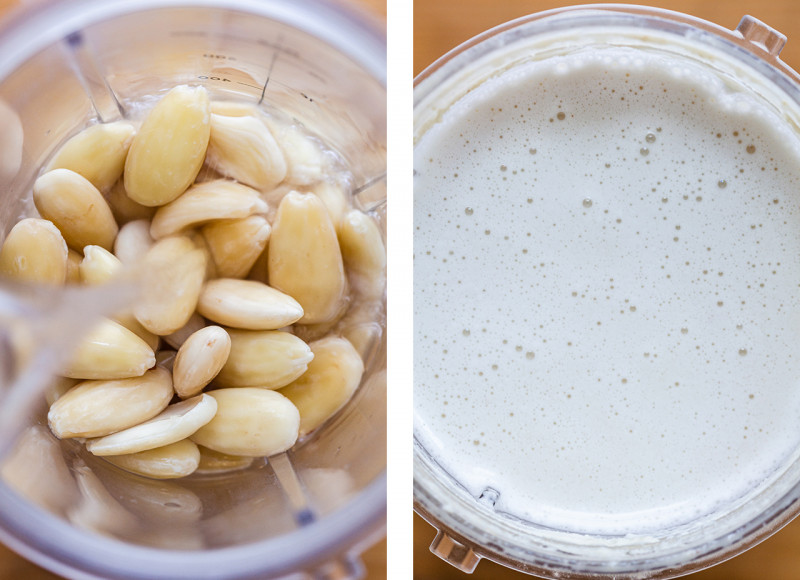 Blend softened (soaked for minimum 4 hours) almonds with water until almonds are very finely ground and the water turns into rich almond milk.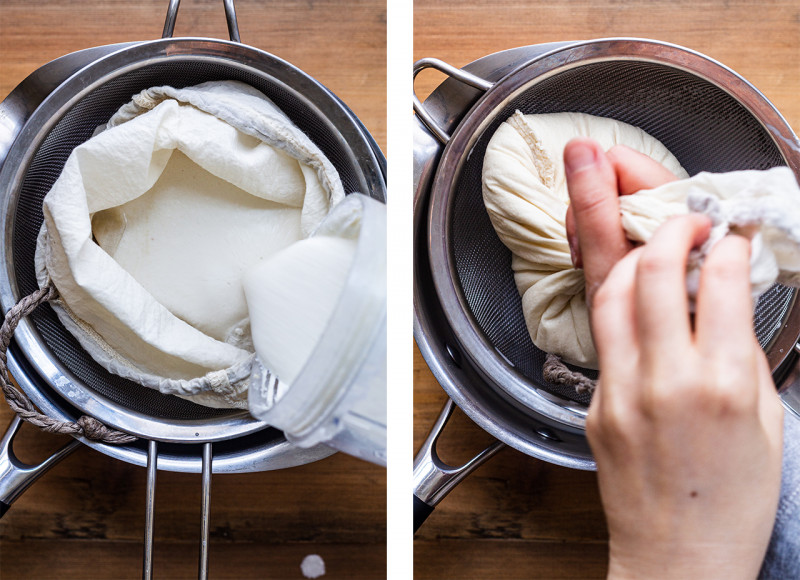 Separate the milk away from the pulp using a nut bag or a double layered muslin cloth and applying pressure.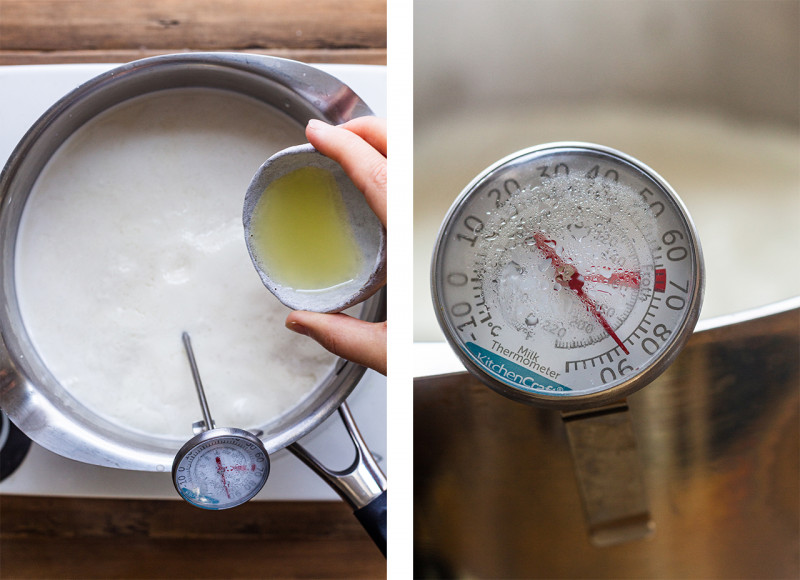 Bring almond milk to 85°C / 185°F or 93°C / 199°F if you want a speedier method – both work, but I prefer the results of the former. Once the milk reaches correct temperature, add the acid and stir gently to ensure distribute the acid evenly. Either rest (if you opted for the speedier method) or carry on simmering the milk for 20 minutes, maintaining it with the 79-88°C / 175°F-190°F temperature range.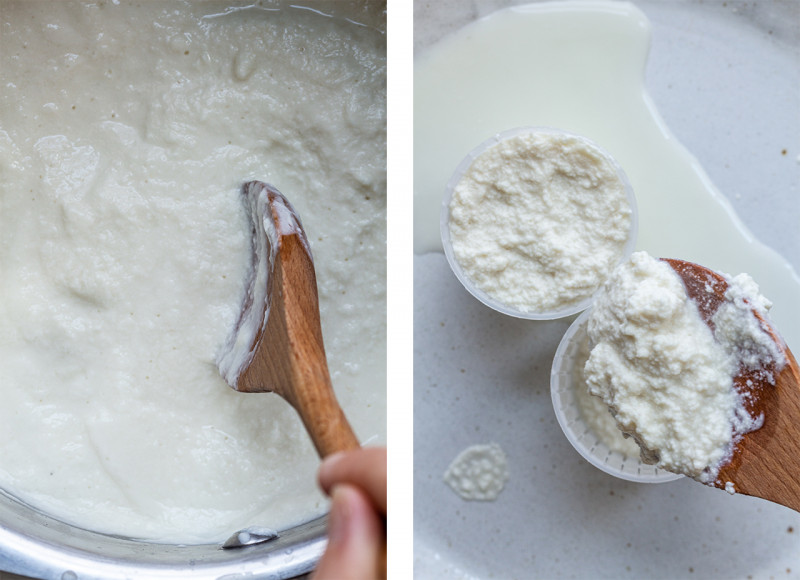 Rest for 10-15 minutes after taking off the heat then transfer the curds that separated from the milk into a ricotta mould or a muslin cloth lined sieve. Allow ricotta to set and for the excess moisture to drain away for at least 8 hours.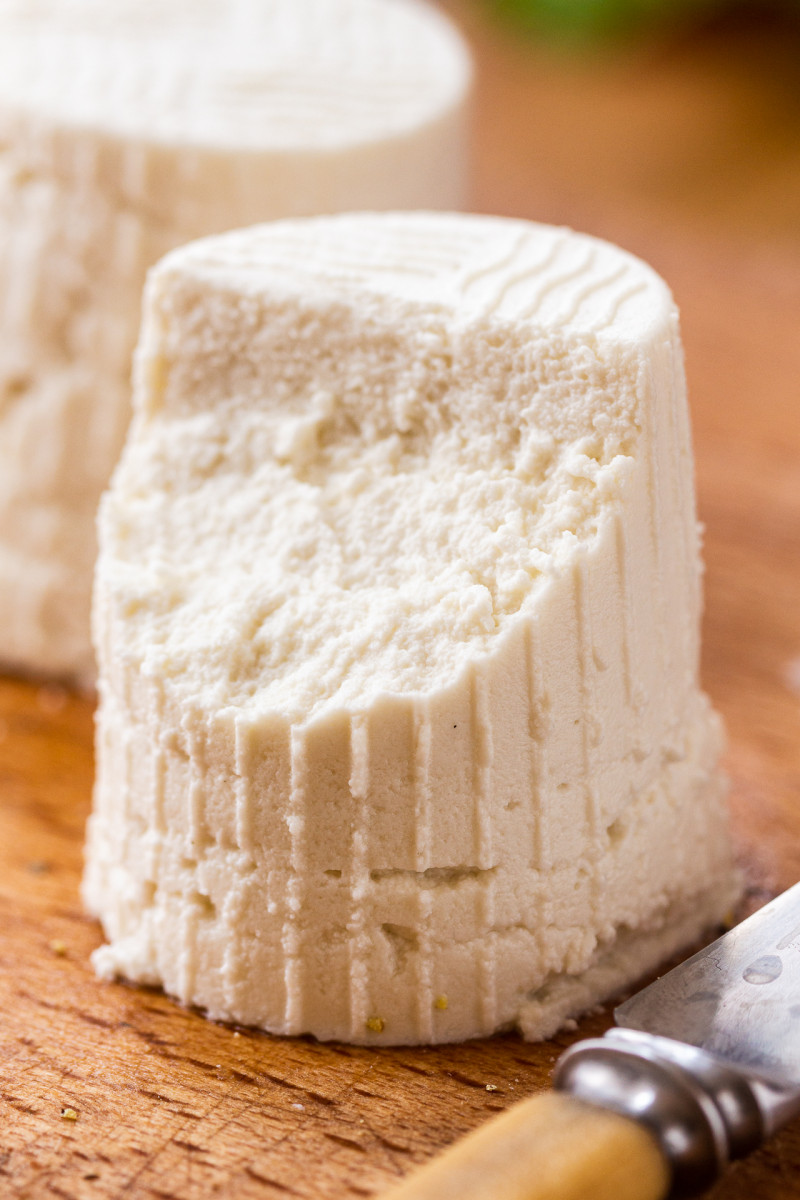 200 g / 7 oz raw almonds, blanched or unblanched
20-30 ml / 4-6 tsp lemon juice*
salt, optional
METHOD
Soak almonds in cold water for 4-8 hours or overnight. Drain, discard the water.
Place drained almonds in a blender with 600 ml / 2½ cups of fresh water. If you are using a small blender, only use as much water as it fits in the blender and add the rest directly to the pot in step 5.
Blend until almonds are really finely ground and the water turns into creamy almond milk.
Place a nut bag (or a double layered muslin cloth) in the sieve suspended over a medium-large pot.
Gradually pour the contents of blender into the nut bag and allow the milk to drain into the pot below.
Once most of the liquid drains out, squeeze the nut bag really well to extract as much milk as you can – you should be left with super dry pulp (see blog post above for ideas to use it up).
If using salt, add it to the pot and mix well to dissolve.
Bring almond milk to a gentle simmer, until a thermometer registers 85°C / 185°F. If you want to expedite the process and not have to simmer it for 20 minutes after adding lemon juice, allow the milk to come to 93°C / 199°F instead.
Once your almond milk comes to temperature, sprinkle 20 ml / 4 tsp lemon juice on the surface of the simmering milk. Stir gently to distribute the acid evenly. You should see small curds forming after a couple of minutes. If the milk isn't curdling, add a little more lemon juice.
This is the point where you could simply rest curdled milk for 10 minutes and transfer the curds to a mould, but I got a nicer end product by simmering it for another 20 minutes and resting – see next step.
Keep the pot on low heat and aim to maintain 85°C / 185°F for full 20 minutes without stirring. Try to keep the milk within 79-88°C / 175°F-190°F range.
You should end up with delicate curds by the end of this process – I found that the separation isn't always as visually apparent as it is with dairy milk and sometimes the milk just looks thick and creamy but that's okay the resulting cheese is still delicious. Rest the milk for 10 minutes.
Place a mould/moulds on a deep plate so that any excess liquid can drain away. Gently transfer the curds to the mould (see the post for alternatives).
Keep in the fridge overnight to set. The longer it sets the firmer it will get, but I find that it needs at least an overnight stay in the fridge to firm up enough to use.
Keep ready ricotta in an air-tight container in the fridge, for 5-6 days. It can be frozen, but it will release some liquid once defrosted – simply drain it away and use. It's perfect spread of toast/crackers, crumbled on top of pasta/gnocchi/risotto or on top of pizza.
NOTES
*LEMON JUICE: you could use distilled white vinegar instead, but you'll need much less of it as it's more pungent. Only 10-15 ml / 2-3 tsp should be enough to curdle the almond milk.
*SALT: it's an optional ingredient that isn't necessary for the process. If you are making it for the first time, I recommend just adding a good pinch and seasoning to taste afterwards. I use ½ tsp of fine sea salt, but it may be too much or too little for your taste so it's best to experiment.
The method has been adapted from this dairy ricotta recipe.
NUTRITIONAL INFO
*per per 1 (25 g) out 10 servings