One vegan drew the ire of the internet after they revealed how their fabricated food allergies cost their family hundreds of dollars.
In a viral Reddit post published on r/AmITheA**hole, Redditor u/Loquacious-Box8284 (otherwise referred to as the original poster, or OP) said their plant-based diet has been compromised multiple times in their rural Pennsylvania hometown and recounted their plan to ensure it wouldn't happen again.
Titled, "[Am I the a**hole] for lying about a food allergy?" the post has received more than 8,500 upvotes and 4,000 comments since October 11.
"I'm vegan [and] have been for over 5 years," OP began. "When I visit my family in rural Pennsylvania, my options become nonexistent."
Continuing to explain that their hometown's attitudes towards veganism range from "ignorance to outright hostility," the original poster said they avoid eating out while visiting, but were recently forced to for their sister's rehearsal dinner.
The original poster also said the dinner was at a steakhouse, a location at which they were served numerous dairy products on numerous occasions, despite making their plant-based restrictions known in advance.
"I tried to explain my vegan diet my first time here…yet my sad little plate of steamed broccoli was drizzled with butter and my iceberg lettuce salad came with ranch," OP wrote. "The second time, a chef personally…promised me that this tomato pasta dish was vegan—only for me to find that they'd swirled parmesan cheese into the red sauce.
"For my sister's dinner, I called ahead and told the chef that I have life-threatening food allergies to meat proteins, dairy…and egg," OP continued. "For those allergies…they had to scrub down the entire kitchen, clean the fryers [and] check the ingredient list of their products.
"That prep apparently cost them an extra 2 hours, and…they charged my parents (who are paying for the rehearsal) an extra several hundred dollars," OP added. "My sister and parents are livid. I already sent my mom the [money] needed to cover the extra cost, but they're upset at me for lying and humiliating the chef and restaurant."
Last year, data published by PlantProteins.co revealed that approximately 6 percent of Americans said they were vegan, marking a massive, 500 percent increase from 2014.
Earlier this year, closer to 10 percent of Americans said they were vegan or vegetarian, according to a recent survey conducted by Alliance for Science.
And two years ago, Total Food Service reported that nearly 1,500 exclusively vegan restaurants have popped up across the United States.
However, as veganism grows in popularity, those converting to plant-based lifestyles are often met with overwhelming opposition from those closest to them.
"The most common obstacles are the transition itself, adjusting how you look at the plate and dealing with everyone's opinions around them," Julieanna Hever, MS RD CPT, author of The Choose You Now Diet and Plant-Based Nutrition (Idiot's Guide) told Newsweek.
"While eating a plant-based diet has become significantly more common and accepted," Hever added. "There are still people that worry about getting adequate nutrition…the perceived difficulty of eating this way and the desire to have people around them eat the same as they do."
For those who've had trouble ensuring meals away from home are actually prepared without meat or dairy products, Hever also said that asking a lot of questions is necessary, but noted that most restaurants are able to accommodate vegan requests.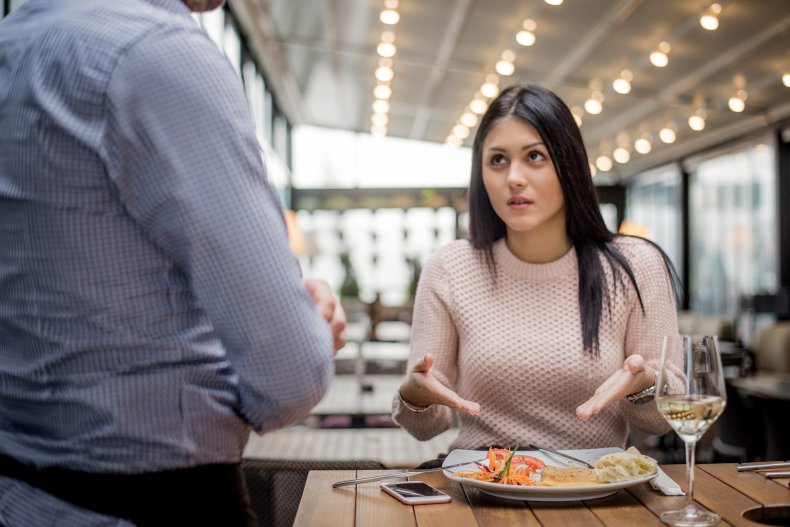 To conclude their viral Reddit post, the original poster doubled-down on their food allergy fallacies, and placed all of the responsibility for their actions on the steakhouse their sister chose for her rehearsal dinner.
"Personally," OP wrote. "I think that if this restaurant is gonna continue with their ignorance and inconsideration, they got what they deserve."
Throughout the viral post's comment section, many Redditors took the opposite stance, pointing out that lying about food allergies makes life harder for those who actually have them.
"[You're the a**hole]," Redditor u/Budget-Ad56 wrote in the post's top comment, which has received nearly 23,000 upvotes. "Please don't use a condition that can [be] life threatening to make your life easier.
"100 [percent]," Redditor u/Proud-Geek1019 added, receiving nearly 8,000 upvotes. "20 [year] vegan here AND the parent of a child with life threatening [nut] allergies. People who lie about this to get their way literally make my blood boil."
Redditor u/Fainora, whose comment has received nearly 11,000 upvotes, offered a similar response.
"This is not a vegan restaurant and you cannot expect a steakhouse to cater to vegan requirements," they wrote. "Meanwhile…you've created more kitchen staff who won't take allergies seriously."
"[You're the a**hole] for lying and saying they got what they deserved," Redditor u/JudgyUnicorn added, receiving more than 3,500 upvotes.
"You could have called them in advance and been really blunt about what you can/can't eat and ask if they couldn't accommodate you, if you could bring your own food as this is [your] sister's rehearsal dinner," Redditor u/cpop616 chimed in. "Lying wasn't the way to go about it."
Newsweek reached out to u/Loquacious-Box8284 for comment. We could not verify the details of the case.
If you have a similar family dilemma, let us know via life@newsweek.com. We can ask experts for advice, and your story could be featured on Newsweek.