Stacey Hufnagel Young is a 34-year-old mum to three fabulous daughters who lives in the Logan area of Brisbane and she says joining The Healthy Mummy is the best decision of her life!
"Self-love, self-appreciation, self-care."
This mum has not only lost 19kgs, 73cms, 2-3 dress sizes but she can now plank for a 1 min, has more energy and just feels overall better! She's also loving that when her kids go searching for snacks they've got healthy options due to the magic of meal prepping.
Read more about Stacey's success below…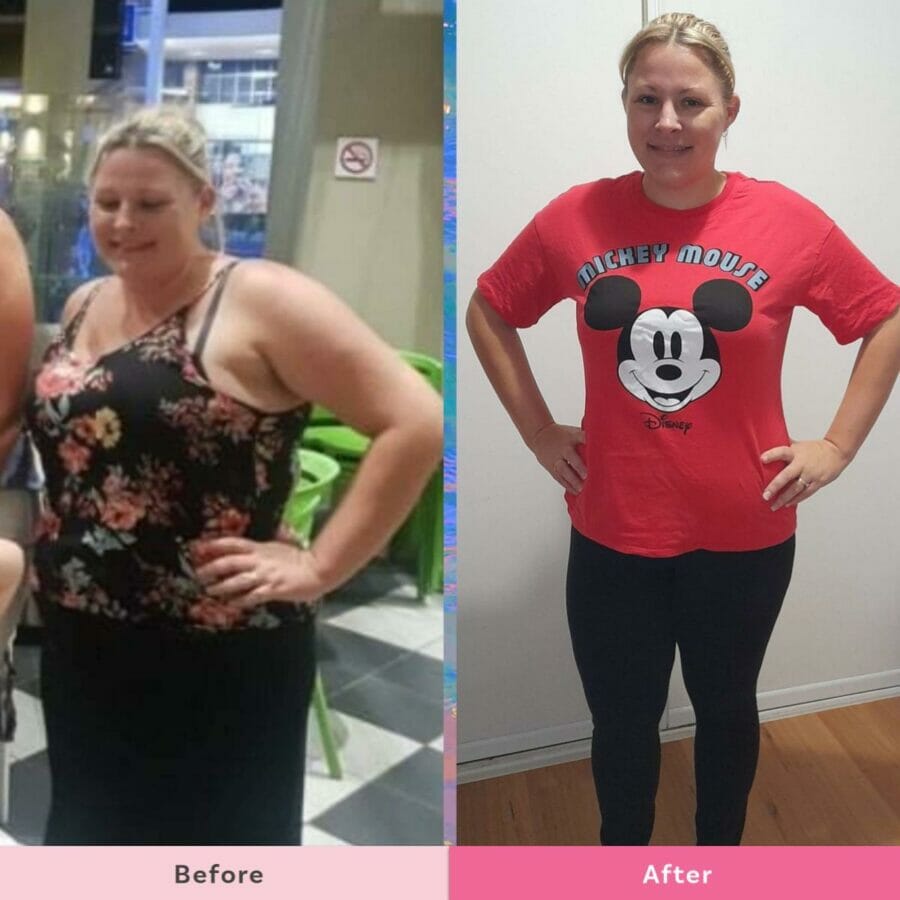 Mum of three makes the best decision of her life and has now lost 19kg in 6 months
After making a decision that changed her life the mum of three daughters from Brisbane, Stacey Hufnagel Young, has seen success not only on the scales but in her health and her body.
"I joined Healthy Mummy in January 2022 just after my birthday and by July 2022 I have lost 19.3kgs and 72cms. I have gone down 2-3 dress sizes too and recently bought my first size 10 top probably since I was in my late teens and early 20s."
Not only has she seen changes in the scales and in her measurements, but she's also feeling physically healthier and no longer suffering from some of her previous ailments.
"I am feeling the best I have in many years and feel like a new person. The physical change in my body has grown my confidence and I'm feeling happier within myself. With losing this weight I have noticed my knees and back aren't as sore and I don't get shin splints when I go for walks. My posture is so much better, my flexibility is improving and my energy has increased."
Stacey started with a goal of losing 20kg in 6 months but also wanted to ensure she didn't lose sight of any and all progress she made.
"I really wanted to hit the 20kg by 6 months but needed to remind myself just how far I have come and how much hard work I have already done to get these results. I'm really proud of myself for pushing myself to my limits and never quitting. Some days are better than others but just continue to stay positive."
A day in the life of Stacey!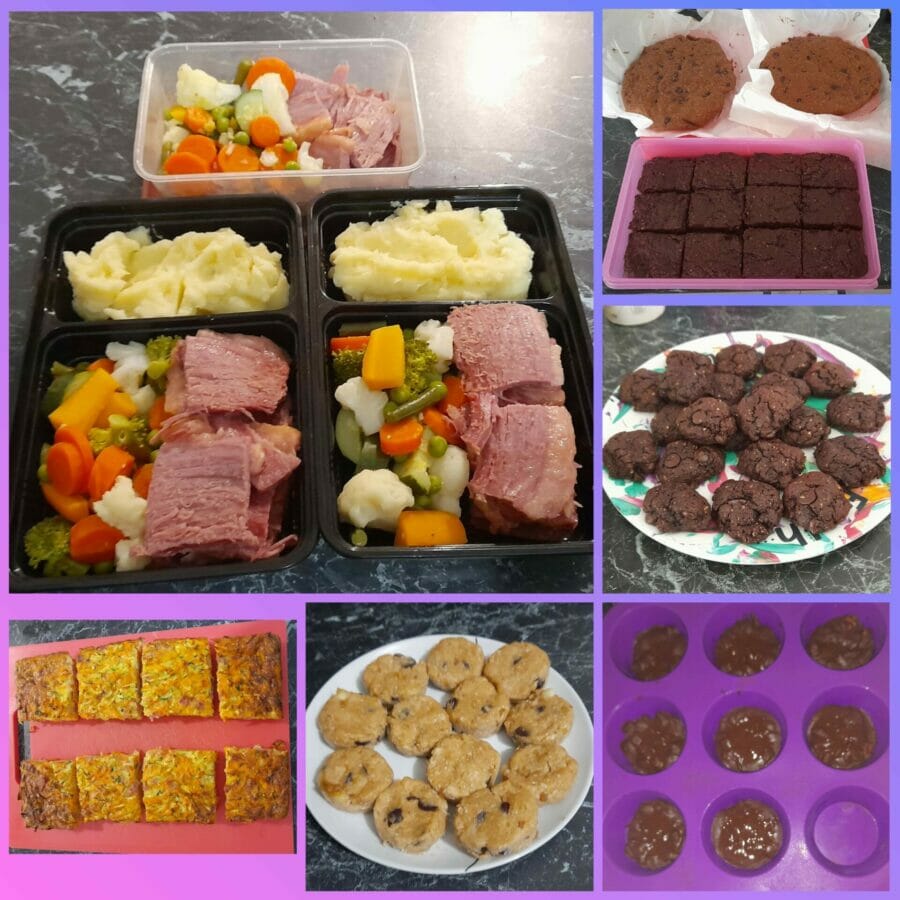 Stacey loves to meal prep and thanks to this she's able to have healthy food ready to go for every meal. Check out what a day in her life is like.
Breakfast
"A smoothie with almond milk, a banana, ice and beauty collagen.
Weekend breakfasts are usually scrambled egg & spinach on toast, English muffins with bacon and egg or Aussie toast."
Lunch
"Leftovers from the freezer or ham/ chicken salad sandwich."
Snacks
"Banana choc chip bread, healthy coconut brownie, apple, white chocolate and apricot slice or brownie cookie bites.
On the weekends or during school holidays I change up having a smoothie for a snack instead."
Dinner
"Any chicken dish like roast chicken, sticky chicken, stovetop lasagna or fried rice. Our family love eating meals with fresh veggies too.
Dinners on the weekends are homemade burgers or pizzas. I also make sure I drink 2-3L of water per day."
Beyond the delicious meals, Stacey also ensures she gets moving every day and loves the workouts available in The Healthy Mummy App.
"When I wake up in the morning my workout is the first thing I like to tick off for the day. I like the Belly, Butt and Booty workouts, then two HIIT workouts or a Tabata boxing."
She also loves to mix up her Healthy Mummy Smoothies as well.
"I love the smoothies and have Tummy Smoothie and Premium Smoothie flavours. I use the clay masks during the week for self-care and the body sculpting lotion. I enjoy having a hot chocolate with collagen at night too."
Her top tips and budget tips
"My tips are:
"Consistency is key to success"
"Meal prep is a big help to have meals set for the week."
"Don't give up. Some days are harder than others so take a breath and reset."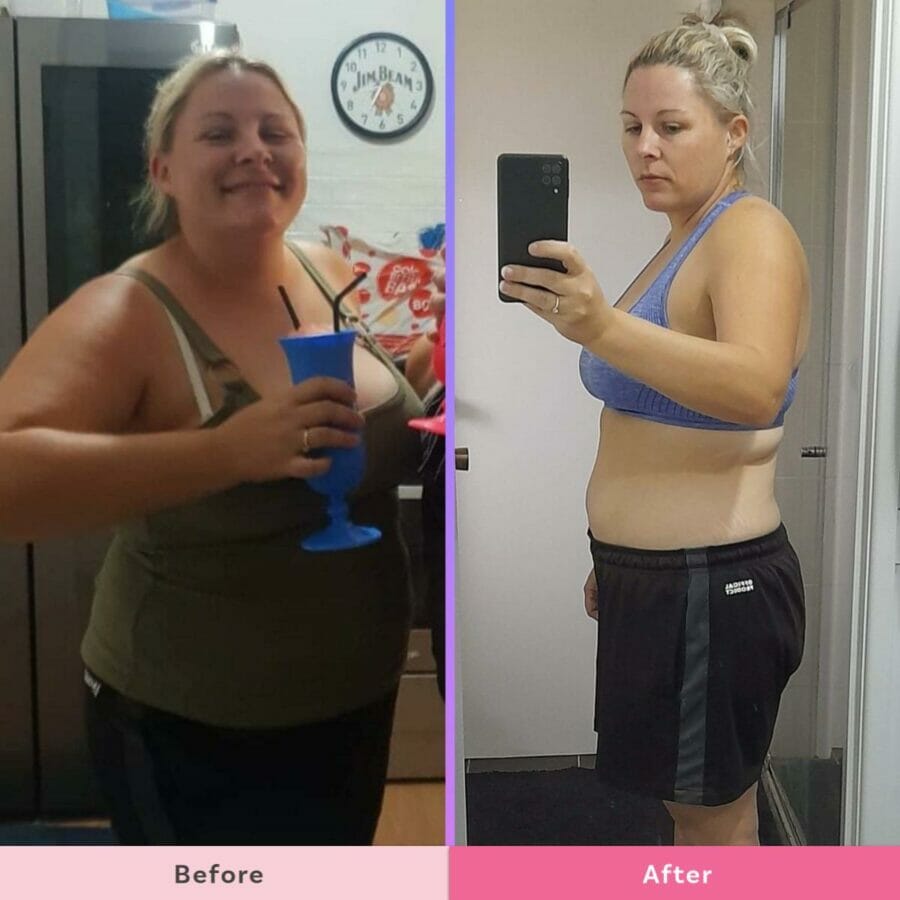 Along with these general tips Stacey offers some extra tips to help you get meal prepping and on top of your budget when doing the 28 Day Weight Loss Challenge.
"My meal prep tips and budget tips are to prep whenever you can either big or small or leftovers from dinner.
You can do double batches of dinner and freeze the other to save time.
Work out snacks that you can cook together in the oven or set in the fridge and use different pans so you aren't waiting for one to finish to save time.
Use similar ingredients to cut down your food bill or buy what's on special."
Although she works hard to meal prep and works on doing what she can to keep her costs down, Stacey isn't sure how much money she's saved.
"I'm not sure how much money I have saved on my grocery bills but there have been savings and no more wastage. I buy what's on special or cook with similar ingredients. If my bill is lower than usual I might buy a few cupboard ingredients to stock up on or meat to freeze to ensure I don't overspend on the next shop. When I don't spend my budget I usually go under by around $50."
Meal prepping has also helped Stacey's kids eat better, when they go looking for snacks they find delicious and healthy pre-made Healthy Mummy snacks she whipped up during her prep.
"I have found my kids going to look for food in the cupboard or fridge and by having these snacks on hand they are the first ones they go for. We all help to meal plan dinners and choose their favourites."
Stacey sums up her 6 months of Healthy Mummy success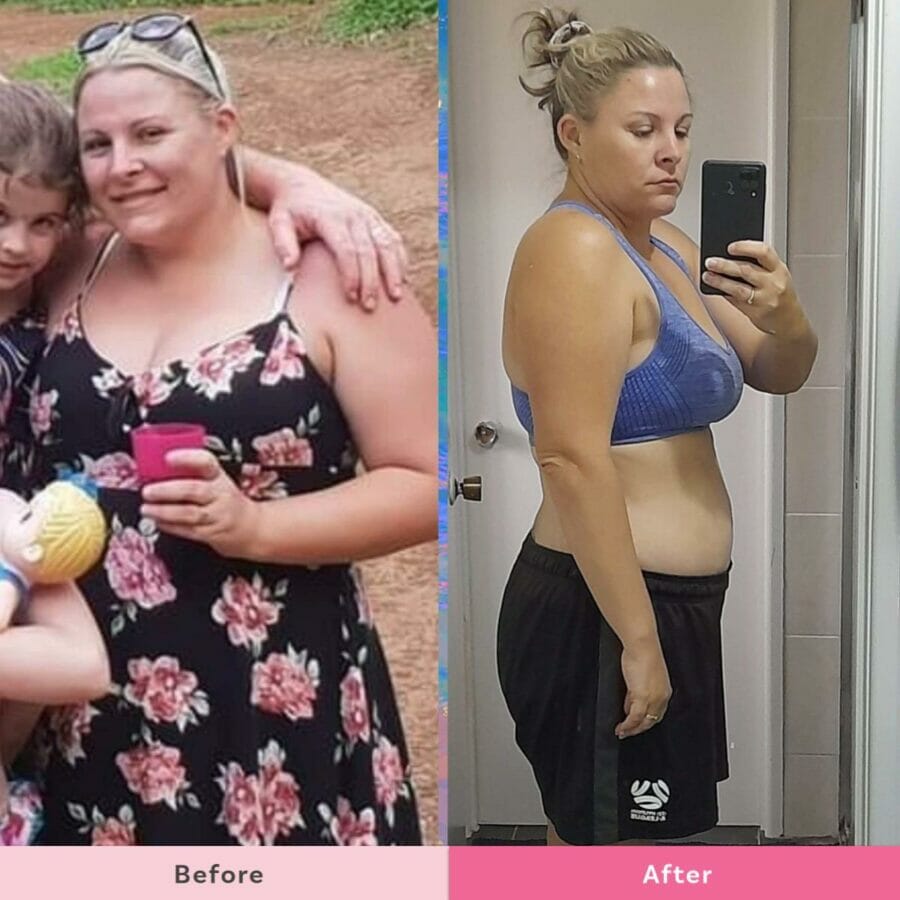 "I just hit 6 months with Healthy Mummy and what a huge difference it has made in my life!"
"I have lost 19.3kgs and 72cms.
I have dropped 2/3 dress sizes.
I can now do a plank over 1 min.
My energy levels have increased, my posture is so much better and feeling more flexible.
I am exercising almost every day and only missed a few days of exercise over this time.
I love eating all the healthy meals.
I am drinking 2L+ water per day
I love cooking and thinking about what fuels my body.
I am more confident in my body and with what I wear.
I have created healthier eating habits for my family and myself and notice my choices are more mindful when I'm out.
I have learnt about self-care and what I need.
I am happier than I have ever been when I look in the mirror!"
Three key parts of Stacey's success have been:
"Self-love, self-appreciation, self-care."
She is so happy about choosing herself and making the changes that come with The Healthy Mummy.
"This was simply the best choice I have ever made and proud of myself for sticking to this journey. It is far from over but excited to maintain this lifestyle for my family and me."